Prison Escape Clouds Daily Routine For New York Community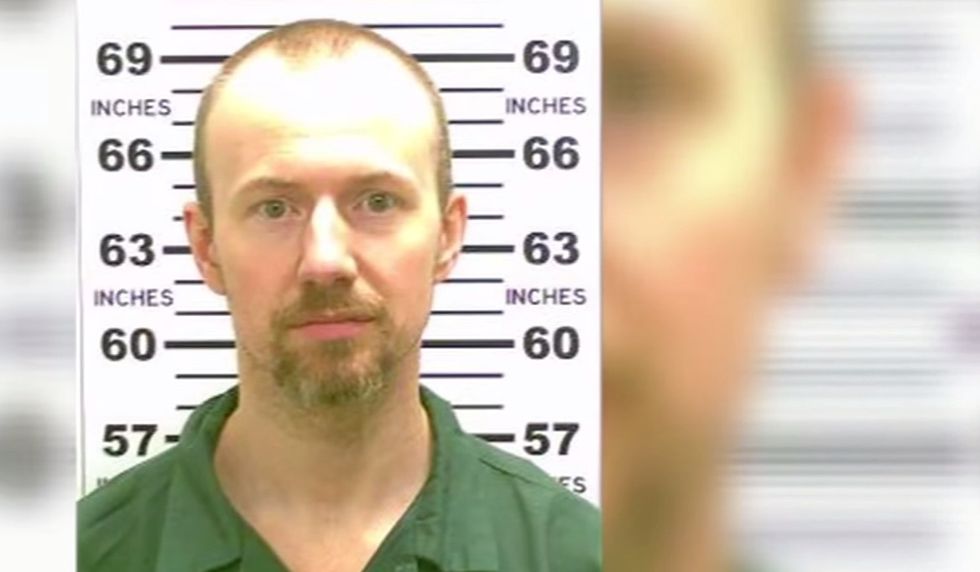 By Tina Susman, Los Angeles Times (TNS)
DANNEMORA, N.Y. — Richard Matt and David Sweat are everywhere.
They are at highway rest stops, where the killers' faces peer out from "wanted" posters. They are at checkpoints dotting the winding, forested roads, where troopers stand guard with rifles ready.
They are in the loaded weapons that locals place beside their beds at night, and they are in the porch lights that shine until dawn, when daylight brings a measure of relief to people living near the prison that Matt and Sweat fled more than a week ago.
The pair remain out of sight, but everyone knows they are out there, and if police are right, they haven't gone far. That's no comfort to people living in and around Dannemora, where the hulking Clinton Correctional Facility seems to devour the quiet village of clapboard houses and small businesses.
"I wish it could just be over. I haven't been able to sleep," said Amy Daust, who lives down the block from the manhole through which the prisoners emerged after cutting their way out of their cells and tunneling out of the prison. They were discovered missing during a 5:30 a.m. bed check on June 6. Since then, it seems life has turned upside down in tiny Dannemora, whose population of 4,000 includes the nearly 3,000 prison inmates.
"You feel like the roles are reversed. It's like we're in prison now," said Daust, who has a clear view of the correctional center and can hear the announcements blasted to prisoners through its speaker system.
People avoid going outside at night. They lock their doors and windows, a change of habit in a town where many residents used to think nothing of leaving keys in their cars. Since the escape, nobody has been able to drive through town without stopping at checkpoints and opening their car trunks for troopers to peer inside. Daust, her fiance and their three young boys keep the house lights on during the night.
It has always been a bit creepy, knowing the kinds of people living behind the walls at the maximum-security prison, said Daust, who grew up in the region. But with so many correctional officers living nearby, and with the prison looking so impenetrable, it seemed plenty safe.
On the morning of the escape, Daust woke up unaware that anything unusual had occurred at the fortress up the hill. She looked out a window and was startled to see someone looking back at her. It was an investigator, one of hundreds searching for Matt and Sweat.
On Saturday, searchers were out again, combing the thick woods, fields and swampy areas of rural northeastern New York.
Officials say a civilian prison worker named Joyce Mitchell provided some contraband to the men weeks before the escape. A criminal complaint says Mitchell, 51, brought them hacksaw blades, a screwdriver bit and chisels.
Mitchell pleaded not guilty Friday to a felony and a misdemeanor in connection with the escape and was jailed in lieu of $110,000 cash bail. Clinton County District Attorney Andrew Wylie says the investigation into Mitchell's involvement continues, and he has not ruled out additional charges.
Officials have not explained how the prisoners managed to cut through thick brick walls and a steel pipe. They have said Matt and Sweat used power tools but have not said where they got those tools or how they were able to use them without the noise drawing attention.
Police said they had no reason to believe the men had fled to Canada, about 20 miles north, or to neighboring Vermont. The checkpoints are centered on a tight circle around Dannemora, and most of the intensive ground searches have occurred in the immediate vicinity.
Despite the manpower, the search dogs and a $50,000 reward for information leading to either man, there have been no confirmed sightings, leaving even people who do not live in Dannemora on edge.
In Plattsburgh, about 15 miles to the east, Dan Myatt said he had loaded his rifles, just in case, and he admitted to having felt a bit uneasy Friday night as he emerged from an evening kayak trip to find himself alone in near-darkness.
Myatt has tried not to let the knowledge that two killers are on the loose alter his routine. He still jogs by himself in the morning, but Myatt, who normally does not watch TV, has begun following the local news for search updates. He planned to take another paddling trip Saturday evening, and he hoped he would not find himself alone again.
Richard Matt, 48, had been serving 25 years to life for the 1997 killing and dismemberment of his boss.
David Sweat, 34, was serving life without parole for killing a sheriff's deputy in 2002.
The pair have defied the odds in remaining free this long, according to prison escape data compiled by the New York State Department of Corrections and Community Supervision.
Of 29 inmates who escaped from New York state prisons from 2002 to 2012, none were loose for more than three days before being recaptured.
(c)2015 Los Angeles Times. Distributed by Tribune Content Agency, LLC.
Screenshot: CNN/YouTube