Private Plane Rides Have Bumpy Congressional History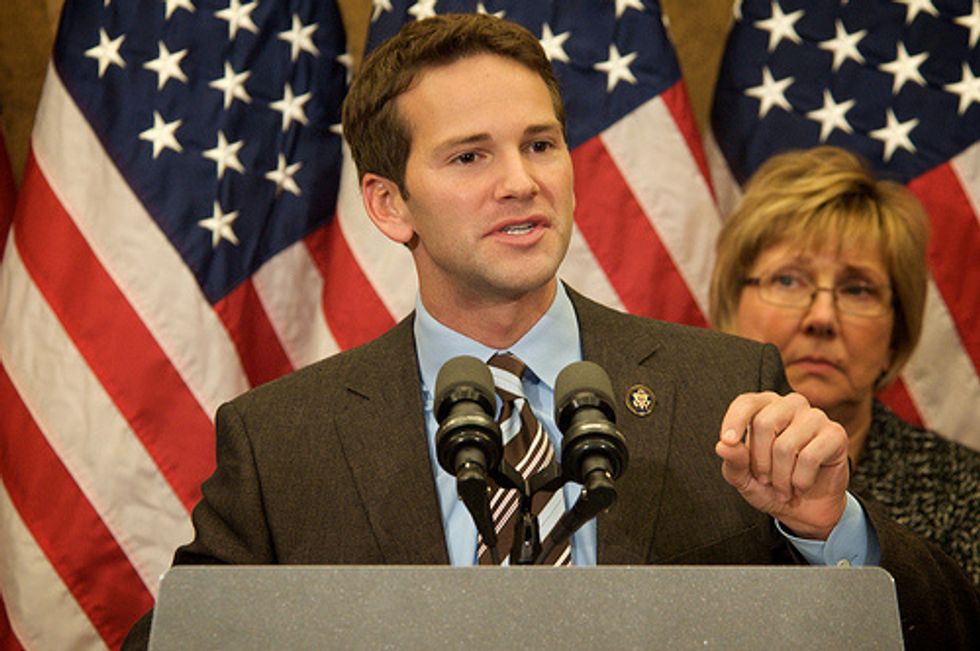 By Hannah Hess, CQ-Roll Call (TNS)
WASHINGTON — Among the serious accusations of improper spending leveled at Rep. Aaron Schock since The Washington Post shined a spotlight on his Downton Abbey-themed office are at least a dozen flights aboard his political donors' private planes.
But Rep. Don Young and a handful of other lawmakers have pushed to change the very ethics rule Schock is alleged to have violated by accepting flights aboard privately owned aircraft.
The Alaska Republican called it "one of the dumber rules that's ever come out of the Rules Committee," during a fall 2014 hearing on proposed rule changes for the 114th Congress, and told his colleagues he had plenty of friends who would like to pilot him around the sparsely populated northern extremities he represents.
Schock's expenditures, first detailed by USA Today, involved both taxpayer and campaign funds. The trips potentially violate federal law and House rules forbidding the use of noncommercial aircraft. A follow-up investigation by The Associated Press used the Illinois Republican's flashy Instagram account to track his travels and found he spent more than $40,000 on the flights.
Schock's office told the AP he travels frequently in his district "to stay connected with my constituents," and also travels for campaign fundraising purposes. He emphasized he takes compliance with congressional funding rules seriously and has reportedly hired a high-profile legal team to confront any potential ethics probe of his spending.
In 2013, the House amended its restrictions on the use of private aircraft to conform to existing rules in the Senate. The changes — adopted after Schock took some of the flights that are under scrutiny — allow members to pay their share of a charter flight with either taxpayer or campaign funds. It also gave the chairman and ranking member of the Ethics Committee authority to jointly waive this rule, citing extraordinary circumstances such as emergencies or in the aftermath of a natural disaster.
But Young wants to go further.
"This is ridiculous. It's taking me away from my constituents," he railed during the 2014 hearing. Although the rules have a carve-out for travel on flights provided by individuals or companies operating charter services, Young said he "can't afford that — unless you want to give me another, uh, $40 million so I can charter an airplane."
His proposed exemption would allow members to fly on privately owned, personal-use jets, helicopters and planes without pre-approval from the House Ethics Committee, provided the flights are within the member's district, connected to official duties and the costs are not reimbursed by any corporation or other entity.
The change is backed by Rep. Cynthia M. Lummis, the Republican representing the entire state of Wyoming, according to Young, and other lawmakers from expansive districts. Members present at the hearing sounded sympathetic to the challenge Young faces representing a state with more than 663,000 square miles.
"It's got to be daunting to say the least," said Rep. Rich Nugent (R-FL), who served as chairman of the Sept. 17 panel.
But those who helped Democrats draft the original travel restrictions in 2007 — a key plank of the ethics overhaul swept through on the heels of the corruption scandal involving superlobbyist Jack Abramoff — say Young's proposal is problematic "on its face."
"The abuses this was responding to were not theoretical," said Meredith McGehee, of the Campaign Legal Center. Abramoff lavished members of Congress with access to private jets. At the time, members hoped to avoid the public outrage caused when former House Majority Leader Tom Delay (R-TX) hitched a ride on a tobacco company's private jet to a court appearance.
"The dangers are grave because the benefits are so valued," McGehee said. "Time is valuable. It's just a very valuable thing." Such flights provide a great opportunity for the very select class of people that can afford to own a private airplane to win goodwill and some face time with members, she explained.
In a reverse dynamic, the late Senator Alan Dixon (D-IL) had a reputation for soliciting free flights, McGehee said.
"A lot of times I think people forget it's not just about the outside interest trying to buy access for influence, it's also about the shakedown," she said.
Public Citizen's Craig Holman said that when the 2007 law was first passed, it "went a bit too far," but he does not agree with further amending the rule as Young has proposed.
The original language sparked concern, legitimized by the Federal Aviation Administration, that members would be barred from flying on any non-government airplane. After Rep. Darrell Issa (R-CA) pointed out the "glaring error," Democrats admitted it was poorly drafted. The measure forced Rep. Collin C. Peterson (D-MN) to park the single-engine, four-seat plane he used to fly back and forth to Washington for a few months, before leaders found a fix.
Holman said he is particularly concerned by Young's proposal to exempt private plane trips from the requirement of pre-approval by the Ethics Committee, potentially lifting disclosure requirements.
The private airplane influence peddling scheme "was quite a problem in Alaska," Holman said. In 2014, the Ethics Committee rebuked Young for improperly accepting $60,000 in gifts, including rides on private planes. He was forced to repay nearly $31,000 to his campaign account and return another $28,000 to companies and individuals.
Young could certainly charter an airplane "that would keep it in a business format," Holman said. "But when you've got the very wealthy handing over their private planes … on its face, this is egregious."
Photo: House GOP via Flickr