Pro-Russia Rebels Evacuating Donetsk Amid Broad Attack, Kiev Says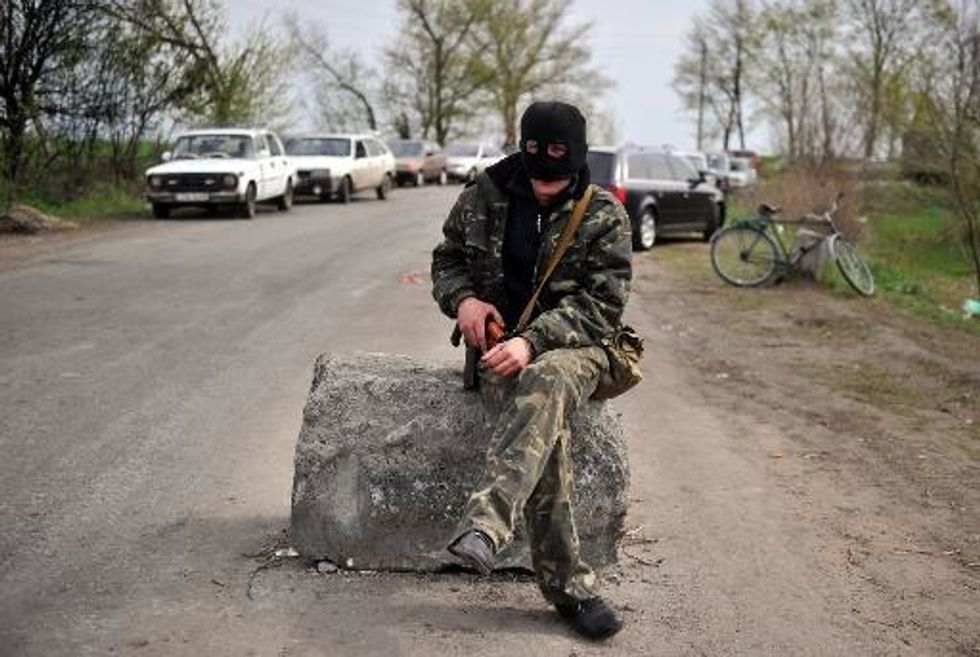 By Carol J. Williams, Los Angeles Times
Ukrainian government troops have launched a broad offensive against pro-Russia separatists, attacking more than 100 rebel positions, sweeping the gunmen from three villages and spurring an evacuation of the militants' stronghold in Donetsk, officials in Kiev said Wednesday.
Four soldiers died in the fighting that has flared since President Petro Poroshenko let a unilateral cease-fire expire Monday after 10 days, saying the gunmen occupying much of Donetsk and Luhansk regions had refused to lay down their arms and negotiate a peaceful resolution of the crisis.
The concerted government offensive was underway as the foreign ministers of Russia, Ukraine, Germany, and France met in Berlin and agreed on what they described as a series of steps to resume the cease-fire.
The measures were to include reopening talks no later than Saturday aimed at reaching "an unconditional and mutually agreed sustainable cease-fire" to be monitored by the Organization for Security and Cooperation in Europe.
Diplomatic initiatives, however, have so far had little effect on the fighting between Ukrainian government forces and pro-Russia militias that have their own agenda. Irregular groups loyal to Kiev are also involved in the chaotic battles for control of territory that have already taken more than 400 lives.
Ukrainian soldiers and police account for 200 of the dead, National Security and Defense Council spokesman Andriy Lysenko told journalists at a briefing in Kiev. An additional 29 Ukrainian servicemen are being held captive by the militants, according to acting Defense Minister Mykhailo Koval.
Lysenko said the renewed government offensive had recovered three villages from the gunmen and that the militants were pulling out of Donetsk, a city of a million residents where the regional government headquarters was overrun in April.
"Terrorists have begun evacuation from the seized building of the Donetsk Regional State Administration and are trying to escape from the city," Lysenko said, adding that their aim was "to withdraw from the city all of their accumulated financial resources and weapons."
Separatists have looted armories, police stations, national security offices, and state banks in Donetsk in the three months that they've used the city as the base for their insurgency.
The 10-story government building has been fortified with berms of sandbags and concertina wire and protected by a motley contingent of gunmen in balaclavas and military camouflage uniforms.
The claim by the government that it has driven the militants into retreat couldn't be independently verified, and some Ukrainian media reports cast the movements as preparation for a counteroffensive.
The Ukrinform news agency reported that masked gunmen had halted traffic in the city center, and Interfax Ukraine said mercenaries from Russia's Chechnya region were providing security for relocation and were guarding the evacuated headquarters.
In Moscow, the Russian Foreign Ministry posted a "commentary" on its website accusing the Ukrainian government of waging war against its own people.
"We again resolutely demand from the Ukrainian authorities, if they are still able to consider the consequences of their criminal policy they are following, to stop firing on peaceful cities and villages in their own country and return to an actual cease-fire in order to save the lives of people," the ministry statement said.
The commentary carried by RIA Novosti derided Ukraine's newly signed economic agreement with the European Union, observing that "solving Ukraine's political problems through the physical destruction of civilians in its own country is unlikely to correspond with the norms of the civilized European society that Kiev is striving toward."
Russian President Vladimir Putin has made no secret of his opposition to Ukraine's westward reorientation. His government blocked imports of some Ukrainian goods last year in an effort to deter Poroshenko's Kremlin-allied predecessor, Viktor Yanukovich, from signing the EU trade deal. It was Yanukovich's last-minute decision to scrap the accord that spurred a rebellion in November that drove him out of office three months later.
Putin sent troops to Ukraine's Crimean peninsula within days of Yanukovich's Feb. 21 ouster, occupying the strategic Black Sea territory and annexing it to Russia in March. No country has recognized the Crimea annexation as a legal redrawing of boundaries, but the international community has not been able or willing to do anything to reverse the seizure.
AFP Photo / Genya Savilov
Interested in world news? Sign up for our daily email newsletter!