Promise Of A 'Clean Coal' Future Far From Reality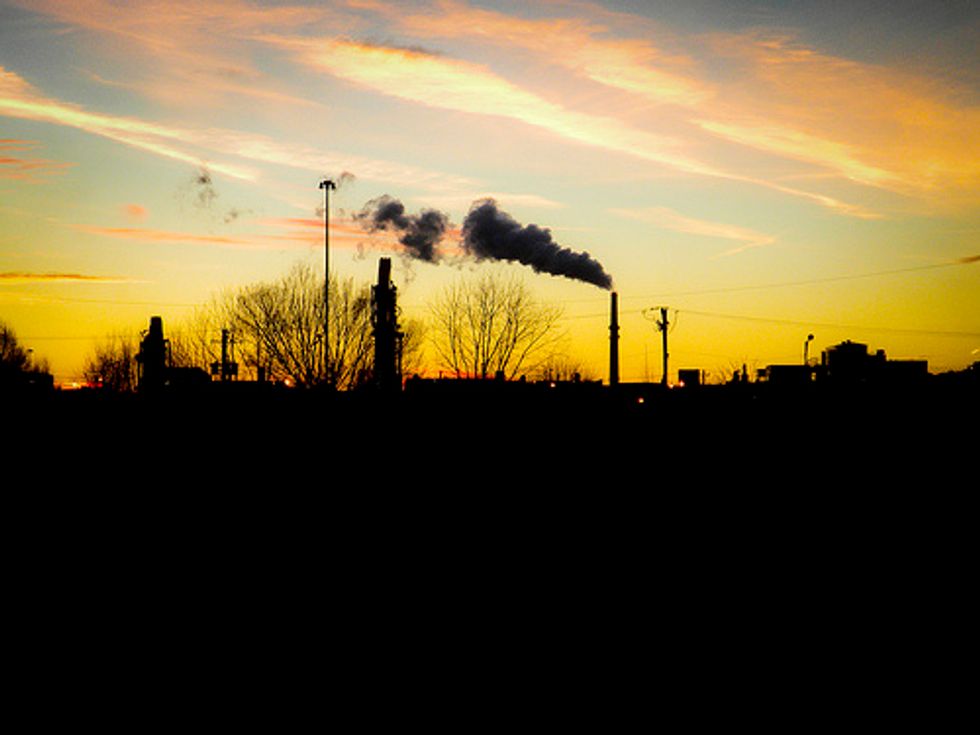 By Hal Bernton, The Seattle Times
MEREDOSIA, Ill. — In 2003, President George W. Bush unveiled plans for the world's first zero-emissions coal plant, a project that would serve as a global showcase of America's ability to reduce carbon emissions from fossil fuels.
This FutureGen plant would be "one of the boldest steps our nation takes toward a pollution-free future," declared Spencer Abraham, Bush's energy secretary, in 2003. The knowledge we gain from the plant " … will help turn coal from an environmentally challenging energy resource into an environmentally benign one."
More than a decade later, there has yet to be a groundbreaking for FutureGen 2.0.
The project calls for overhauling an aging coal plant on the outskirts of this sleepy river town so that its carbon emissions can be captured and stored some 4,300 feet underground. But the effort has been beset by political infighting, design changes, and escalating costs that helped trigger a rebellion by the state's largest utility.
FutureGen' s tortured birthing process reflects broader problems in the global effort to spur development of "clean coal" plants and carbon-capture technology — considered key steps in the battle to slow climate change.
Even the Energy Department now has doubts about whether FutureGen will succeed. Last year the department designated the FutureGen alliance charged with building the project as a "high-risk" grant recipient that might not be able to meet a September 2015 deadline for spending $1 billion in federal stimulus dollars, according to a document reviewed by The Seattle Times.
The International Energy Agency has tagged carbon capture as a key part of the struggle to head off the most extreme impacts of climate change, and hopes it will be in wide use by midcentury or earlier.
But so far, no country has hammered hard enough with regulations, or created strong enough financial incentives to spur widespread conversions to the costly and still evolving technology.
Many renewable energy advocates don't see carbon capture as a viable strategy to fight climate change. They are convinced solar, wind, hydroelectric, and perhaps nuclear power can be the mainstay of 21st-century global energy.
Supporters of carbon capture say such predictions drastically overstate how swiftly and broadly the world can shift away from the use of coal, oil, and natural gas. They forecast that carbon capture — even with construction and operating costs some 30 to 70 percent higher than traditional coal plants — will be a cheaper option than paying the costs associated with extremes of climate changes.
"If you want to continue to rely on fossil fuels, and reduce carbon emissions — not by a little, but by a lot — then this is the only game in town," said Edward Rubin, a lead author of a carbon-capture report released by the Intergovernmental Panel on Climate Change.
In North America, the project furthest along is in Canada, where SaskPower later this year is scheduled to start up a 110-megawatt unit that will capture more than 1 million tons of carbon a year.
In the United States, Congress has appropriated some $6 billion since 2008 for research and other efforts to spur development of carbon capture. One Texas project, scheduled to kick off this year, plans to turn a profit by pumping carbon emissions from a coal plant into an aging oil field, where the injection is forecast to dramatically boost production.
But utilities and regulators often balk at carbon-capture costs. Some projects have been canceled. And concerns have been heightened by a carbon-capture plant under construction in Mississippi that is running $3 billion over budget.
The $1.65 billion FutureGen project in Meredosia is designed to be the first commercial-scale demonstration of a technology, known as oxy-combustion, that can capture and store more than 90 percent of a 168-megwatt plant's carbon emissions.
About 40 percent of the cost is privately financed with the rest of the money coming from the federal grant.
"FutureGen is a prototype plant. … It's not surprising its cost of electricity is higher. It's just like the first solar plant ever built was a heck of a lot higher," said Ken Humphreys, chief executive officer of FutureGen.
The coal companies that control FutureGen say carbon-capture technology holds promise for the future, but appear skeptical that it can be put into place anytime soon.
They are fighting an Environmental Protection Agency rule proposed last year that would require partial carbon capture in any new coal plant, as well as another proposed rule that calls for emission reductions in states with existing fossil fuel plants.
Carbon-capture technology "is simply not commercially available and not able to satisfy Americans' need for low-cost energy," declared Peabody Energy, a key member of the FutureGen Alliance, in a statement released last September.
"The way I look at carbon capture, it is sort of an orphan," said John Thompson, of the Clean Air Task Force, a nonprofit that promotes the technology. "It doesn't have a strong political constituency in Washington."
At the turn of the new century, clean coal looked like an idea whose time had come.
In his 2000 presidential campaign, Republican candidate Bush declared that he would require power plants to reduce greenhouse gas emissions "within a reasonable period of time," and place an overall cap on U.S. carbon emissions.
Three years later, the Bush administration launched FutureGen as a 10-year effort to build a carbon-capture plant.
But Bush cooled on tackling global warming and abandoned his call for capping emissions. Administration officials rewrote government reports to downplay concerns about climate change.
Support for FutureGen also ebbed, as Abraham's successor, Samuel Bodman, scrapped the idea of building a new plant in favor of a series of smaller projects.
Some insiders at DOE protested, saying Bodman was undermining one of Bush's signature programs, and that abandoning the original project could set back carbon-capture development by a decade or more, according to internal department emails.
Michael Mudd, then chief executive of FutureGen, said the alliance of coal companies was blindsided by the turnaround.
In December 2007, the FutureGen Alliance announced Mattoon, Ill., as the site of the new carbon-capture coal plant. Hours later, the Energy Department disclosed that the project would be restructured "due to escalating costs," and Mattoon would not get its plant.
In 2009, the White House got a new occupant, a junior senator from Illinois who had been a loyal backer of a FutureGen project in his home state and whose campaign platform had called for federal assistance to build four commercial-scale carbon capture plants.
During his first few months in office, President Barack Obama worked with the state's congressional delegation to get FutureGen back on track with a $1 billion earmark from Congress.
With new money came new design ideas.
Instead of a new plant in Mattoon, the plan called for the Meredosia plant owned by Ameren Energy Resources to be retrofitted with a specialized oxygen-rich boiler. This system concentrates carbon emissions so they can be readily captured once combustion has occurred.
The converted plant is expected to use about 20 percent more coal than traditional combustion technology, according to officials at Babcock & Wilcox, developers of the oxy-combustion system.
Despite that hurdle, the Energy Department was bullish when it announced FutureGen 2.0. in 2010.
The investment will "position the country as a leader in an important part of the global clean energy economy," said then-Energy Secretary Steven Chu as he announced the siting.
Yet the revamped project soon suffered a major defection. In summer 2011, Ameren concluded that the conversion to carbon capture would cost $363 million more than initially forecast and decided to withdraw its participation, according to Energy Department documents.
The frayed FutureGen Alliance dwindled to five members and has scrambled to come up with the $650 million of private money to finance the project.
Most of that money will be borrowed, with the debt paid off through a 20-year power sale approved by the Illinois Commerce Commission that was more than five times the price of the state's spot market prices in 2013.
The high cost of that electricity soured Exelon, parent company of the state's largest utility, on the project.
In a 2013 letter, Exelon's president, Christopher Crane, declared that "customers should not be forced to pay enormous above-market changes for electricity," which he estimated at an extra $150 million annually, a figure that FutureGen disputes.
Exelon's utility — Commonwealth Edison — then joined with state electricity suppliers to challenge the contract terms in a lawsuit.
The Illinois appellate court decided in favor of FutureGen last month, but one of the plaintiffs plans to appeal to the state Supreme Court.
While the case dragged on, FutureGen could not close a deal for private financing, according to Humphreys. Without that private money in hand, Energy Department officials would not release the federal grant funds required for construction.
Photo: vxla via Flickr
Interested in national news? Sign up for our daily email newsletter!