Pipeline Protesters Told To Leave North Dakota Camp By December 5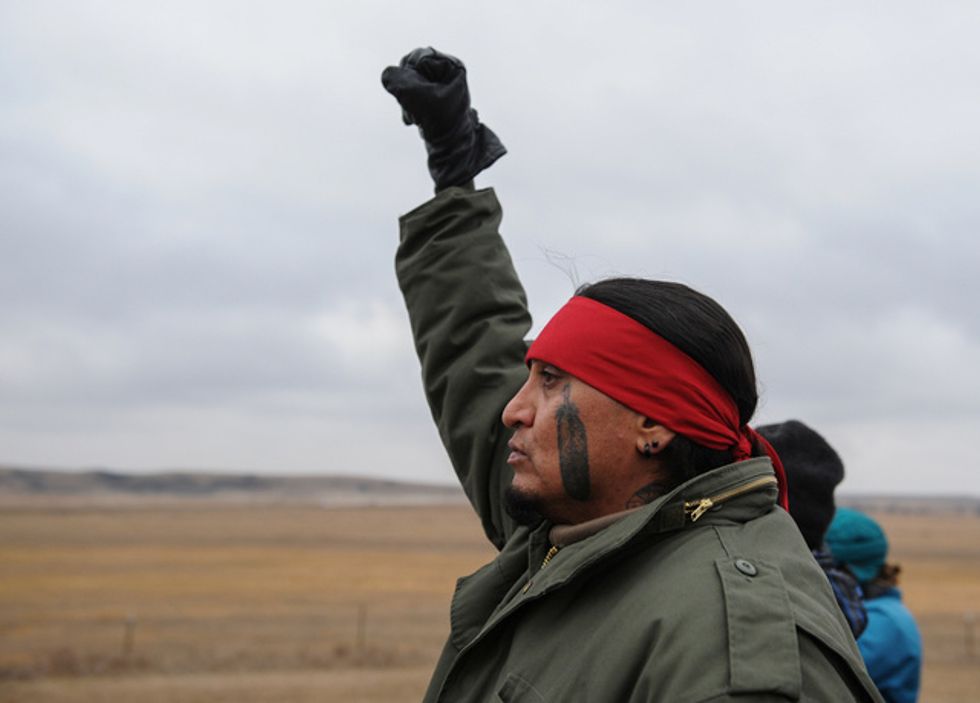 By Terray Sylvester
CANNON BALL, N.D. (Reuters) – Activists protesting plans to run an oil pipeline beneath a lake near the Standing Rock Sioux reservation in North Dakota said on Saturday they have no intention of leaving a protest camp after U.S. authorities warned it must be vacated by Dec. 5.
The U.S. Army Corps of Engineers, which manages the federal land where the main camp protesting the Dakota Access pipeline is located, said it would close public access to the area north of the Cannonball River, including to protesters. It said this was partly to protect the general public from violent confrontations between protesters and law enforcement that have occurred in the area.
Those who stay could face prosecution for trespassing, the Corps said in a letter to tribal leaders on Friday.
Organizers told a news conference on Saturday at the main protest site where about 5,000 people are camped that they had no intention of moving.
"We are staying here committed to our prayer," said Dallas Goldtooth, an organizer with the Indigenous Environmental Network. "Forced removal and state oppression? This is nothing new to us as native people."
There are smaller camps on land not subject to the planned restrictions, including an area south of the Cannonball River where the Corps said it was establishing a free-speech zone.
North Dakota Governor Jack Dalrymple, a Republican, on Saturday said he supported the decision and the federal government, which allowed the protesters to become entrenched, must lead in the camp's peaceful closure.
Standing Rock Chairman Dave Archambault said he received notice on Friday about the decision in a letter from Colonel John Henderson, an Army Corps district commander.
Archambault said the best thing the federal government could do for safety is deny the easement for the pipeline. "We have an escalating situation where safety is a concern for everybody."
Archambault said he did not see the letter as a forced eviction and the tribe would continue to exercise its First Amendment rights to free speech. The tribe is working on a location on reservation land should people choose to go there, he said.
"I don't think it will ever be an eviction where forces just come in and push people out," Archambault said.
Demonstrators have protested for months against the $3.8 billion Dakota Access Pipeline, owned by Energy Transfer Partners LP , saying it poses a threat to water resources and sacred Native American sites. The companies say the pipeline would carry Bakken shale oil more cheaply and safely from North Dakota to Illinois en route to U.S. Gulf Coast refineries.
The 1,172-mile (1,885-km) project is mostly complete except for the segment planned to run under Lake Oahe less than half a mile north of Standing Rock.
The Obama administration in September postponed final approval of a permit required to allow tunneling beneath the lake, a move intended to give federal officials more time to consult with tribal leaders. But the delay also led to escalating tensions over the project.
Last weekend, police used water hoses in subfreezing weather in an attempt to disperse about 400 activists near the proposed tunnel excavation site.
Demonstrators plan a march at noon Sunday in Washington, from the Department of Justice to the Washington Monument.
(Writing by David Bailey; Editing by Jonathan Oatis and Andrew Hay)
IMAGE: Protesters block highway 1806 in Mandan during a protest against plans to pass the Dakota Access pipeline near the Standing Rock Indian Reservation, North Dakota. REUTERS/Stephanie Keith