Hey Proud Boys: Was Assaulting The Capitol Worth Decades In Prison?
@LucianKTruscott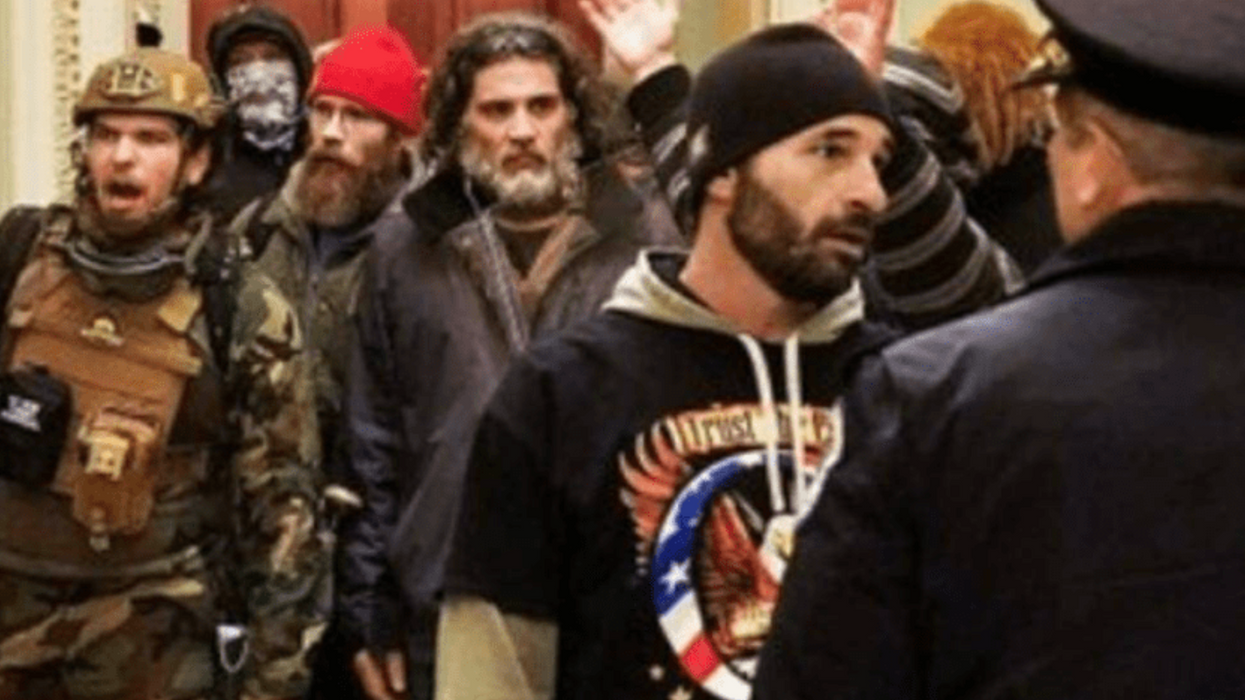 P
I'll bet you can't guess who Joe Biggs, Dominic Pezzola, Zachary Rehl, Ethan Nordean, and Henry "Enrique" Tarrio would be voting for next year if their rights to vote were not unceremoniously stripped from them and they were not locked up behind iron bars and steel doors in federal penitentiaries, having been convicted for the roles they played in assaulting the Capitol on January 6, 2021. All five are so-called Proud Boys, members of a white nationalist organization that has clashed violently with anti-fascist protesters at events around the country over the past six years.
Four of them were sentenced last week for the crimes they have been convicted of in federal trials in Washington, D.C.: conspiracy to use force, intimidation or threats to prevent officers of the U.S. – that would be members of the U.S. House of Representatives and the U.S. Senate --from discharging their Constitutional duties; conspiracy to obstruct an official proceeding; actually obstructing an official proceeding; destruction of property in the Capitol building, and impeding officers during a civil disorder – that would be assaulting Capitol and Metropolitan police officers who were attempting to protect the Capitol.
Proud Boys leaders Joe Biggs, Zacharey Rehl, Ethan Nordean and "Enrique" Tarrio were also convicted of the most serious charge, seditious conspiracy. Biggs was sentenced to 17 years in federal prison. Rehl was sentenced to 15 years. Nordean was sentenced to 18 years. Tarrio will be sentenced tomorrow.
At least two of the convicted Proud Boys have said they expect Donald Trump to pardon them when he is elected president in 2024. One of the Proud Boys leaders, Joe Biggs, called into Alex Jones' Infowars on Saturday night and after complaining about the food he has been served in the D.C. jail and begging listeners to send money to help support his family, told Jones he hoped Trump would be elected and said, "I know he'll pardon me. I believe that with all my heart."
In court during his trial, Biggs' attorney, Norm Pattis, referred to Donald Trump himself when he told the jurors, "'Be there, it's going to be wild,' the commander-in-chief said. And so they did. Their commander-in-chief sold them a lie." In his summation of the case, Biggs' lawyer speculated that "If the case of United States v. Donald J. Trump is ever brought," his telling the crowd on the Ellipse to "fight like hell" would be "exhibit one." Then he noted to the jurors, in what sounded like a lament, "But Trump is not on trial."
Dominic Pezzola was the Proud Boy who forcibly took a riot shield from one of the Capitol Police and used it to bash in one of the windows of the Capitol, providing the first opening through which hundreds of insurrectionists would rush. In court, he told jurors that he found the riot shield on the ground, even though footage from January 6 showed him struggling to get the riot shield away from a police officer. Despite his lie about the riot shield and footage showing him using it to go through the Capitol window, Pezzola was not convicted of the most serious charge of seditious conspiracy because there was less evidence showing him as a leader of the Proud Boys. He was sentenced to 10 years in prison.
All four of the Proud Boys sentenced last week begged for mercy at their hearings. Nordean, the only Proud Boy not to cry at his sentencing, told US District Judge Timothy Kelly that he now thought what happened on January 6 was a "tragedy" but still regretted "not being a better leader." Zachary Rehl melted down completely at his hearing, sobbing and calling what happened on January 6 "despicable." "I did things I regret," Rehl sputtered. "I am done peddling lies for people who do not care about me."
Judge Kelly reminded Rehl that after the attack on the Capitol, he called for "firing squads" for people who "stole" the election, and lamented to other Proud Boys, "We should have held the Capitol. Everyone should have showed up and taken the country back."
But it was Dominic Pezzola who went the furthest and begged the hardest for leniency. With his daughter and wife and mother crying in court along with him, Pezzola told the judge, "I stand before you a changed and humble man, but nonetheless a man who has always taken responsibility for his actions." Pezzola blamed the police for all the violence at the Capitol on January 6 and claimed that he had taken the riot shield from a Capitol Police officer "for my own protection." Then he claimed the officer had lost the shield in the "scuffle," and all he had done was pick it up off the ground.
After lying, dissembling, and crying during his hearing, when the judge passed sentence and he was being led from the courtroom, Pezzola threw his fist in the air defiantly, and with a smile on his face yelled out, "Trump won."
Fifteen years, ten years, seventeen years, eighteen years, with "Enrique" Tarrio still to come tomorrow. Was it worth it, Proud Boys? Do you really think the politician who has told the most lies in American history will come through for you and other convicted Capitol insurrectionists as he promised?
Lucian K. Truscott IV, a graduate of West Point, has had a 50-year career as a journalist, novelist, and screenwriter. He has covered Watergate, the Stonewall riots, and wars in Lebanon, Iraq, and Afghanistan. He is also the author of five bestselling novels. You can subscribe to his daily columns at luciantruscott.substack.com and follow him on Twitter @LucianKTruscott and on Facebook at Lucian K. Truscott IV.
Please consider subscribing to Lucian Truscott Newsletter, from which this is reprinted with permission.