Pruitt Spending Millions More On Security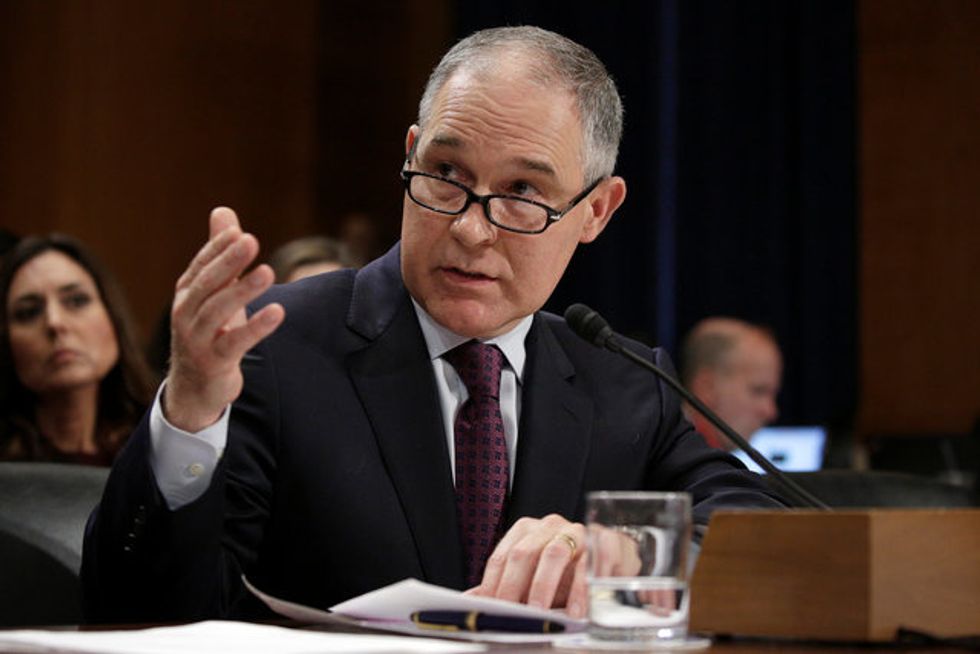 Reprinted with permission from Shareblue.com
EPA chief Scott Pruitt is spending millions of taxpayer dollars for his security detail, an amount that outstrips even the person who held the job on 9/11.
And it's just the latest revelation exposing a massive scandal involving misuse of funds at the department.
A new report indicates that Pruitt has a humongous detail consisting of 19 agents and a fleet of at least 19 vehicles. CNN notes that "with the cost of maintenance, gas, and training for agents, that leaves the dollar amount for his round-the-clock security in the millions."
The size and scope of the detail is in and of itself unusual. And it's far larger than that assigned to former administrator Christine Todd Whitman, who served under President George W. Bush.
Whitman held her position during and after the September 11 attacks, but told CNN that she walked to work alone at that time. She only had a security detail during travel.
By contrast, agents have been reassigned from criminal investigations so they can serve on Pruitt's detail.
Recent reporting revealed that Pruitt also has a sweetheart deal to rent a condo in Washington, D.C., for next to nothing from an energy lobbyist.
Pruitt has also indulged in other luxuries at the EPA, including using tax dollars for a family trip to Disneyland.
Sixty-four House Democrats have called on Trump to fire Pruitt, but Trump and other Republicans are circling the wagons. Indeed, Trump has continued to support his EPA chief and hailed him as "very courageous."
Pruitt is benefitting from a massive waste of tax dollars, largely focused on personal luxuries. It is the sort of behavior that Trump has indulged in on a daily basis.
It is all well outside the norms of historical behavior for both parties. But it's right in line with how officials operate under Trump. They learned to abuse America by watching him.