How Public Pressure Forced Megyn Kelly To Expose Alex Jones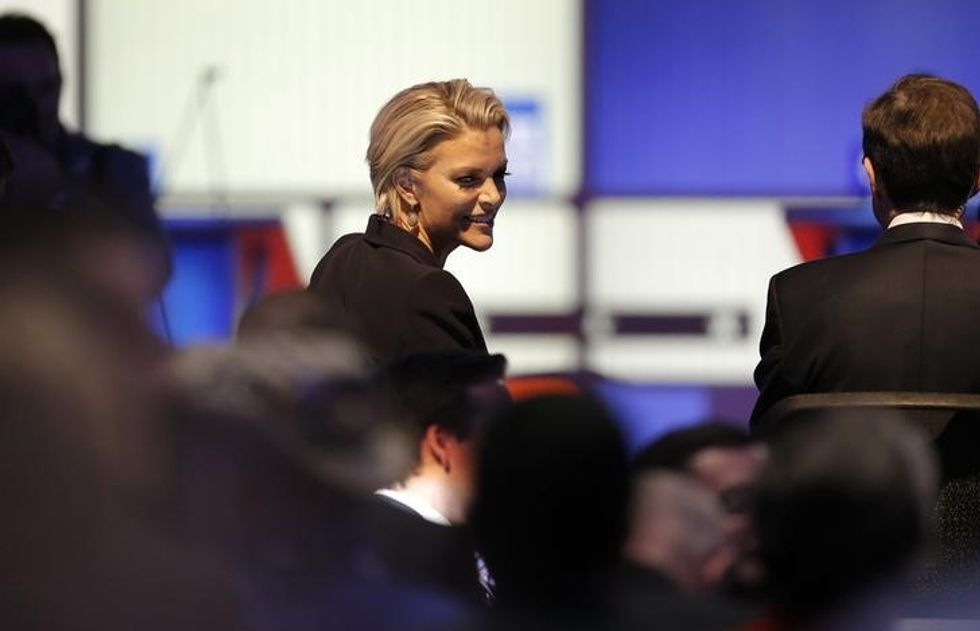 Reprinted with permission from MediaMatters.
A well-deserved firestorm of denunciations from the families of victims of the Sandy Hook Elementary School mass shooting and other critics forced Megyn Kelly to turn a report that was originally billed as a self-promotional head-to-head showdown with Alex Jones into a well-edited investigation of the dangers posed by an unstable megalomaniac with millions of loyal fans, including one in the Oval Office.
But Kelly deserves little credit — she acted in response to overwhelming public pressure, and the network's impotent reaction to Jones' own grabs for media attention may allow the nation's biggest producer of conspiracy theory media to come out the winner of tonight's program.
At no point since Kelly teased her interview with Jones at the end of last week's show has she or NBC been able to control the narrative spinning out of her own show. It's a shocking failure for one of the media'ssavviest manipulators of her own image, and the network that hired her.
Immediately after last week's Sunday Night with Megyn Kelly, Sandy Hook family members began speaking out. They said they had suffered years of torment and harassment due to Jones' claims that the shooting was a "hoax," and denounced Kelly for granting him a platform. Desperate to salvage the situation as brutal headlines rolled in, NBC all but promised its critics that the segment would be edited to portray Jones as negatively as possible.
That's exactly what happened. The segment benefited from devoting very little time to Kelly's interview with Jones, minimizing his opportunity to appeal to her audience. Instead, through strong voiceover, clips from Jones' program featuring the host spouting conspiracies, and interviews with a conservative commentator who opposes Jones' influence and the father of a child who died at Sandy Hook, Kelly explained how Jones operates, the harassment his targets experience, and his close ties to President Donald Trump.
The segment reportedly went through drastic changes following the spate of condemnation, with NBC adding an interview with a Sandy Hook family member and slicing and dicing the footage of Kelly's sit-down with Jones to make it more damaging to him. It's not unusual for networks to edit stories right up until airtime. But last week's public relations nightmare clearly played a role in the segment NBC ended up running.
NBC deserved that nightmare. Kelly was hired to be a new face of the network and given a program aimed to challenge CBS' 60 Minutes for newsmagazine primacy. But after the first episodes of her newsmagazine show suffered from poor ratings and reviews criticizing her interviewing skill, NBC took a chance with a Jones sit-down, which offered Kelly the opportunity to reset the show's reputation with a viral moment.
That the network's executives apparently didn't realize that news of the segment would trigger a backlash from Jones' victims shows a tremendous lack of foresight and ignorance of the subject matter. NBC paid for that failure with a series of awful news cycles pitting their new star against traumatized families who had lost their children who castigated Kelly for giving Jones a platform.
I believe Jones is a newsworthy subject for national news outlets. It is important for the American people to learn how the nation's most prominent conspiracy theorist has garnered a large audience and gained the ear of Trump (the circumstances were different earlier in the decade, when Media Matterscriticized severalnetworks for giving him a platform). But as I argued last week, interviewing Jones' victims would be more likely to shed light on his character than Kelly's initial approach of focusing on a head-to-head showdown. The week of controversy drastically changed NBC's calculus, producing a significantly better segment than suggested by last Sunday's preview.
It's too early to tell whether the Sandy Hook families who criticized the decision to interview Jones will be satisfied with the result, or if they will deal another blow to Kelly's stature. But while Jones isn't having a meltdown, he can't feel good about the segment's clear implication that he is a dangerous extremist. And given how badly the radio host beat the network's PR team this week, they may have something to fear from him as well.
Kelly and her network were caught flat-footed, unable to either anticipate or successfully react as Jones repeatedly outmaneuvered them, taking control of the narrative and successfully framing the story for the national media through the propagandistic manipulations that make him such a dangerous force.
Jones "has learned how to program the mainstream news by inciting outrage online that is then discussed and covered by mainstream media," BuzzFeed's Charlie Warzel reported after Jones released embarrassing audio of phone calls in which Kelly tries to talk him into doing the interview. "But Kelly and NBC were ill-equipped to deal with the pro-Trump media apparatus. Instead, they adhered to the traditional rules of a big television interview that assume a good-faith relationship between interviewer and interviewee."
Jones escalated his public relations offensive as the interview approached, releasing a Father's Day video in which he offered "sincere condolences" to the Sandy Hook families, lied about his previous comments about the attack, and lashed out at NBC. Jones was live on the air before Kelly's show aired, spreading rumors about Kelly and threatening to release his own recording of their interview if he was displeased with the result. After it aired, seeking to bolster the image that he won the night, he and his cronies drank a champagne toast on camera. As Jones again tried to take over the story online, the NBC News and Megyn Kelly twitter feeds went dark, ceding him the social space.
The radio host wanted more attention, and he got it, seeking to build his audience by portraying himself as the mainstream media's victim. Thanks to Kelly's failure to control her own narrative, he may well succeed.
Kelly's segment demonstrates that, with enough pressure, broadcast outlets can produce adequate reports on the pro-Trump fringe. But the last week shows they still haven't learned enough to effectively defend their work against an alternative media assault. And it remains to be seen whether NBC's failure to control the narrative around Jones' interview helped him more than an otherwise competent segment hurt him.