Purple Georgia 6th: Ossoff Scores Big Win But Faces June Runoff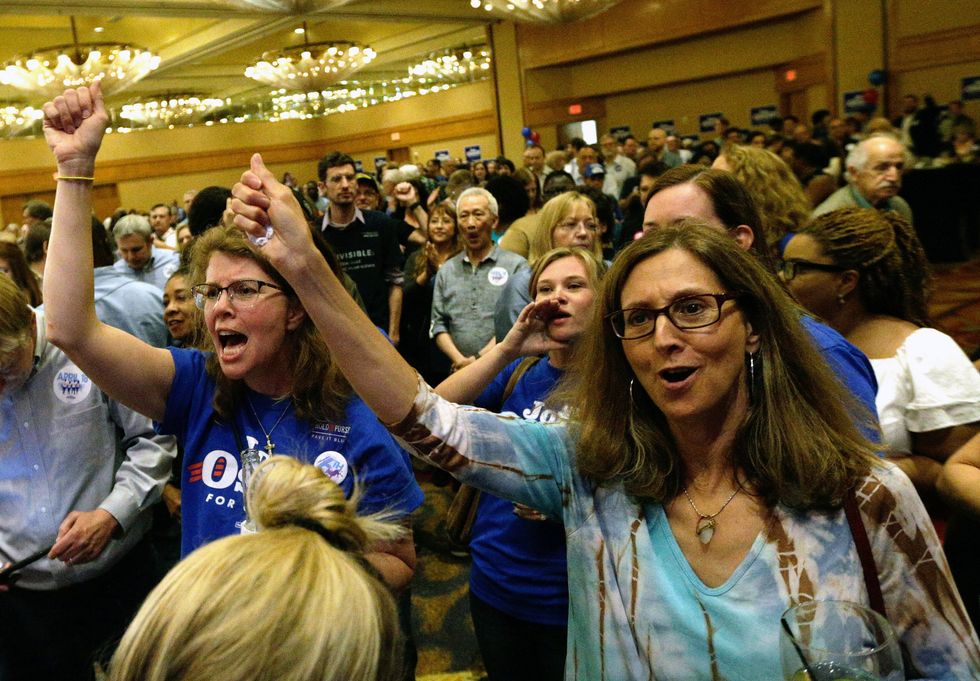 DUNWOODY, Ga. (Reuters) – A novice Democratic candidate weathered attacks from President Donald Trump and finished well ahead of his Republican rivals in a much-watched Georgia congressional race on Tuesday, but appeared to fall short of the majority he needed to win outright.
Democrat Jon Ossoff ended up as the top vote getter in a crowded field of 18 candidates vying to fill a vacant seat in the House of Representatives. But with 185 of 210 precincts reporting, he held 48.3 percent of the vote – just shy of the 50 percent he needed to become the first Democrat to represent Atlanta's affluent northern suburbs since the 1970s.
That would tee up a June 20 runoff with Republican Karen Handel, who was headed to a second-place finish with 19.5 percent of the vote.
With few other events on the political calendar, the race was seen as a bellwether of the national mood during Trump's turbulent first few months in office. Republicans have controlled the seat for decades, but Trump only won it by 1 percentage point in last November's presidential election.
"This is already a victory for the ages. We have defied the odds, we have shattered expectations," Ossoff told a cheering crowd of supporters.
The winner replaces Republican Tom Price, who stepped down to serve as Trump's Secretary of Health and Human Services.
Democrats, searching for answers at a time when they are shut out of power in Washington, found a unifying figure in Ossoff, a 30-year-old documentary filmmaker who campaigned on a promise to "Make Trump Furious." He raised more than $8 million in the first three months of the year, much of it from out of state, and drew volunteers from across the country.
Ossoff benefited from a fractured Republican field of 11 candidates, some of whom emphasized their loyalty to Trump while others kept their distance. Handel, a former Georgia secretary of state, did not mention Trump during a 10-minute speech on Tuesday night, according to local media.
National Republican groups spent millions of dollars painting Ossoff as a neophyte who does not live in the area he aims to represent. Trump himself targeted Ossoff with robocalls and a barrage of Twitter messages.
"BIG 'R' win with runoff in Georgia. Glad to be of help!" he wrote late on Tuesday.
Ossoff grew up in the district and says he will move back if he wins.
An Ossoff win would not tip the balance of power in Washington, where Republicans control the White House and both chambers of Congress. But it could weaken the already shaky hold Trump has on his fellow Republicans by encouraging lawmakers to distance themselves from him.
Trump's approval rating has not topped 50 percent since he took office on Jan. 20, according to Reuters/Ipsos polling.
The party avoided embarrassment last week when it narrowly held a conservative Kansas seat vacated when Trump tapped Republican Representative Mike Pompeo to head the Central Intelligence Agency.
(Reporting by Andy Sullivan; Editing by Peter Cooney and Stephen Coates)
IMAGE: Supporters of Sixth District Democratic nominee Jon Ossoff cheer at Election Night party in Sandy Springs, Georgia, April 18, 2017.  REUTERS/Marvin Gentry