Putin Demands Proof, Obama Gains Support For Syria Strike
@AFP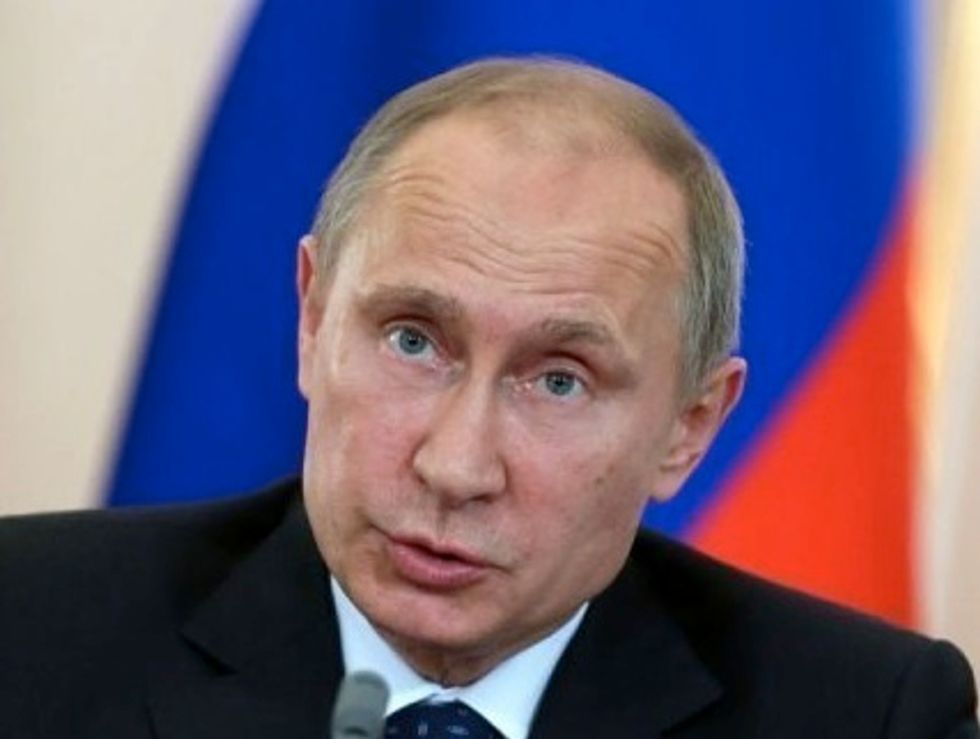 DAMASCUS (AFP) – Russian President Vladimir Putin on Wednesday demanded "convincing" proof that ally Syria used chemical weapons, even as he softened his tone towards the West ahead of this week's G20 summit.
Putin's comments came as U.S. lawmakers began rallying behind President Barack Obama's plan to launch military strikes against Syria over a suspected poison gas attack outside Damascus that killed hundreds last month.
As Obama seeks to cobble together an international coalition to back his plans for military intervention, France was Wednesday to hold an emergency parliamentary debate from 1400 GMT on the Syrian crisis.
Putin, in an interview apparently aimed at presenting a more pragmatic face to the world ahead of the G20 summit in Saint Petersburg, said he did not exclude Russia agreeing to U.S.-led military strikes if it was proven Syria's regime had carried out the August 21 attack.
But, he told state-run Channel One television, the West still needed to put forward watertight proof of the circumstances of the attack.
"If there is evidence that chemical weapons were used, and by the regular army… then this evidence must be presented to the U.N. Security Council. And it must be convincing," Putin said.
If there was clear proof of what weapons were used and who used them, Russia "will be ready to act in the most decisive and serious way," he added.
He stressed that it would be unacceptable for the West to go ahead with military action against the regime of Bashar al-Assad without the assent of the U.N. Security Council, where Russia has veto-wielding permanent membership.
U.N. experts have taken samples from the sites of the alleged attacks, which are now being analysed. However their mandate is only to determine if chemical weapons were used at all, not who may have used them.
Since the start of the Syrian conflict, the United States has frequently lamented Moscow's support for Assad and its decision to block any U.N. Security Council action to censure him or to use military action against his regime.
With relations between the Kremlin and the White House considered as brittle as they have been since the end of the Cold War, no official bilateral meeting is planned between Obama and Putin at the G20 summit.
A White House official said on Wednesday however that the two presidents are expected "to have an opportunity to speak on the margins of the various meetings of the G20."
Since British lawmakers voted down a bid to take any military action against Assad's regime, Washington has found a strong partner in France but is seeking other allies.
France has vowed to "punish" Assad and this week released an intelligence report pinning the blame for the chemical attack on the regime.
The issue was to be debated by the French parliament in what is expected to be a fiery session from 1400 GMT as pressure mounts on President Francois Hollande to follow Washington's lead and put the matter to a vote.
Hollande is under no obligation to obtain parliamentary approval for action, but with public opinion deeply sceptical of military strikes many lawmakers are clamouring for a vote.
Ahead of the debate, Syria's parliament speaker urged France "not to hasten" to act against his war-torn country.
"Syrian lawmakers are determined to get to the truth… and we ask you not to hasten to commit a heinous, senseless crime, as you must steer the French republic away from the war path and towards diplomacy," Jihad Lahham said in a statement.
Launching his international foray, Obama arrived in Sweden Wednesday for a two-day visit likely to revolve around Syria, before travelling on to Russia.
Obama stepped off Air Force One at Stockholm's Arlanda Airport fresh from efforts in Washington to secure bipartisan support for military strikes against Syria.
After a passionate plea by US Secretary of State John Kerry not to succumb to "armchair isolationism", lawmakers in Washington on Monday drafted a bipartisan measure imposing a 90-day deadline for any U.S. military intervention.
It would also ban the deployment of any U.S. troops on the ground in Syria, where fighting now in its third year has claimed more than 110,000 lives.
"This is not the time for armchair isolationism. This is not the time to be spectators to a slaughter. Neither our country nor our conscience can afford the cost of silence," Kerry told the Senate Foreign Relations Committee.
His words were echoed by Defence Secretary Chuck Hagel, who said a U.S. refusal to act after Obama had clearly set chemical weapons use as a "red line" would undermine America's credibility abroad.
Obama has deferred any military action in Syria, seeking Congressional approval at a vote scheduled for September 9.
The U.S. Senate committee, after a nearly four-hour hearing, re-worded the resolution put forward by the White House to restrict it to "limited and tailored" use of the United States Armed Forces against Syria, according to a copy of the draft obtained by AFP.
The Syrian army, meanwhile, has retaken control of the strategic town of Ariha in northwest Syria after 10 days of intense bombing and clashes, the Syrian Observatory for Human Rights said.
Photo Credit: AFP/Maxim Shipenkov