A Question For Voters: End Gun Deaths, Or End Televised Gun Deaths?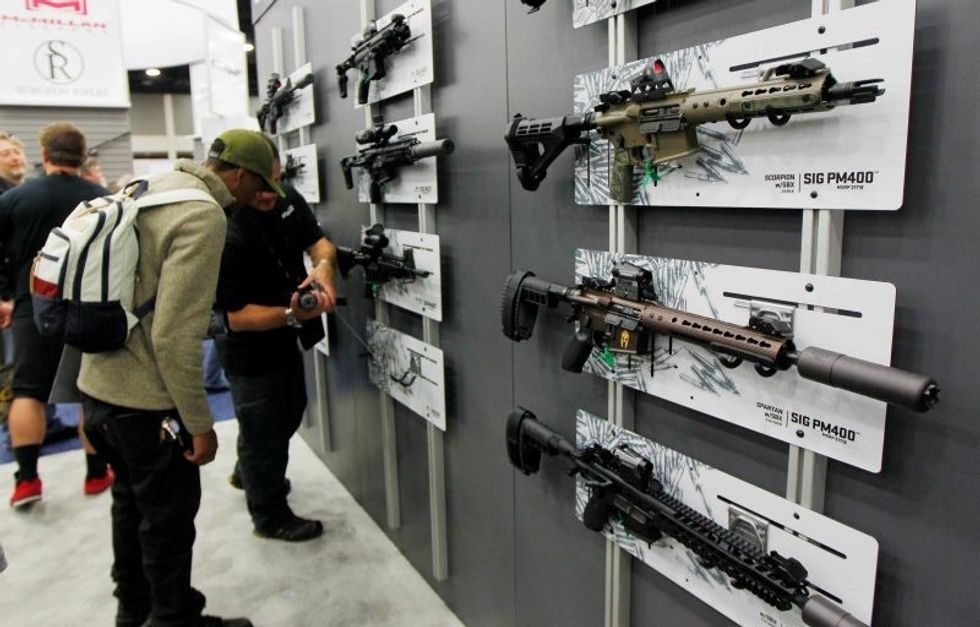 Update: This article has been corrected to reflect that participation in the FBI's National Instant Criminal Background Check System is required by law, either through a state's own infrastructure or through the FBI. 
When House Speaker Paul Ryan's office announced on Thursday that the he would allow for a vote on gun control this week, liberals' ears were understandably perked.
Well, there are lots of caveats. Politico reports that Ryan favors Republican Sen. John Cornyn's proposal, which was already defeated by partisan vote in the Senate two weeks ago, alongside every other gun control effort.
The Cornyn amendment specifies that anyone on a terror watch list, or anyone removed from a watch list within the previous five years, will be delayed from buying a gun for at most 72 hours while the Justice Department makes a case for whether or not they are a real terrorist threat.
Organizations and individuals across the political spectrum have justifiable concerns about the terror watch list.
The ACLU, in a letter to senators ahead of the original Senate vote on Cornyn's measure, pointed out that
"an internal August 2013 government document … shows that Dearborn, Michigan — home to the country's largest concentration of Arab Americans — was second only to New York City in the number of people on the government's "known or suspected terrorist" watchlist [sic]. This was despite the fact that, as the U.S. Attorney for the Eastern District of Michigan noted at the time, not a single person from Dearborn had ever been prosecuted for terrorism."
"[W]hat is to say that someone like [

militia movement leader and gun advocate

] Mike Vanderboegh was not put on the list as a domestic terrorist for his Second Amendment activism at the recommendation of the BATFE [Bureau of Alcohol, Tobacco, and Firearms], the BLM [Bureau of Land Management], or even the SPLC [Southern Poverty Law Center]. Heck, for all we know it could be all gun rights bloggers, podcasters, or Facebook commenters just because Loretta Lynch doesn't like us.
All sorts of people end up on the government's radar who pose no threat of terrorist gun violence.The Intercept reported last summer that Black Lives Matter activists had been tracked by the government since protests began in Ferguson, months after the movement started.
And the shooting at the Pulse gay night club proved that the FBI and others aren't necessarily that great at maintaining this list: Mateen was on the FBI's Terrorist Screening Database in 2013 and then again in 2014, when he was questioned about possible ties to extremist groups. But the bureau took him off the list after no concrete ties to extremist leaders emerged. Indeed, language in Cornyn's amendment specifying anyone who has been on the list within the past five years reads like a post-facto answer to the Orlando massacre.
The fact is, it's a nearly impossible task to prevent terrorism (that's why its terrifying), and the terror watch list — the very same that Democrats furiously denounced in the Bush years for the scores of innocent Americans on their rolls — won't change that.
Here's another problem with debating an anti-terrorism measure meant to address gun violence: Terrorism accounts for a tiny, tiny percentage of gun deaths. And if that point sounds familiar, it's because the president had to remind journalists of the reality of gun crime after — in the wake of the San Bernadino attack — Americans once again demanded their government somehow solve terrorism, as if we haven't been trying for 15 years.
To the extent that banning people on an arbitrary terrorist watch list from buying guns temporarily will prevent terrorism — which, as history has borne out, it will not — it won't do a lot to end our gun death epidemic.
According to an analysis from FiveThirtyEight of FBI and Government Accountability Office numbers, of the 192,956,397 gun transactions on which there is data available between 2004 and 2016, 2,477 transactions were flagged for terrorism concerns after a review in the FBI's National Instant Criminal Background Check System (NICS). Of those, 212 sales were prevented due to terrorism concerns.
It's possible that those prevented sales did prevent mass casualty attacks from taking place. It would also have been very possible that those 212 prevented sales were followed up, days afterwards, with the purchase of the same firearm at a gun show, over the internet, or from a friend.
But to engineer a gun violence program around counterterrorism ignores what terrorism is: An attempt to use violence to bring attention to a political cause.
In the case of the Islamic State, its leaders want to fuel an eschatological battle between their extremist brand of Islam and the rest of the world. To hear some politicians talk about ISIS, and about the existential threat they pose to America (they don't pose one), their use of terrorism has been successful: We're prepared for a new world war.
And perhaps limiting suspected terrorist access to guns would prevent that cause any further publicity in the form of mass shootings.
But what the second piece of gun legislation House Democrats demanded in their post-Orlando sit-in?
Universal background checks — including in private sales and at gun shows — are supported by experts as a reliable way to decrease gun deaths of all kinds, including suicides, which make up the majority of gun deaths in America.
Do you live in a state with more political will to stop gun deaths? Go one step further and demand "permit-to-purchase" laws, so that anyone who wants to buy a gun has to apply and receive a permit before buying a weapon. As NPR reported earlier this year:
Two recent studies provide evidence that background checks can significantly curb gun violence. In one, researchers found that a 1995 Connecticut law requiring gun buyers to get permits (which themselves required background checks) was associated with a 40 percent decline in gun homicides and a 15 percent drop in suicides. Similarly, when researchers studied Missouri's 2007 repeal of its permit-to-purchase law, they found an associated increase in gun homicides by 23 percent, as well as a 16-percent increase in suicides.
But these cases are old, and studying the effects of legislation in the real world requires a careful consideration of all of the variables at play. This points to perhaps the best thing we can do to truly understand and address our gun death epidemic: We need to fund gun studies.
The Centers for Disease Control and Prevention are today banned from funding any research which might "advocate or promote gun control." That's a ridiculously partisan rule, for a public health agency. And without the ability to study guns on a wider and more systematic scale, we won't know the plethora of ways we could make a dent in all the ways guns brutally interrupt the lives of Americans: In cases of domestic violence, in neighborhood arguments, road rage, armed crime, drug and gang violence, and suicide, and yes, terrorism (but mostly the other stuff).
The causes for all of these deaths are as varied as their individual circumstances. We can be sure, though, that while preventing possible terrorists from buying guns for 72 hours might put some dent in the amount of televised mass shootings in America, it won't change the fundamental facts: Most shootings have nothing to do with terrorism, and most gun deaths don't make the news.
Photo: File Photo: NRA gun enthusiasts view Sig Sauer rifles at the National Rifle Association's annual meetings & exhibits show in Louisville, Kentucky, U.S. on May 21, 2016.   REUTERS/John Sommers II