Racists, Slavery Apologists, And White Nationalists Knew Exactly What Trump Was Saying About The Civil War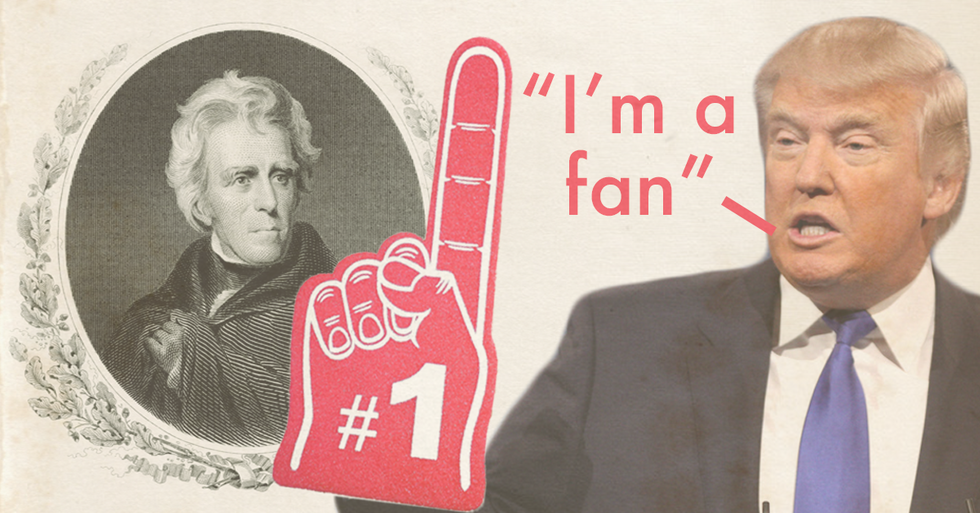 Reprinted with permission from MediaMatters.
President Donald Trump's comments about the Civil War in a recent interview, in which he diminished the impact of slavery ahead of the war and praised former President Andrew Jackson, echo sentiments of white nationalist media and signify yet another instance of intermingling between Trump and his nativist fans.
During a May 1 interview with the Washington Examiner, Trump claimed that "had Andrew Jackson been a little later you wouldn't have had the Civil War," adding that Jackson "was a very tough person but he had a big heart. He was really angry that he saw with regard to the Civil War." Trump went on to say, "People don't ask that question, but why was there the Civil War? Why could that one not have been worked out?"
As Jamelle Bouie, then of The American Prospect wrote, "Civil War historians disagree on many things, but there is a general consensus surrounding the reasons for the war, and slavery is at the top of the list." Tony Horowitz of The Atlantic stated, "The Civil War today is generally seen as a necessary and ennobling sacrifice, redeemed by the liberation of four million slaves." And, as noted by Ta-Nehisi Coates, the Civil War "ended slavery, and birthed both modern American, and modern black America."
Trump's remarks were largely panned for being "puzzling" and "fact-free." But as historianswarned would happen, white nationalist media figures praised his comments, saying that Trump was "right about the UnCivil War" and that "none of the modern wars have advanced the White race and our shared civilization."
By questioning the cause of the Civil War, Trump was blowing a dog whistle to white nationalist media figures and neo-Confederates, tacitly supporting the revisionist history they promote. The white nationalist website VDare, for example, has claimed that the idea that the Civil War was meant to "preserve the Union and free the slaves" is a "lie." White nationalists have also attempted to dismiss the traumas of slavery, writing that it "wasn't as bad as you were taught." So when Trump suggested that the war could have been avoided or that the cause was unknown, he was echoing the sentiments of white nationalists by diminishing the impact slavery had in the United States.
Additionally, Trump's repeated praise for Jackson has drawn support of white nationalist media figures who are similarly drawn to Jackson. White nationalist websites like The Daily Stormer have praised Jackson for kicking Native Americans off their land, writing, "They were killing kids, raping and killing women – it was a horrorshow (sic) with these tree-monkeys (sic)." The white nationalist website Infostormer called Jackson "a legitimate bad ass," writing, "He fought in duels, won the Battle of New Orleans and abolished the Second Bank of the United States," which Jackson had said was an elitist institution that lacked proper oversight.
When Trump praises Jackson, white nationalists take note. After Trump hung a portrait of the late president in the Oval Office, Infostormer said it was "great news" because "there is a good chance Trump plans on shaping his presidency to be in the same vein as Jackson['s]." When Trump visited Jackson's tomb, Infostormer lauded Trump for "recognizing the greatness that was Andrew Jackson."
Trump has had a long history of interacting with white nationalist media figures. His latest comments are yet another wink and nod to his nativist supporters.
Graphic by Dayanita Ramesh