RadioShack Reports Big Loss, Will Close Up To 1,100 Stores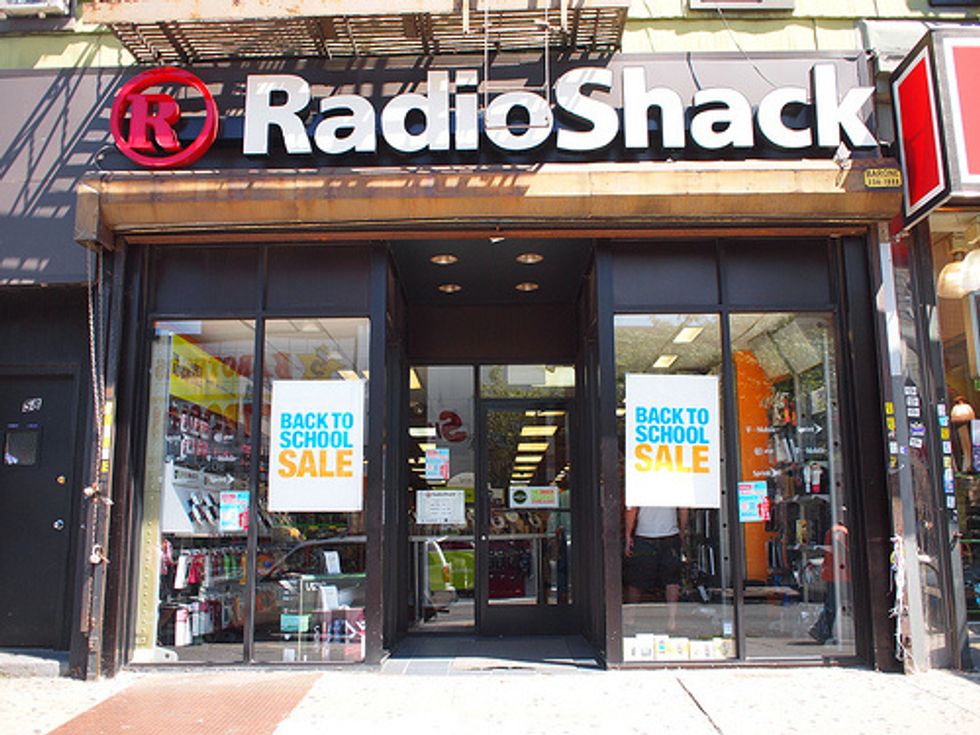 By Steve Kaskovich and Barry Shlachter, Forth Worth Star-Telegram
FORT WORTH, Texas — RadioShack Corp. plans to close up to 1,100 stores after reporting a much wider fourth-quarter loss of $191.4 million on plunging sales.
Total net sales for the three months ended Dec. 31 were $935.4 million, down 20 percent from $1.17 billion last year. Same-store sales, measuring stores open at least a year, declined by 19 percent "driven by traffic declines and soft performance in the mobility business."
In a statement, Chief Executive Officer Joseph Magnacca said the poor results were the result of "a holiday season characterized by lower store traffic, intense promotional activity particularly in consumer electronics, a very soft mobility marketplace and a few operational issues."
And on a conference call with analysts, Magnacca listed other issues including bad weather, fewer shopping days between Thanksgiving and Christmas, various operational challenges and poor execution in removing duplicate merchandise from stores. Moreover, three key executives were taken on board only within the past 120 days.
"We tried to do too much too quickly," he said.
The CEO cited the mistake of removing 100 items with sales potential from the stores and said there was insufficient stocking of some higher-margin house-brand items.
Some of the stores targeted for closure may stay open if landlords lower the rent to a level where the locations would be profitable, Chief Financial Officer John Feray said.
Magnacca said the decision to close up to 1,100 underperforming stores — about 20 percent of the chain's locations — was the result of a comprehensive strategic review that considered factors including "location, area demographics, lease life and financial performance." After the closings, the Fort Worth-based consumer electronics retailer will continue to have more than 4,000 stores, including more than 900 dealer franchise locations, the company said.
Asked if the store closings would leave market gaps, the CEO told analysts that some areas were grossly oversaturated, noting that in Fort Worth there are five RadioShack stores located within five miles of his home.
Feray noted that its current agreement with lenders requires their approval for more than 200 store closings a year, or 600 over the life of the agreement. But the CFO did not indicate that securing their permission was a major hurdle. Closing costs would be more than covered by proceeds from inventory sales, and he said RadioShack might engage one or two liquidating firms.
The fourth-quarter loss was three times bigger than in 2012, when the company lost $63.3 million in the fourth quarter. For all of 2013, RadioShack posted a net loss of $400.2 million, or $3.97 per diluted share, compared to net loss of $139.4 million in 2012. Sales for the year totaled $3.43 billion, down 10 percent, and same-store sales declined by 8.8 percent.
The news wasn't good in Mexico either, where fourth-quarter sales at company-owned stores dropped 10 percent, prompting RadioShack to take a $24 million impairment charge on their overall value, Feray said. He also said the chain initiated a management shakeup in Mexico.
On Wall Street, RadioShack stock fell 17 percent, or 47 cents a share, to close at $2.25.
Magnacca, a former Walgreens executive who joined RadioShack about a year ago, has overhauled the company's management team, lined up new financing deals and opened a series of concept stores with a new design and streamlined inventory.
Despite the poor performance, he repeatedly expressed confidence that RadioShack will accomplish its revitalization plan. "Our turnaround plan is on track," he insisted.
He cited the new executive hires and the retailer's acclaimed Super Bowl TV ad that poked fun at itself by featuring 1980s celebrities to highlight its new concept stores where staff would better serve shoppers than at rival big-box stores. The CEO noted new product development, both in-house and with fledgling innovators, whose new items, he said, will play a big role in the chain's turnaround. He added that some 100 stores would be getting 3-D printers.
Photo: Bekathwia via Flickr