'Rambo' Appeal, Not The Mosque, Lures Brussels Youths To IS
@reuters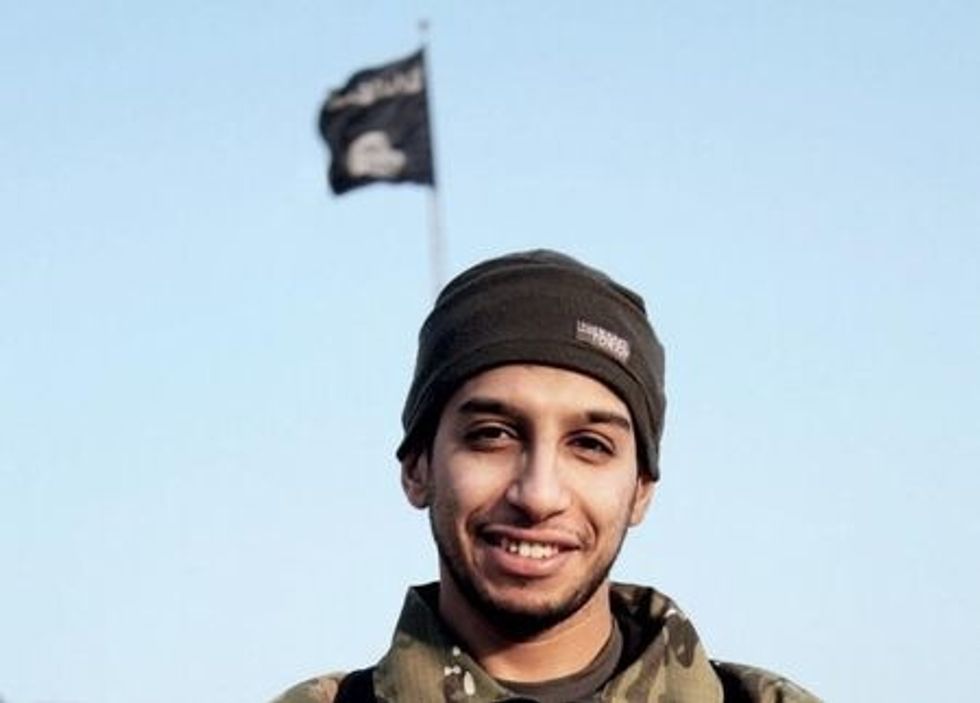 By Alissa de Carbonnel
BRUSSELS (Reuters) – Khalid Ben Larbi lived a hedonistic lifestyle similar to other European youths and rarely went to the mosque in Molenbeek, the mainly Muslim Moroccan immigrant area where he and three of the suspected Paris attackers grew up in Brussels.
It was the same inner-city disenchantment that leads other youths to drugs and crime, not the preachings of a radical imam, that neighbors, local social workers and imams say changed Ben Larbi from raucous adolescent to Islamic State foot soldier, drawn by the promise of adventure and glory.
The families in Molenbeek and other areas are often shocked to discover their children have been recruited by a mix of back street preachers, social media and a growing network of hometown jihadists spreading tales of derring-do in Syria.
Ben Larbi was a "regular guy", liked the movies, was comfortably off. Then one day last year, he disappeared to fight in Syria before returning to Belgium in January when the 23-year-old was killed in a police raid, Kalashnikov in hand.
"His mother was totally shocked. Even now, months later, she doesn't go out," a local woman who knows the family told Reuters as police searched Brussels for Salah Abdeslam, a key suspect in the Nov. 13 IS attacks in Paris. "He said he was going to see friends. Next thing they knew, he was calling from Syria."
Ben Larbi's family could not be contacted for comment.
He joined up in Syria with another Molenbeek man, Abdelhamid Abaaoud, the suspected planner of the Paris attacks who was killed by French police last week.
They posted Internet videos, some gory, some jokey. Abaaoud, 28, who shocked his own family by heading to Syria in 2013 according to interviews with his family in Belgian media, dubbed himself the "tourist terrorist". Officials believe he has lured other Molenbeek men into violence.
"The Syrian problem has broken us," said Jamal Habbachich, who heads a council of 22 Molenbeek mosques. "Families come to us devastated."
Having paid little attention to Muslim practices in the past, families often only realize their sons have changed when they take their relatives to task for lax observance, says Olivier Vanderhaegen, who works for a new service set up by Molenbeek borough this year to combat youth radicalization.
"That is clearly a final phase of radicalization; and it's usually only then that families realize there is a problem; and often almost too late," he said at his office near Abdeslam's home.
IDENTITY CRISIS
With Brussels locked down for three days for fear Salah Abdeslam or others could mount new, Paris-style attacks, their story has put the spotlight on Molenbeek.
On the wrong side of the city's canal, the borough is afflicted by overcrowding and high youth unemployment, the same problems that are blamed for delinquency and ghettoization in other inner city communities.
That is combined with a feeling among some of Moroccan descent that they belong neither in Morocco or Belgium.
"The radicalization we see is essentially an identity crisis," said Vanderhaegen.
Abdeslam, 26, who ran a local bar in trouble with the drug squad, knew Abaaoud in prison, security officials say. Both men did time for petty larceny four or five years ago. Noone thought he cared about religion.
But, his elder brother Mohamed told Belgian television on Sunday, he began to notice earlier this year that Salah and another brother, Brahim, started to pray and stopped drinking alcohol at social gatherings.
Brahim, who owned the bar Salah ran, blew himself up outside the Comptoir Voltaire cafe in Paris.
The brothers, like most of their neighbors, are the children and grandchildren of Moroccan migrants invited en masse by Belgium in the 1960s to plug labor shortages.
"My grandfather worked for 25 years in the coal mines, my father died there, and people still look at me sideways," said Fatima, 42, outside a mosque tucked away on the first floor of a residential building in Molenbeek, where dozens of young men filed in for Friday prayers last week.
SAVVY RECRUITERS
As a child, Salah visited the Attadamoun Mosque in Molenbeek but then stopped going, Habbachich said. He said some imams are too steeped in tradition to talk over the everyday challenges the youths face. Only one in two of the borough's imams even speak French, he said.
"So they look elsewhere," Vanderhaegen said, lured by recruiters who speak the "language of the street" such as sharia4belgium, a social media savvy organization whose leader and dozens of members were convicted early this year in the Flemish city of Antwerp of enticing dozens to fight in Syria.
Molenbeek Mayor Francoise Schepmans, who described her borough as a "breeding ground for radical violence", admitted authorities have yet to come to grips with the problem.
Since 2014, four officers are on the watch for extremism among the 220,000 inhabitants of the police district Molenbeek is part of. "It's not enough," Schepmans said.
With at least 350 people from Belgium having gone to Syria to fight – the highest per capita number in Europe – and becoming heroes to others, many feel more needs to be done.
"Sharia4belgium walked our streets for years before the authorities intervened," said Habbachich.
Although the number of new departures has more than halved from 10-12 per month in 2012-2013 to about 5 per month this summer, counter-terrorism expert Rik Coolsaet said, today's new generation of would-be IS fighters are a less idealistic, more "hard-core" group of "sadism, adventure, thrill seekers".
"In this no-future atmosphere, it is a new outlet for deviant behavior," he said. "One which gives them some kind of belonging."
In a correctional home for minors in Brussels, where Mohamed Azaitraoui works as a Muslim counselor, four out of 80 of his charges have been picked up by the security services on suspicion of having IS ties.
He recently spent months counseling a 17-year-old, whom he believes dealt directly online with a Syrian recruiter.
Azaitraoui's professional experience has made him particularly watchful even of his own teenage children.
"Better not to wake up one day and find they've gone," he said. "Teens think they are Rambos: invincible. They are told they'll be offered salvation in Syria. It's a delectable myth."
(Editing by Anna Willard)