Rand Paul: Only Fetal Personhood Can Prevent Collapse Of Civilization [Video]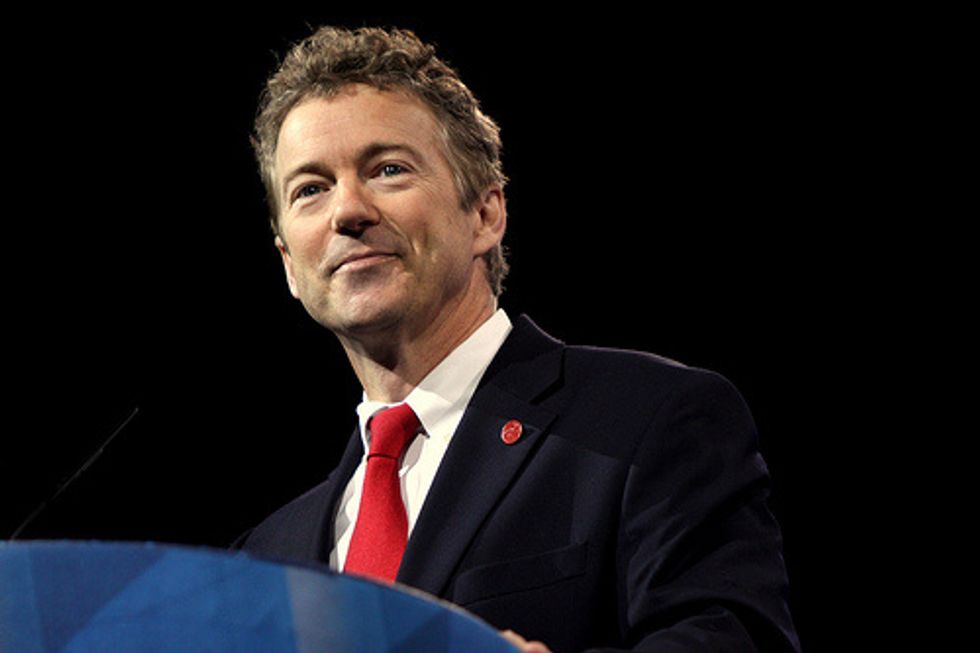 In a recent feature in the New York Times Magazine, Robert Draper described Senator Rand Paul's (R-KY) vision for the GOP as "libertarian — though only up to a point."
Thanks to an interview that Senator Paul did with the American Liberty Association this week, we have a better idea of what that point is.
In the interview, Paul reiterated his strong support for fetal personhood bills — and suggested that failing to pass them could bring about the end of civilization.
"I've introduced legislation called the Life at Conception Act, to define when life begins: at conception. I've also probably co-sponsored 20-some-odd pro-life bills, I have a 100 percent voting record for pro-life," Paul said during the interview. "But I also have taken the time to go to the March for Life. When I was there, I was the only senator who showed up for the March for Life."
"So I do think it's important," Paul added. "I often say in my speeches, that I don't think a civilization can long endure that doesn't respect the rights of the unborn."
So the government should stay out of people's lives…unless there's a fertilized embryo involved, in which case the constitutionally protected right to privacy will cause the Apocalypse.
Paul's Life at Conception Act would extend legal rights to humans "at all stages of life, including the moment of fertilization, cloning, or other moment at which an individual member of the human species comes into being." In practice, the bill would outlaw abortion, in addition to embryonic stem cell research and many common forms of birth control.
In the past, the senator has made no secret of his support for such measures. That appears to be changing as he prepares for a widely anticipated presidential run; in April, Paul upset some conservatives by saying that "we are not changing any [abortion] laws until the country is persuaded otherwise," and earlier this week he told an Iowa crowd that "I think almost nobody in here wants to ban birth control."
Abortion is just one of many issues on which Paul has flipped back and forth. Earlier this month, PolitiFact rated Paul's claim that he's never proposed phasing out aid to Israel as "Pants on Fire." He has also falsely claimed that he has never opposed the Civil Rights Act, and gone from calling for an electrified underground border fence to supporting legal status for undocumented immigrants, among many other position changes.
H/t: The Raw Story
Photo: Gage Skidmore via Flickr
Want more political news and analysis? Sign up for our daily email newsletter!