The Ravings Of A Lunatic: Trump's Tweets Are Now Official Presidential Statements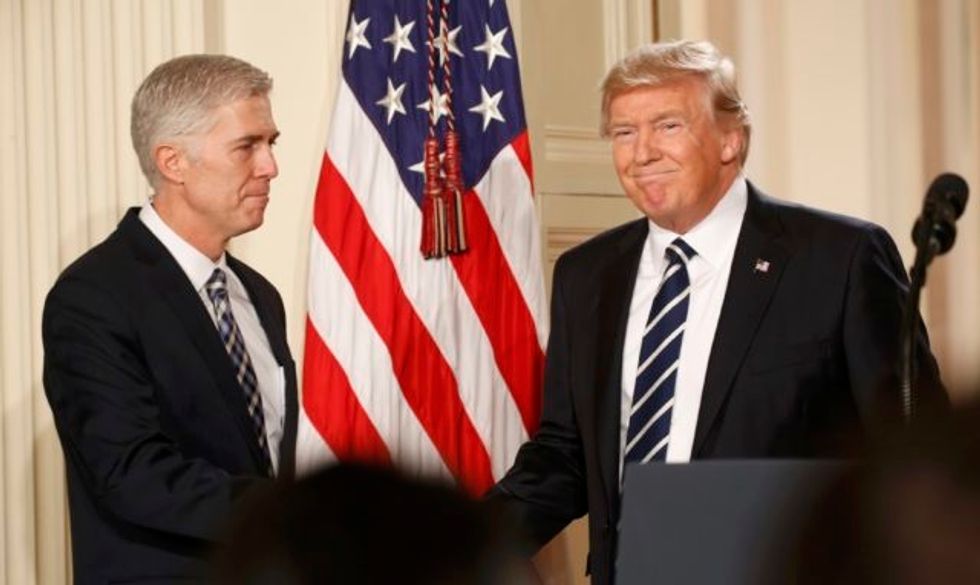 Reprinted with permission from Alternet.
Donald Trump's tweets tend to fall into two categories: the ravings of a lunatic, or the musings of a maniac. This might not matter if he weren't also the sitting president of the United States, vested with all the powers that accompany the office. Every Trump tweet, no matter how reckless, destructive or lie-filled, is an on-the-record declaration by America's commander-in-chief. With that in mind, a software developer in Missouri has created a new bot that transforms Trump's unhinged social media rants into the official statements they are.
The @RealPressSecBot Twitter account scans Trump's social media account every 15 minutes for new messages. When it finds a new post, the bot drops the text onto White House letterhead to ensure it's recognized as a formal statement from the president.
For example, Trump tweeted this message on Tuesday morning:
Shortly thereafter, the Real Press Secretary Twitter account rolled out this gem:
Here's another example in which Trump reasserts that his Muslim travel ban is indeed a ban—the exact thing his lawyers are arguing it isn't:
Now here are all the same words, only now they're properly enshrined:
The point of @RealPressSecBot isn't just to call attention to the ridiculousness of almost everything Trump tweets, but to emphasize that a president's words matter. Unable to wrestle away the president's cellphone, Team Trump's newest tactic is to suggest the president's tweets are unimportant, even as they tout social media as the president's link to the masses.
Kellyanne Conway scolded the press on Monday for its "obsession with covering everything [Trump] says on Twitter and very little of what he does as president," as if the two aren't inextricably tied. The same day, Sarah Huckabee Sanders praised social media for giving Trump "the ability to speak directly to the people without the bias of the media filtering those types of communications." It's clear the new strategy is the same as the old strategy, which is to present as many conflicting, contradictory messages as possible to create confusion and render everything meaningless.
Russel Neiss, who created the bot, was inspired by a tweet from New York Times reporter Maggie Haberman suggesting Trump's tweets be taken seriously, and former Obama communications staffer Patrick Cunnane, who first had the brilliant idea of giving Trump's tweets the context they merit.
It recently came to light that nearly half of Trump's 32 million Twitter followers aren't real people but fake egg-bots that the president may have bought to bolster his image. Even still, that means millions of actual people are watching as Trump uses his mobile phone to alienate allies, attack the free press, ignore hate crimes, and disseminate misinformation on a daily, and sometimes hourly basis. Every word counts.
Neiss, speaking to Mother Jones about the account he created, drives this point home.
"We have a press secretary who is being constantly undermined by his boss's tweets, and we have surrogates who say they can't speak for the president. At this moment, the best thing we have is the man's Twitter account," Reiss told the outlet. "That classic quote from the campaign that you have to take the president seriously but not literally? Everyone's been telling Trump not to tweet, and he continues to tweet, and so I think it's important to take him seriously, even if not literally. These are serious words coming out of the highest office holder in the land, and all that this bot does is just give those messages the proper honor they deserve….These are statements of the president. Putting those tweets in this format emphasizes that, more than just saying it."
Kali Holloway is a senior writer and the associate editor of media and culture at AlterNet.
This article was made possible by the readers and supporters of AlterNet.