Reach For The Slow Cooker For A Warm Winter Dinner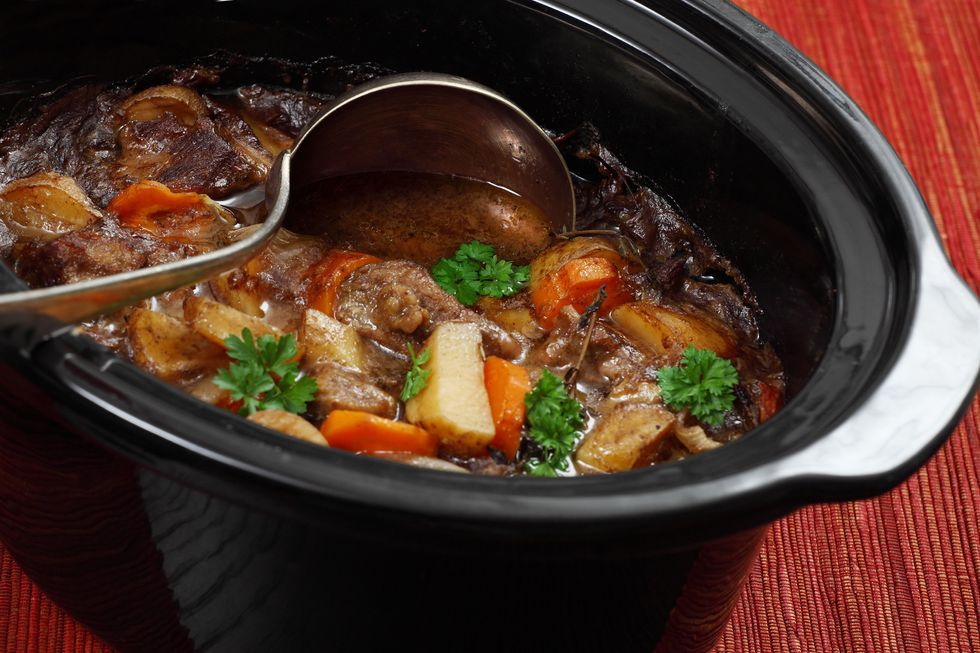 By Lee Svitak Dean, Star Tribune (Minneapolis) (TNS)
When important people who cook are asked what their indispensable kitchen tools are, the answers tend to be similar. It usually boils down to a chef's knife and a heavy set of cookware, with a few random culinary gadgets, depending on who answers the question.
And, yes, those are the important tools of the trade, the mainstay of all good cooking.
I have them both. I am ready to cook at all times. Kitchen duty would be tough without those basics.
But here's where some of us veer off along a different culinary path. We may be serious cooks, but we also wear the mantle of "busy," and the prospect of dinner in process while we are away means we're efficient cooks (and, I would argue, smart ones).
So I add "slow cooker" to that must-have list. (You may call it a Crock-Pot, which is a trademarked name that reflects the original. I officially have to stick with the generic label.)
But the slow-cooker necessity is more than having dinner ready when I walk in the door. I reach for this simple small appliance (one big enough to hold half a ham) because I have only a single oven and four stovetop burners. How else will I cook for a crowd when there are too many dishes to prepare? I reach for the slow cooker and breathe a sigh of relief.
Which brings me to my favorite dish for this low-heat contraption. Sesame Pork Roast serves as my standby in cold weather, as much for its enticing fragrance as for its tender meat.
This recipe has made the rounds of three generations of Svitak cooks and our extended family, it's that good. And like all memorable recipes, it has a story.
Forty-plus years ago, my mother's sister wrote down a recipe she heard on the radio. She was quite the adventurous cook and, with a home in California, always ahead of our Minnesota taste buds. As she often did with recipes, this one was passed along to my mother, who made it for company because it was far too exotic to serve for everyday.
And, yes, it was unusual for its time, with sesame seeds, soy sauce, ground ginger and curry powder all part of the mix (how un-Minnesotan was that in the early 1970s?).
The recipe had staying power, in great part because of its versatility. Need an unexpected (and efficient) dish for entertaining? Check. A reliable family dinner? Check. Different ways to serve it? Check (atop mashed potatoes, rice or noodles, with or without gravy). What about informal sandwiches, stuffed onto buns? Check.
I've also discovered that it's a great recipe to adapt to ingredients I have on hand. Add more or less green onions, as you prefer. Experiment with fresh ginger instead of ground (but make sure you use a lot). I've prepared it without curry powder when I discovered, too late, I had none. Left out the sesame seeds on another occasion when I hadn't planned ahead (oops). Despite my tinkering and occasional inept planning, the recipe works because, at its basic, it's simply braised meat with seasonings.
For all these reasons, Sesame Pork became part of my repertoire and later for my daughters, who prepare it for guests these days because who serves a roast to company? Once again, it's exotic.
As for the popularity of slow cookers, chefs Daniel Boulud and Thomas Keller have demonstrated recipes in these not-so-haute appliances, though I have doubts that either of them has one stashed in a cupboard.
But when even they serve up braised meat for their guests, I know we're in good company.
SESAME PORK ROAST
Serve 6.
Note: Basically a braised piece of meat, this roast is easy to prepare whether in a slow cooker or in the oven. When prepared in the slow cooker, the roast doesn't need to be marinated in advance because the meat marinates during the all-day cooking time. But for ease of prep in the morning, it's helpful to make the marinade the night before. From Come One, Come All/ Easy Entertaining With Seasonal Menus by Lee Svitak Dean.
2 tablespoons sesame seeds
3 or 4 green onions, sliced (about 1/4 cup)
1/2 cup ketchup
1/4 cup soy sauce
2 tablespoons ground ginger
2 tablespoons molasses (any type)
2 teaspoons salt
1/2 teaspoons curry powder
1/2 teaspoons black pepper
1 cup water
2 tablespoons red wine vinegar
4 pounds pork shoulder roast
3 tablespoons flour for gravy, if desired
Toast sesame seeds in a dry frying pan over medium heat until fragrant and slightly browned, stirring occasionally.
Place seeds in a bowl with the green onions, ketchup, soy sauce, ginger, molasses, salt, curry powder, black pepper, 1 cup water and wine vinegar; stir to mix thoroughly. Place meat in a large bowl and pour the marinade over the meat. If you are not using a slow cooker, marinate the roast, covered and in the refrigerator, for 2 to 3 hours or overnight.
To prepare in a slow cooker: Place meat and marinade in the slow cooker, cover, and cook on low for 8 to 9 hours or on high for about 3 hours. When done, the meat should be falling apart tender, easy to pull apart with a fork.
To prepare in the oven: Place the meat and marinade in a covered casserole dish, and let it cook at 300 degrees for about 3 hours, or until the meat is very tender.
To serve: Place meat over noodles, rice or mashed potatoes, along with pan juices or with gravy made from the juices. Or pull the meat apart and serve on buns for a variation on pulled pork sandwiches.
To make gravy: Pour pan juices into a 2-cup measure. Skim off fat, returning 2 tablespoons of the fat to a pan. If the pan juices do not equal 2 cups, add enough water to reach the 2-cup measure.
Whisk 3 tablespoons flour into the fat in the pan and cook over medium heat on the stovetop until bubbly. Slowly stir in pan juices and cook until gravy thickens, stirring constantly.
©2016 Star Tribune (Minneapolis). Distributed by Tribune Content Agency, LLC.
Photo: Every home should have a slow cooker. (Ron Sumners/Fotolia)