Real Estate Trend Sees Bigger Homes Built On Smaller Lots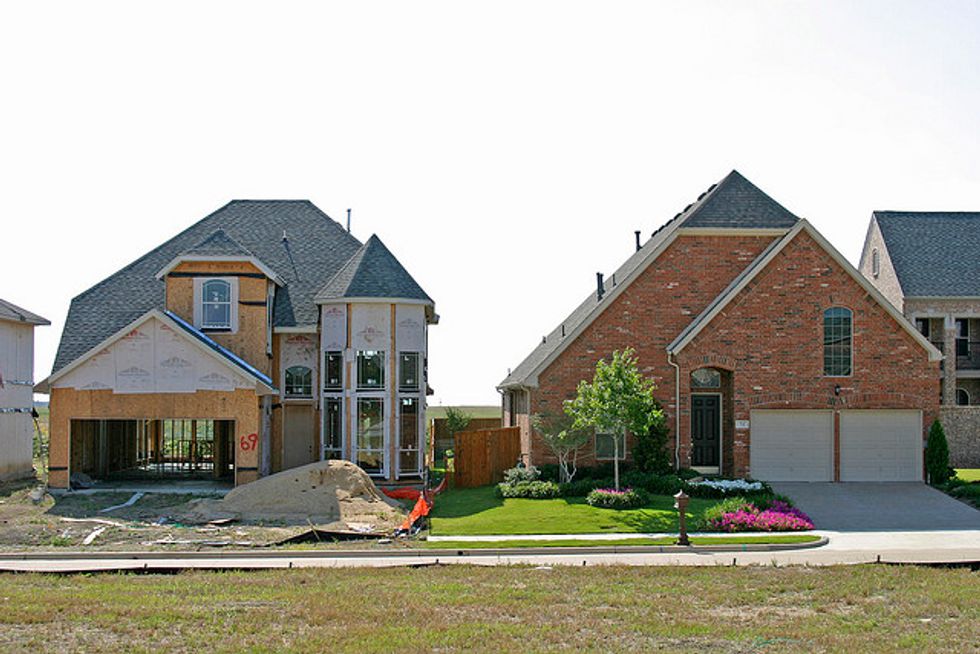 By Alan J. Heavens, The Philadelphia Inquirer (TNS)
PHILADELPHIA — Despite the lingering downturn and the "tiny house" craze, mostly upscale suburban buyers continue to favor larger new houses on ever-shrinking building lots.
The age of the buyer doesn't seem to matter.
About 43 percent of 2,000 adults surveyed nationally would prefer homes bigger than what they live in now, the real estate search engine Trulia found.
Baby boomers preferred bigger by a narrow margin while millennials and those considered Generation X favored larger in even greater numbers.
"Would-be downsizers outnumber upsizers only among households living in the largest homes," said Trulia housing economist Ralph McLaughlin.
Nationally and in the Philadelphia region, most builders cater to the luxury-home market, said Quita Syhapanya, Northeast regional director for real estate media firm Hanley-Wood's Metrostudy in Philadelphia.
The average square footage of a home nationally in 2014, 2,467, was 13 percent higher than the 2,174 in 2005, before the housing bubble burst, Quita said, but the 2014 figure grew by 11 percent from 2010 — considered the depths of the real estate recession.
That is 812 square feet more than in 1975, even though family size has fallen from 3.42 to 3.13, census statistics show.
"Obviously, the numbers are skewed to be higher because of the market segment these builders are going after," Syhapanya said.
The suburban trend has its counterpart in the city high-rise luxury condominium market, where buyers combine two units into one to boost square footage to 3,000 or more.
John Westrum, president of Westrum Development Co. in suburban Philadelphia, calls them "buyers of choice, who want a big house with lots of features in prime locations and are willing to pay for it."
"This product is the only kind that might make a builder money, and they have a guaranteed buyer," Westrum said.
Anthony E. Maras, regional president of real estate company K. Hovnanian Homes, pointed to Doylestown Greene, a 25-home development the company is building in suburban Philly, as an example of this large house/small-lot phenomenon.
Doylestown Greene's estate homes will top out at 4,946 square feet — 60-foot-wide houses on 80-foot-wide, one-third- to one-half-acre lots, he said.
"People are using their homes differently" and "don't want large lots to maintain," Maras said.
"What we are seeing with the high-end new construction buyer is a home in the 4,000-square-foot range on a maintenance-free type of lot with an open family room off the kitchen where they spend most of their time," said John Duffy, broker/owner of Duffy Real Estate, another Philly-area firm, in confirming Maras' observation.
"Extensive research" shows upscale buyers want large kitchens, family rooms, and bedrooms; a den/library; and scaled-down living and dining rooms, Duffy said.
The Philadelphia suburban experience differs somewhat from the rest of the country, Syhapanya said.
While builders here, too, market to affluent buyers, square footage is increasing more slowly — just two percent since 2009 to 2,431 from 2,383.
"Builders locally are not just building large homes for the sake of building larger homes," he said. "They are building homes in prime locations and getting the most dollars per square foot" — $199 in 2014, compared with $183 in 2011, and $188 in 2013.
Land — in short supply and expensive — appears to be a major driver.
Builders look for prime locations, and "when we find them, the best way to maximize the return is to maximize the offering to the customer," said Rob Fluehr Jr. of the Goldenberg Group, based in the Philadelphia region.
This means builders must put the largest house possible on a site, Fluehr said, and are aided by zoning laws "set up to give bonuses for providing larger contiguous areas of open space when you cluster the development."
Mark Semerjian of Semerjian Builders, also in the Philadelphia area, said the custom homes he's been building for high-end clients in recent years ranged from about 8,000 to 10,000 square feet.
His clients "are looking to maximize and leverage the value of the land they are purchasing by building larger residences."
When vacant land is not available, "I'm usually involved in identifying, negotiating and handling the purchase of teardowns in order to build these homes as well," he said.
Factors other than land, including development expenses, and "the approval process," as Fluehr added, contribute to the increase in square footage costs.
Construction expenses have risen 15 percent or more over the last two years, said Bruce Paparone of Bruce Paparone New Homes, based outside Philly.
"However, some of this cost is related to an increase in the included features that we offer today as well," he said.
"Some of these have been absorbed by the builders, offering as much value as possible in a new home versus a resale."
In the large custom homes, those features are often designed to "minimize the cost of maintaining" them, including geothermal and hot water radiant heat, Semerjian said.
Still, land, especially prime locations, remains a defining factor, Paparone said, "so it pays to drive an extra exit or two off the highway for a better value sometimes."
While Fluehr said Goldenberg was getting some feedback that "smaller may be better," it is coming from people who still want to pay $800,000 and up for new construction.
Builders agree the day of the entry-level new home that built suburban America — now costing $200,000 to $400,000 — is history since houses cost far more than that to build.
Even when they build entry-level, the houses don't go like hotcakes, no matter how they're loaded.
Charlie Kojeski of Kojeski Builders built a 1,650-square-foot, four-bedroom, 2.5-bath with a walkout basement and all the bells and whistles last fall.
For $220,000. "With no takers," he said.
Photo: Dean Terry via Flickr