Red Sox Rally Over Rays To Reach AL Championships
@AFP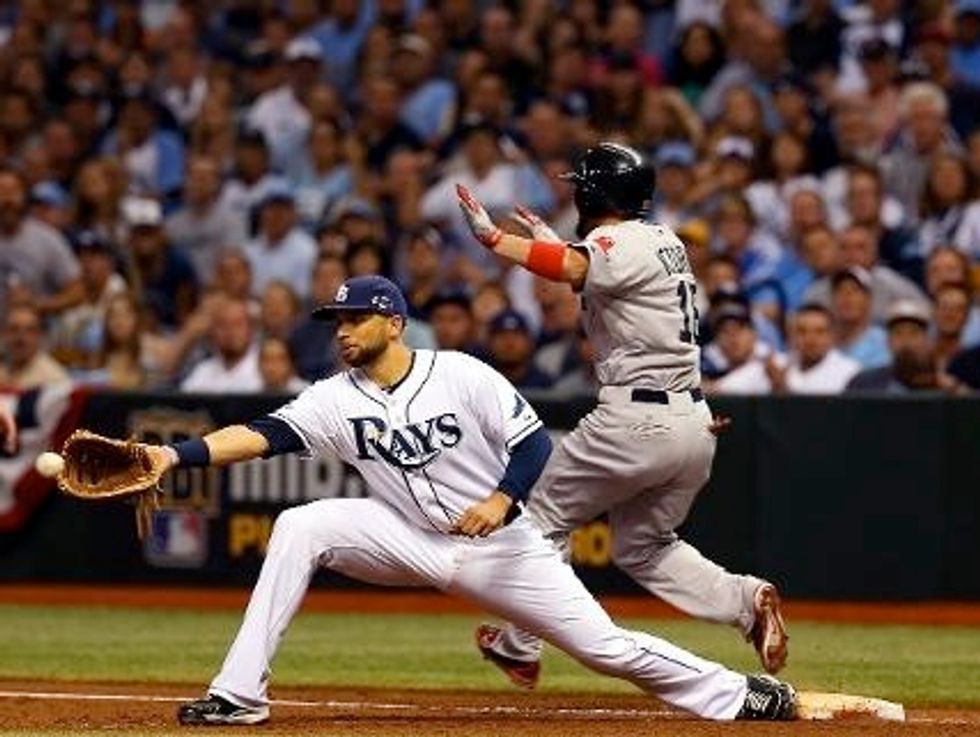 Tampa (AFP) – Shane Victorino smacked an infield single to snap a seventh-inning tie and Japan's Koji Uehara posted a four-out save, sending the Red Sox to the AL championship series with a 3-1 win over Tampa.
Victorino hit the go-ahead RBI single in the top of the seventh inning Tuesday night as the Red Sox won the first round best-of-five series three games to one.
"It feels great," said Boston outfielder Jacoby Ellsbury. "We played a great team. When it is time to play we grind down and we are focused."
Boston will face either the Oakland A's or the Detroit Tigers, who beat the A's 8-6 Tuesday to level their Major League Baseball series at two games a piece.
"We already been scouting to see who we play next but they are two great teams," said Ellsbury.
Red Sox Uehara, who gave up the game-winning home run in the ninth inning on Monday, struck out Tampa's Evan Longoria to get the final out of the contest.
Tampa Bay, who used nine pitchers Tuesday, tried but failed to keep the Red Sox's champagne on ice for the second-straight game. The resilient Rays were facing their fifth must-win game in an eight day span.
In Monday's game three, Jose Lobaton clubbed a game-winning solo homer in the bottom of the ninth inning off Uehara and the Rays overcame a three-run deficit to pull out a 5-4 victory in game three.
Boston starter Jake Peavy, who was making his first postseason start on Tuesday since 2006, surrendered five hits and struck out three in just over five innings of work.
Right hander Jeremy Hellickson was the first of nine pitchers that Tampa manager Joe Maddon used on the night as he exhausted the bullpen by the ninth inning. Hellickson gave up one hit and walked two in just one inning of work.
"It was an interesting game," said Maddon. "We just couldn't score runs against their pitching."
In the other AL game Tuesday, Max Scherzer came on in relief and slumping Austin Jackson belted an RBI single as Detroit rallied to beat Oakland to force a deciding game five.
Game one winning pitcher Scherzer came out of the bullpen to escape a bases-loaded, no-out jam in the eighth and Jackson snapped his hitting slump with a tie-breaking bloop single to cap a two-run rally in the seventh that gave the Tigers the lead for good.
"To be able to get out of that jam, I mean, that's something I'll never forget," said Scherzer, a 21-game winner during the regular season.
The Tigers trailed 3-0 and 4-3 in front of the crowd of 43,958 at Comerica Park but refused to give up as they set up a winner-take-all game five back on Thursday in Oakland.
Detroit's Victor Martinez also hit a game-tying leadoff home run in the seventh inning that was reviewed because a Detroit spectator reached over the railing and made contact with the ball.
Scherzer came on in relief of starting pitcher Doug Fister in the seventh inning. After Scherzer got out of his bases-loaded jam, the Tigers tacked on three runs in the bottom of the eight for some insurance.
They needed it in a drama-filled game four because Oakland made them work for the come-from-behind win.
The A's scored twice and brought the tying run to the plate in the ninth inning against Detroit closer Joaquin Benoit. A's designated hitter Seth Smith then struck out to end the three-and-half-hour game.
Right hander Fister allowed seven hits and three runs and struck out one batter in six innings of work. He won 14 games this season and had a 3.67 earned run average.
AFP Photo/Mike Ehrmann