Red Sox Trounce Cards In World Series Opener
@AFP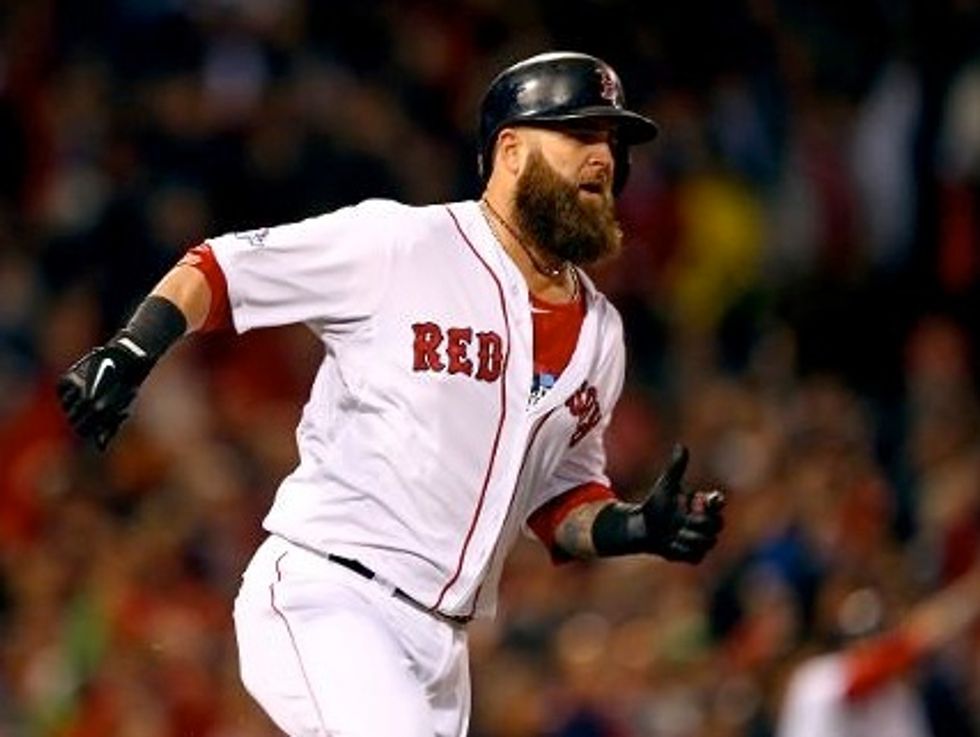 Boston (AFP) – The Boston Red Sox routed the St. Louis Cardinals 8-1 to launch their World Series campaign with an emphatic opening game win.
The Red Sox on Wednesday got the early upper hand in their best-of-seven series with an offensive blitz that staked them to a 5-0 lead after just two innings.
Mike Napoli clubbed a three-run, bases-loaded double in the first and Jon Lester pitched seven shutout innings in front of a sold-out crowd of 38,345 at Fenway Park.
"You want to make sure you get these wins," Lester said. "You really have to bear down in these situations and play good baseball and try to get some wins in front of the home crowd."
Napoli's double to center field in the first inning came just moments after the umpires reversed a blown call — a change that loaded the bases for Boston.
Lester finished with eight strikeouts for the Red Sox, who will try to take a 2-0 lead in the best-of-seven series when they host game two on Thursday.
The Red Sox will hand the ball to John Lackey for Thursday's game two while the Cardinals will send rookie sensation Michael Wacha to the mound.
Lester allowed no runs on five hits in just over seven innings.
Slugger David Ortiz had a two-run homer in the seventh for Boston, who wasted little time getting on the scoreboard.
"Getting that first win out of the way is a good feeling as we continue to try and build some momentum," said Boston manager John Farrell.
Boston has won seven World Series titles, their most recent a sweep of the Colorado Rockies in 2007. The Cardinals have won 11 crowns, with their last coming just two years ago against the Texas Rangers.
Whoever wins the series will have the most championship titles (three) over the last 10 Major League Baseball seasons.
St. Louis starter Adam Wainwright lasted five innings, giving up five runs on six hits for the Cardinals who also lost veteran Carlos Beltran with rib injury.

Beltran, who was making his World Series debut, slammed into the outfield wall stealing a grand slam away from Ortiz with a brilliant catch in second inning. He left the game and was taken to hospital where he was diagnosed with a rib contusion.
"We had a wake-up call," said Cardinals manager Mike Matheny. "They are frustrated. I am sure embarrassed to a point."
Farrell argued and won a controversial out call at second base which resulted in loaded bases for Napoli in the bottom of the first.
With two men on base, Ortiz hit into a fielder's choice. The umpires originally called Boston's Dustin Pedroia out at second, but Farrell argued that Cardinals infielder Pete Kozma dropped the ball before his foot touched the bag.
The umpires huddled and eventually reversed the call to safe. The next batter, Napoli, then hit a bases-clearing double to center field to give Boston a 3-0 lead. Kozma was charged with an error, the first of two for him on the night.
"Instead of it being a two-out situation with runners on first and third we are in a bases-loaded situation," Farrell said. "It is a pretty big swing in momentum. They got the call right."
Said Matheny, "I get that they are trying to get the right call. Tough one to swallow."
Wainwright struggled out of the gate as he allowed three of the first four batters he faced to get on base before giving up the double to Napoli.
The Red Sox tacked on two runs in the second for a commanding 5-0 lead.
It could have been a bigger margin but for Beltran's superb catch, which recalled Detroit outfielder Torii Hunter's tumble into the Red Sox bullpen that left him bruised and bloodied while attempting to snare Ortiz's game-tying grand slam in game two of the American League Championship series.
Matt Holliday belted a solo home run in the ninth for the Cardinals' only run.
Boston righthander Ryan Dempster struck out Matt Adams for the final out of the game.
"This is one game that got away from us," said Matheny. "And it was in a fashion that we are not used to, or will we get used to it."
AFP Photo/Elsa