Red-State Farmers In Uproar Over Trump Tariffs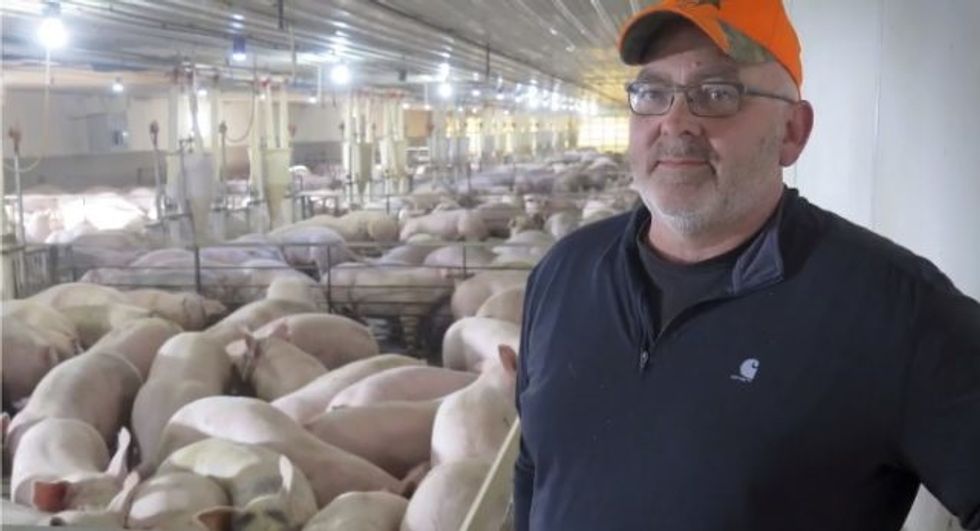 Reprinted with permission from Shareblue.com
Red state farmers could be in serious trouble, thanks to Trump's decision to launch a trade war with several countries, including some of our closest allies. The new tariffs, which some Republicans are calling a tax hike on Americans, now have Trump's own party proposing laws to rein him in.
In retaliation for the tariffs that Trump is dead-set on implementing, Mexico has announced retaliatory tariffs on American goods, most notably cuts of pork.
The United States exports 22 percent of the pork it produces, and Mexico is the largest buyer of that pork by volume. In 2017, the country purchased $1.5 billion worth of U.S. pork.
Purdue University professor Christopher Hurt is forecasting losses of $9 per animal in 2018 and $13 in 2019 thanks to Trump. He described the development as a "tragedy" in comments to Bloomberg.
Trump is increasing the cost of doing business for pork farmers, many of whom are in states that voted for him, like Iowa.
Dermot Hayes, an Iowa State University economist, has calculated that the reduction in pork prices has already cost producers in Iowa $560 million.
Dan Halstrom, CEO of the U.S. Meat Export Federation, said, "If these tariffs are implemented, they will negatively impact millions of consumers and thousands of people in the meat and livestock industries on both sides of the border."
World leaders have been calling on Trump to pull back on the policy, citing the impact on global trade around the world.
His political allies are worried from the fallout of the Trump tax.
Sen. Orrin Hatch (R-UT) admitted that the tariffs are "a tax hike on Americans" and will have damaging effects on consumers who will have pay more for goods.
Sen. Mike Lee (R-UT) called them a "job-killing tax hike" and has proposed legislation that would curtail the ability of a president to impose tariffs.
Sen. Pat Toomey (R-PA) signed on to the bill, slamming "taxes" that would hurt workers.
Other Republican senators have signed on, including Arizona's Jeff Flake, Colorado's Cory Gardner, and Nebraska's Ben Sasse.
Trump now faces a rebellion from those who supported him the most, both at the ballot box and on Capitol Hill. His decisions are increasing the cost of doing business while imposing a tax on consumers — a dangerous combination, especially for Republicans seeking re-election this fall in those states that will suffer the most.
Politicians are feeling the heat, and they're making the unusual step of going up against their own party to stop their own leader from hurting everyone.