REMINDER: Mitt Romney Called Federal Disaster Relief 'Immoral'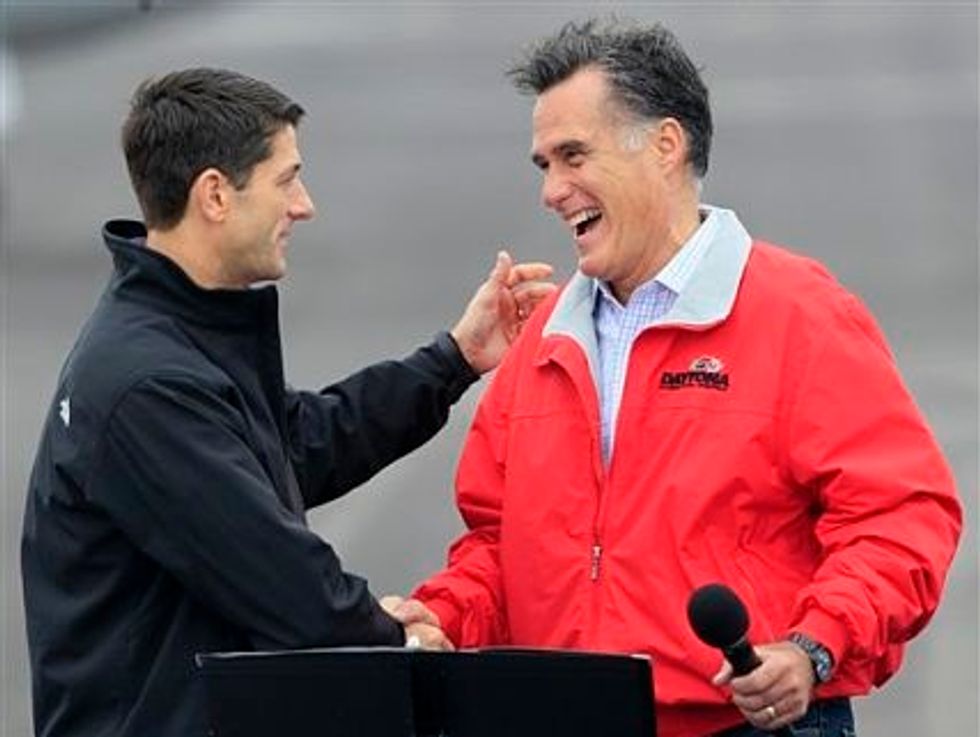 Hurricane Sandy now threatens the eastern seaboard of the United States. You can follow the storm here. As the storm disrupts the final days of the presidential election, it's important to think about the candidates' positions on disaster relief.
During the GOP primary, as the candidates pitted themselves against each other in a contest to see who could call for more austerity, Mitt Romney used a question about whether more FEMA fund should be allocated without spending cuts to call the money the federal government spends on disaster relief "immoral":
We cannot — we cannot afford to do those things without jeopardizing the future for our kids. It is simply immoral, in my view, for us to continue to rack up larger and larger debts and pass them on to our kids, knowing full well that we'll all be dead and gone before it's paid off. It makes no sense at all.
Of course the amount of money we spend on disaster relief — approximately $46 billion is allocated for 2013 — is a fraction of the estimated $294 billion Mitt's latest proposed tax cuts would cost.
On day one Romney would seek a ~$2.3 billion cut to FEMA (as part of 5% across the board cut to discretionary spending)

— Tim Dickinson (@7im) October 29, 2012
During the Republican National Convention, as Hurricane Isaac forced the GOP to cancel the first day of its festivities, Mother Jones' Tim Murphy looked at how Romney's proposals and his running mate Paul Ryan's budget would affect disaster relief and found that "…under a Mitt Romney and Paul Ryan administration, FEMA's ability to respond quickly and effectively to natural disasters could be severely inhibited."
But at least disaster victims would have the relief of knowing that the rich have more tax breaks to keep them warm.
Photo credit: AP/Al Behrman