Renzi Nominated As Italian Prime Minister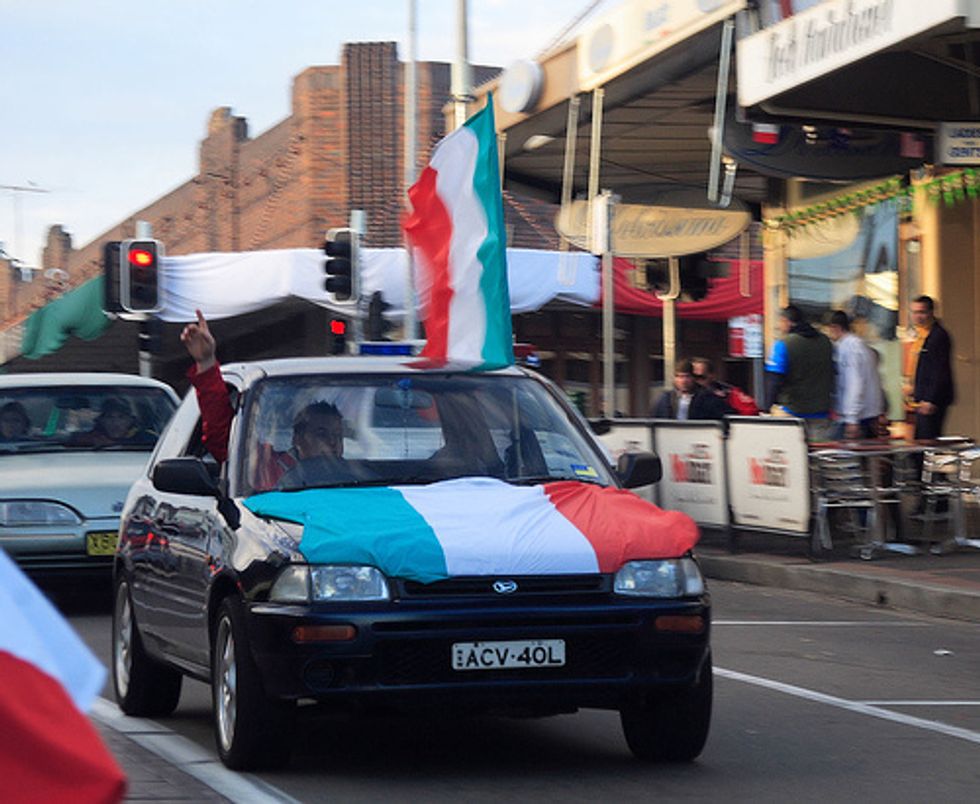 By Alvise Armellini
ROME — Italy's leader-in-waiting said Monday that he would need "a few days" to form a new Italian government, but he promised that as prime minister he would launch major reforms to revive the country's moribund economy and modernize its inefficient political structures.
Matteo Renzi, who leads the center-left Democratic Party, or PD, and is mayor of Florence, was nominated for the premiership by President Giorgio Napolitano. It was widely expected, following last week's Renzi-orchestrated ouster of the outgoing premier, Enrico Letta.
"I will put in all the courage, effort, energy and enthusiasm of which I am capable," Renzi said, before returning to Florence to attend his last city council meeting.
Renzi showed up for presidential talks looking serious, in a dark suit and tie. But the normally casual 39-year-old retained a degree of informality, driving around with no escort, and posing for pictures with fans in Rome's train station.
He reiterated that he wanted to lead a government until the end of the current parliamentary term, in 2018, and indicated that it would take "a few days" to form it.
Renzi still needs to pick a team of ministers, return to Napolitano for a swearing-in ceremony, and secure a vote of confidence in both houses of parliament before he can officially take office. The process could be over by the end of the week.
He accepted the premiership "with reserve" — a usual precaution that allows prospective leaders to sound out coalition partners before formally taking up office.
Once installed, Renzi pledged to deliver reforms in quick-fire succession: a parliamentary breakthrough on a new electoral law and other urgent institutional changes was scheduled for February, followed by a jobs package in March, bureaucratic and tax overhauls in April and May.
There were expectations that Renzi could have been quicker in forming the government, but Italian media reported that he got bogged down in negotiations with coalition partners, such as the New Center Right Party of outgoing deputy premier Angelino Alfano.
He remains on track to become Italy's youngest-ever head of government — beating by a few weeks Fascist dictator Benito Mussolini — and the youngest in the European Union, a bloc whose rotating presidency will fall on Italy from July 1.
Former British Labor Prime Minister Tony Blair — often evoked as a model for Renzi — gave him his endorsement.
"The challenges are absolutely formidable but Matteo has the dynamism, creativity and toughness to succeed, with the combination of realism and idealism necessary for the times in which we live," Blair told the Italian news agency Adnkronos.
"Europe needs Italy to take its rightful place in the leadership of Europe, and Europe's leaders should get fully behind Matteo as he takes responsibility for the future of his country," Blair added.
Renzi also celebrated his first election victory since taking over the PD in December: His party's candidate Francesco Pigliaru won Sunday's regional elections in Sardinia, unseating conservative incumbent Ugo Cappellacci.
The Sardinian vote, however, was marked by a very low turnout, down to 52.2 per cent compared to 67.5 per cent in 2009. It was seen as another sign of voters' apathy towards politicians, which Renzi has pledged to counter.
He faces a somewhat hostile public opinion, after breaking a promise to seek the premiership only after a general election win. An Ipsos poll broadcast Sunday on RAI state television indicated that 64 percent of voters were unhappy about the Renzi-Letta handover.
Most Italians would have preferred to return to the polls to pick a new leader, Ipsos said. But Napolitano and Renzi ruled it out, because current electoral rules are almost certain to deliver a hung parliament, prolonging political instability.
The Ipsos survey showed that 52 per cent of Italians agreed that reforms under the outgoing government had stalled, suggesting that Renzi could regain popularity if he managed to unblock the political stalemate.
"The entire country, even those who would never vote for him and perhaps do not appreciate his brusque manners, should hope that Renzi will make it," the Corriere della Sera said in a front-page editorial.
Photo: Yewenyi via Flickr