Rep. Alan Nunnelee Dies At Age 56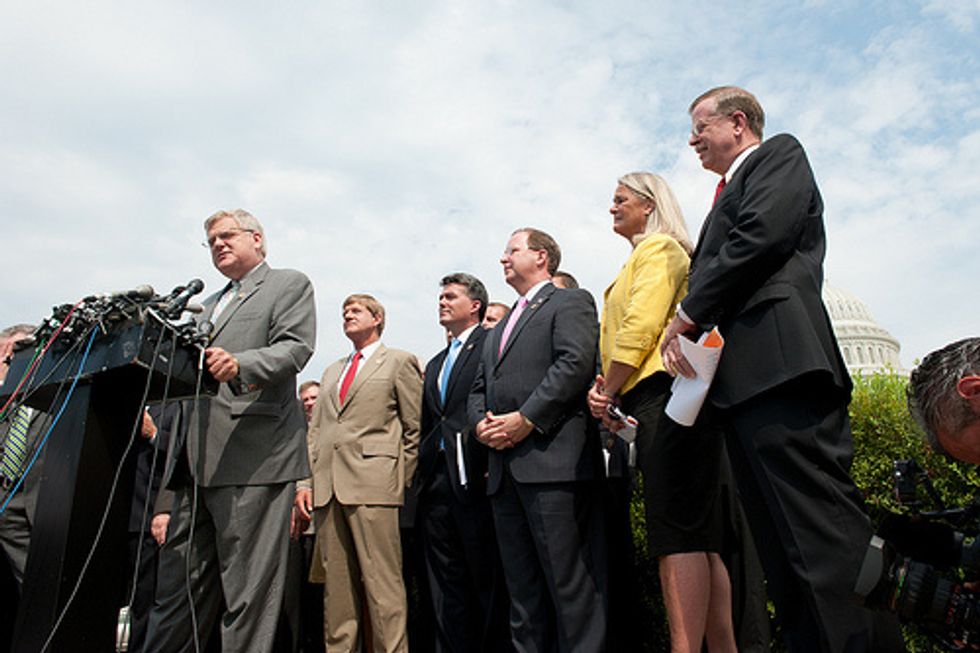 By Emily Cahn, CQ-Roll Call (TNS)
Rep. Alan Nunnelee (R-MI), the stalwart social conservative who spearheaded efforts to ban same-sex marriage in the Magnolia State, died Friday from complications from brain cancer, his spokeswoman confirmed to CQ Roll Call. He was 56.
"Congressman Alan Nunnelee has gone home to be with Jesus. He was well loved and will be greatly missed," according to a statement from his family.
In May, doctors found a tumor in the right side of Nunnelee's brain after he was complaining of fatigue. He underwent brain surgery in June to remove the mass, and suffered a stroke during the procedure, which left him with impaired speech and numbness in his left side. On Jan. 26, doctors moved Nunnelee into hospice care at his home in Tupelo, Miss., after they found another tumor had formed and no further treatment was possible.
Nunnelee was born Oct. 9, 1958, in Tupelo to two teenage parents.
His father took a job at a life insurance company shortly after Nunnelee was born, and worked his way up the ladder to be an executive.
After graduating from Mississippi State University, Nunnelee went into the life insurance business with his father's company — helping it grow before eventually becoming a vice president.
Throughout that time, Nunnelee was involved in the local Republican Party. In 1994, he worked as finance director to now-Sen. Roger Wicker's election to the U.S. House. At the time, Wicker was a state senator.
Nunnelee went on to win Wicker's vacant state Senate seat, and served in that role for more than 15 years, becoming a powerful appropriator. He pushed for spending cuts in that role, advocating for the government to spend only what it had rather than take on debt.
Nunnelee was also a stalwart social conservative. In 2001, he backed legislation in the state House that would put "In God We Trust" on the walls of public school classrooms. And in 2003, he helped usher a constitutional amendment to the state constitution to ban same-sex marriage in the state — a ban that has since been struck down.
In 2010, Nunnelee defeated one-term Democratic Rep. Travis W. Childers. Childers had won a special election in 2008 after Wicker was appointed to the Senate.
On Capitol Hill, Nunnelee kept to his fiscal conservative roots in his role on both the Appropriations and Budget committees. He supported offsets to disaster funding bills, despite coming from a state often hard-hit by hurricanes. He also was a member of the socially conservative Republican Study Committee.
Nunnelee was largely absent from Capitol Hill after his brain cancer diagnosis last summer. He returned in the fall and attended GOP conference meetings in a wheelchair.
But Nunnelee's health rapidly declined over the holidays. In December, when he was home in Tupelo, Nunnelee was admitted to the hospital to treat a hematoma in his left leg. The surgery left him unable to travel to Washington, D.C., to be sworn in for a third term, so instead he was sworn in on Jan. 12 by a judge from the North Mississippi Medical Center where he resided.
Nunnelee is survived by his wife, Tori, and three children: Reed, Nathan and Emily.
He is the first member to die in office since Rep. C.W. Bill Young (R-FL) died in October 2013.
Photo: House GOP via Flickr