Rep. Joe Walsh Has A Todd Akin Moment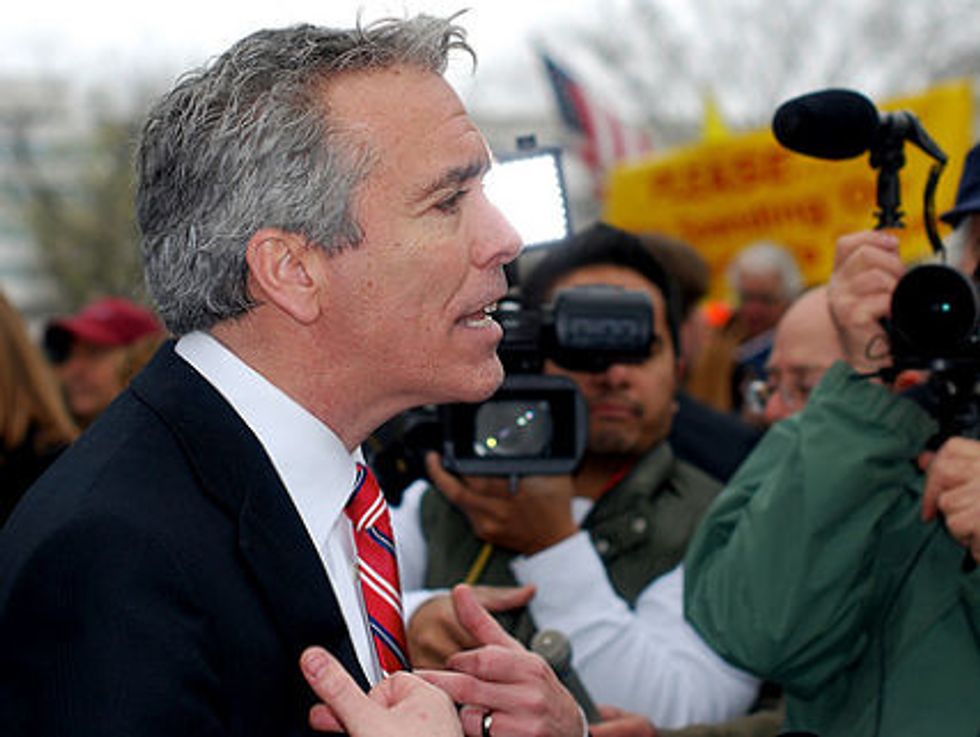 Combustible Rep. Joe Walsh is under fire for his comment on Thursday night that an abortion is never medically necessary to protect a woman's health.
"With modern technology and science, you can't find one instance" of a woman's life being threatened by pregnancy, Walsh told reporters after a debate with his Democratic opponent Tammy Duckworth. "There is no such exception as life of the mother, and as far as health of the mother, same thing."
This is flagrantly wrong — conditions like ectopic pregnancy (when the pregnancy occurs outside the uterus) undoubtedly threaten the health of the mother. Walsh's poor grasp of science immediately calls to mind Todd Akin's "legitimate rape" comments; notably, Walsh was one of the few politicians to come to Akin's defense after the controversy.
The Planned Parenthood Action Fund released a statement on Friday morning slamming Walsh:
Joe Walsh's ignorance about women's health is alarming. It is deeply troubling that he and some politicians have such a fundamental disregard for women and women's health. As the advocate for Planned Parenthood health centers, we know that ending a pregnancy can often be a very complex, personal decision and that there are absolutely times that a woman's life depends on it.

If Mitt Romney and Paul Ryan are elected, these ignorant statements will be more than words — they would become law. Joe Walsh and the Tea Party Congress are ready to completely ban abortion, and Mitt Romney has said that he 'would be delighted' to sign an abortion ban into law. The Romney/Ryan ticket has promised that they would put women's personal medical decisions in the hands of politicians like Joe Walsh and Todd Akin.
In addition to his extreme rhetoric on abortion, Walsh also admitted on Thursday that he plans to "end" Medicare.
After Duckworth warned that the House GOP budget would "end Medicare as we know it," Walsh replied "If we don't end it as it is, it's going to end as we know it all by itself."
While Republicans frequently stress the urgent need to reform Medicare, they normally don't openly admit that they hope to mercy-kill it as Walsh did. The Tea Party favorite's choice of words could raise some uncomfortable questions for Republican vice presidential nominee Paul Ryan, who largely wrote the budget in question.
Walsh's controversial remarks are just two in a long string of erratic moments that have plagued his tenure in office. In the past two years Walsh has stiffed his wife on child support, repeatedlydisparaged Duckworth's military service, and given one of the most disastrous interviews of all time, among other embarrassments.
The most recent poll of the race, from Public Policy Polling, shows Duckworth leading Walsh by a 52 to 38 percent margin, with 10 percent undecided.
Photo credit: M.V. Jantzen/Flickr.com