Rep. McCarthy Likely House Majority Leader As Sessions Drops Out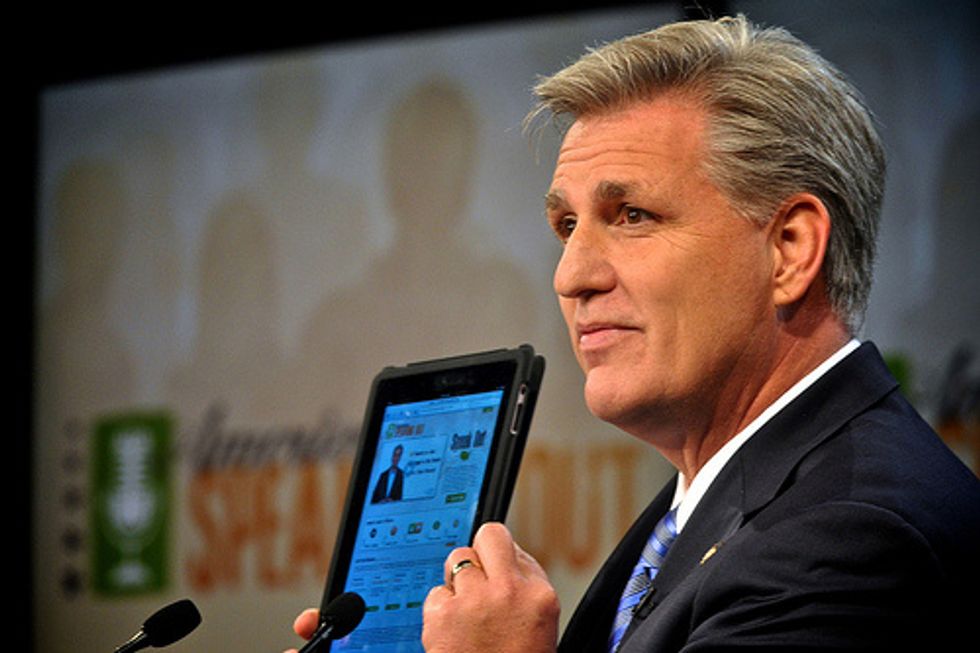 By Michael Doyle, William Douglas and Maria Recio, McClatchy Washington Bureau
WASHINGTON — The race for House majority leader abruptly ended Thursday night when Rep. Pete Sessions of Texas, one of two Republicans seeking the post, dropped out.
Sessions folded his campaign almost as quickly as it emerged following the shocking primary defeat Tuesday of Majority Leader Eric Cantor of Virginia. Sessions was considered something of a long shot against his competition, Rep. Kevin McCarthy(R-CA), the House majority whip and now the presumptive majority leader.
In a statement Thursday night, the Texas congressman said that he wanted to avoid a divisive battle in the House Republican Conference.
"After thoughtful consideration and discussion with my colleagues, I have made the decision to not continue my run for House majority leader," Sessions said. "Today, it became obvious to me that the measures necessary to run a successful campaign would have created unnecessary and painful division within our party. At this critical time, we must remain unified as a Republican Conference. As always, I stand ready and willing to work with our team to advance the conservative agenda that the American people demand and deserve."
From a standing start late Tuesday following Cantor's loss, McCarthy and Sessions had deployed every tool in the political manual to win the second most powerful job in the House. They organized whip teams, gathered endorsements, lobbied state delegations and squeezed their colleagues one-on-one.
Cantor had endorsed McCarthy, his second-in-command. Speaker of the House John Boehner of Ohio had stayed neutral.
Sessions' withdrawal caps an unexpectedly eventful week on Capitol Hill. Cantor's defeat by Dave Brat, an unknown and underfunded college professor backed by the tea party, was the kind of political shocker rarely seen in Washington. Cantor announced he would give up his leadership post, and he'll leave Congress in January.
With a deep network of supporters and a record of generously spreading around campaign funds to his colleagues, McCarthy had been the odds-on favorite for the job.
Sessions, a veteran of nearly two decades on Capitol Hill, is chairman of the House Rules Committee. He successfully led the National Republican Congressional Committee, the House GOP campaign arm, in the 2010 and 2012 election cycles.
He appeared to have strong support from his home state delegation. Following a meeting of its Republican members Thursday, Rep. Michael Burgess (R-TX) said in an interview, "I didn't hear any naysayers in the room."
That could have been because the vote next week for the new leadership slots will be a secret ballot, which can be an intensely personal decision, often based on personal loyalty. Rep. Kay Granger (R-TX), who's a deputy majority whip, is supporting McCarthy.
"The only way you can be certain of how someone is going to vote is if they look you in the eye and tell you they are voting against you," Rep. Lynn Westmoreland (R-GA) said earlier Thursday when it was still a two-man race.
McCarthy now appears to have clear sailing, although lawmakers on the right who hoped for more time to rally support have objected to the quick turnaround for the vote.
"This snap election has the effect of stacking the deck," said Rep. Steve King (R-IA).
McCarthy will have to work closely with the victor of a separate contest for majority whip, a post McCarthy has held since 2011. The field grew more congested Thursday.
From the right, Rep. Steve Scalise (R-LA) was already running against Rep. Peter Roskam, an Illinois Republican who's served as McCarthy's chief deputy whip. A third candidate, Indiana Republican Marlin Stutzman, jumped into the race Thursday, complicating Scalise's bid for support from the House's most conservative members.
Photo: House GOP via Flickr