Rep. Michael Grimm Is Indicted On Fraud Charges, Says He's 'Moral Man'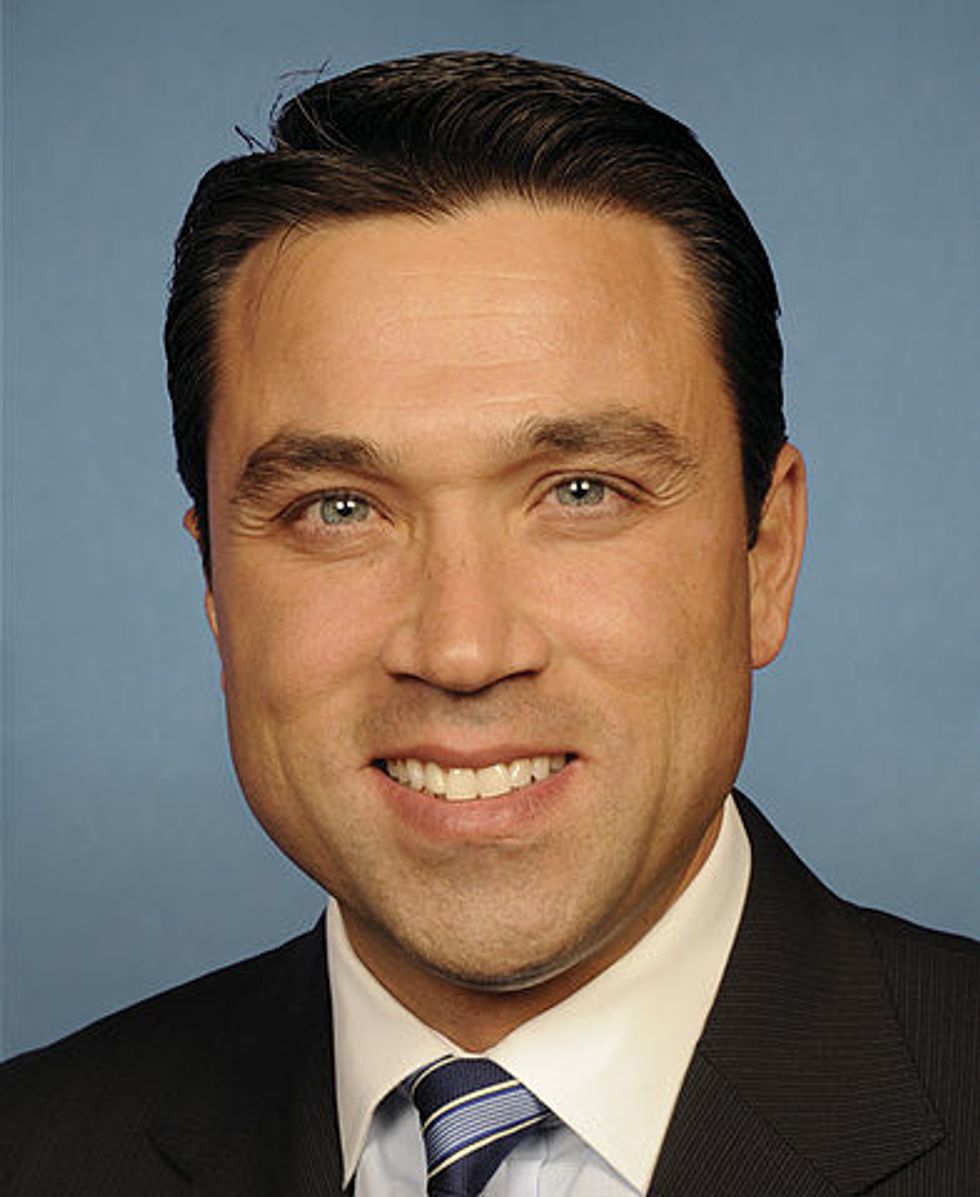 By Michael A. Memoli and Richard A. Serrano, Tribune Washington Bureau
WASHINGTON — Even as Rep. Michael Grimm (R-NY) faced charges of defrauding the federal government and pleaded not guilty Monday, he vowed to seek re-election.
Grimm was charged with fraudulently underreporting more than $1 million in sales and wages at a Manhattan fast-food restaurant he once co-owned and operated.
The 20-count indictment unsealed at the federal courthouse in Brooklyn included five counts of mail fraud, five counts of wire fraud, three of aiding and assigning in the preparation of false tax returns, two of perjury, and one each of employing undocumented workers, engaging in health care fraud, conspiring to defraud the U.S., impeding the Internal Revenue Service and obstructing an official proceeding.
The Staten Island Republican, who has called himself the victim of a political witch hunt, surrendered Monday. After entering a plea, he was released on $400,000 bond.
In a statement, Grimm referred to his previous roles as a Marine and an FBI agent before his 2010 election to Congress and promised not to "abandon my post."
"I know who I am and I know what I've done for this country," he said. "I know I'm a moral man, a man of integrity. I also know that I have a lot more service and leadership to provide this country. And that's exactly what I intend to do."
But in a letter to House Speaker John A. Boehner (R-OH), on Monday evening, Grimm, who is also an attorney and accountant, said he would give up his seat on the House Financial Services Committee.
Loretta Lynch, the U.S. attorney in Brooklyn, said Grimm, 44, "made the choice to go from upholding the law to breaking it. In so doing, he turned his back on every oath he had ever taken."
FBI Assistant Director George Venizelos said that although Grimm "billed himself as a patriot and an American hero," he was in fact "anything but an upstanding citizen."
"As a former FBI agent, Rep. Grimm should understand the motto fidelity, bravery and integrity. Yet he broke our credo at nearly every turn," Venizelos said. "In this 20-count indictment, Rep. Grimm honored a new motto: fraud, perjury and obstruction."
The lawmaker has been the subject of a federal investigation for nearly two years, one that began as a probe of an alleged "donor swapping" scheme, in which one candidate's supporters donate money to other candidates, who then give money back to the original candidate in order to skirt limits on individual contributions.
He garnered national attention in January for threatening to throw a New York TV reporter off a Capitol balcony for asking about the probe.
At the heart of the indictment are allegations that from 2007 to 2010 Grimm personally oversaw the day-to-day operations of the Upper East Side restaurant Healthalicious and "paid a significant portion of employees' wages in cash."
Many employees received all or half of their pay in cash, often in envelopes at the end of each week, prosecutors said. Then, according to the indictment, Grimm underreported their wages to the IRS. By creating an "off-the-books" pay scheme, he "caused a number of false filings to occur" with the IRS, the indictment alleged.
Grimm's activities came to light after two former Healthalicious employees filed a federal lawsuit in New York contending that he owed them back wages and overtime pay.
In a deposition in that suit, Grimm allegedly lied under oath when he contended that the restaurant's "back office" handled payroll and that he was simply the one "handing out the envelopes."
He maintained that employees who did not have bank accounts were given cash envelopes as a favor so they could avoid high check-cashing fees at financial institutions.
Grimm also denied that he discussed business matters in emails. "Not really," he said under oath. "Almost everything was done on the phone or in person. I wasn't big on email then."
But according to the indictment, Grimm sent numerous emails regarding his payroll records, including one in April 2010 that discussed putting "envelopes and paychecks in a bag."
Prosecutors say Grimm sold his interest in the restaurant before taking office.
If convicted, Grimm could face a prison sentence ranging from six months for hiring the undocumented workers to 20 years for each of the mail and wire fraud charges.
Lynch said the investigation was continuing.
Grimm will probably face pressure to surrender his seat. The House Republican leadership discussed his situation at a closed-door meeting Monday evening, but no formal statement was expected until Tuesday. Most lawmakers were still returning to the capital after a two-week spring recess.
The nonpartisan Cook Political Report, which handicaps congressional races, changed its rating of Grimm's district from "Lean Republican" to "Lean Democrat" shortly after he surrendered to authorities.
Portrait via Wikimedia Commons