Rep. Steve Stockman Invites Ted Nugent To State Of The Union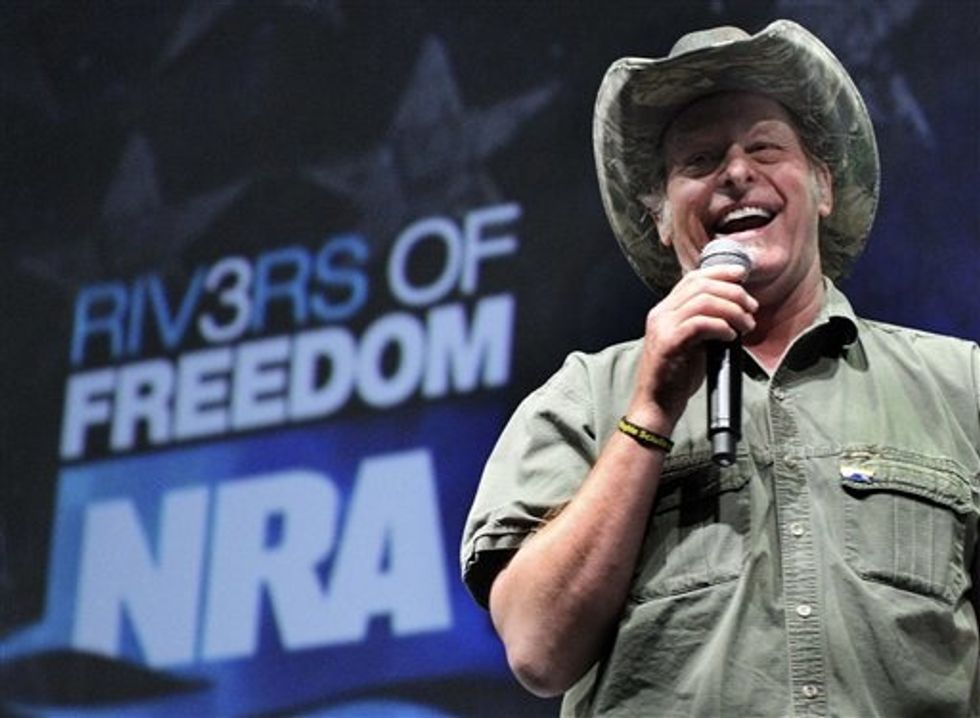 Ted Nugent, the unhinged former rock star who's now best known for his repeated threats against President Obama, will be in attendance at the president's State of the Union address Tuesday night.
Nugent's invitation comes from genuinely crazy congressman Steve Stockman (R-TX), whom Mother Jones' Tim Murphy has aptly described as "the closest his state ever came to electing a gun." Stockman — who is supported by every major "gun rights" organization, has sponsored legislation banning all background checks, waiting periods, and registration of firearms, and threatened to impeach the president over his gun safety executive orders — presumably invited Nugent as a counterweight to the more than 20 gun violence survivors who will be in attendance.
"I am excited to have a patriot like Ted Nugent joining me in the House Chamber to hear from President Obama," Representative Stockman said in a statement Monday. "After the address, I'm sure Ted will have plenty to say."
Nugent has had plenty to say leading up to the address. An NRA board member, Nugent has repeatedly threatened Obama over the president's support for gun safety measures. In January Nugent referred to Obama as "an evil, dangerous man who hates America and hates freedom" and warned "if you want another Concord Bridge, I got some buddies." In April, 2012, Nugent's claim that he "will either be dead or in jail by this time next year" if Obama won re-election drew Secret Service attention.
Stockman's decision to invite Nugent is almost certain to backfire on the Republican Party politically, given the contrast it creates with Republican leaders such as Eric Cantor's attempts to moderate the GOP's tone. If Republicans really want to stop being the "stupid party," then step one should be staying far, far away from the likes of Nugent.
AP Photo/Gene J. Puskar, File