Report: FBI Searched Classified Nuclear Weapons Documents At Mar-a-Lago
@next2godwin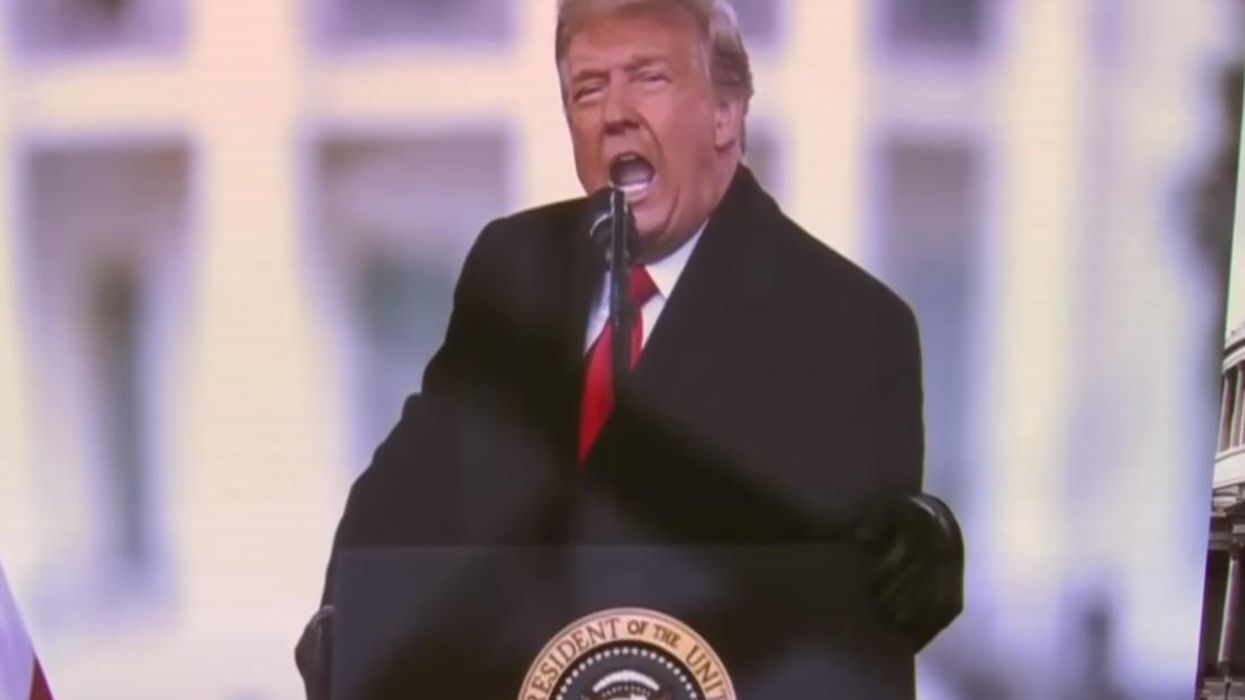 Youtube Screenshot
Federal agents were searching for secret documents pertaining to nuclear weapons among other classified materials when they raided former President Trump's Mar-a-Lago home on Monday, according to a new report.
Citing people familiar with the investigation, the Washington Post reported on Thursday night that some of the documents sought by investigators in Trump's home were related to nuclear and "special access programs," but didn't specify if they referred to the U.S. arsenal or another nations' weapons, or whether such documents were found.
"Experts in classified information said the unusual search underscores deep concern among government officials about the types of information they thought could be located at Trump's Mar-a-Lago Club and potentially in danger of falling into the wrong hands," the Post noted in its report.
"If that is true, it would suggest that material residing unlawfully at Mar-a-Lago may have been classified at the highest classification level," a former chief of the Department of Justice's counterintelligence section, David Laufman, told the Post. "If the FBI and the Department of Justice believed there were top secret materials still at Mar-a-Lago, that would lend itself to greater 'hair-on-fire' motivation to recover that material as quickly as possible," Laufman added.
The bombshell report came just hours after the Justice Department moved to unseal the search warrant used in the raid, and Attorney General Merrick Garland confirmed he had personally authorized the government's request to execute the warrant, following a barrage of criticism stemming from conservative outrage fomented by Trump and many Republicans.
"The public's clear and powerful interest in understanding what occurred under these circumstances weighs heavily in favor of unsealing," the DOJ wrote in its motion. "That said, the former President should have an opportunity to respond to this Motion and lodge objections, including with regards to any 'legitimate privacy interests' or the potential for other 'injury' if these materials are made public."
Trump, who had so far kept mum about the warrant's contents, later released a statement backing the "immediate release of those documents," undercutting the fundraising efforts of top Republicans soliciting for donations before the truth came out.
"Not only will I not oppose the release of documents related to the unAmerican, unwarranted, and unnecessary raid and break-in of my home in Palm Beach, Florida, Mar-a-Lago, I am going a step further by ENCOURAGING the immediate release of those documents," Trump wrote. "This unprecedented political weaponization of law enforcement is inappropriate and highly unethical."
Until now, Republicans had argued that the raid was a political maneuver orchestrated to embarrass Trump and hurt his chances for another run at the White House. The Republican members of the House Judiciary Committee accused the FBI of third-world tyranny.
\u201cThis is what happens in third world countries. \n\nNot the United States. \n\nDoesn\u2019t the FBI have better things to do than harass the former PRESIDENT?\u201d

— House Judiciary GOP (@House Judiciary GOP) 1660000467
Senator Marco Rubio (R-FL) used the raid to disseminate a lie that President Biden's new bill included funding for 87,000 new IRS agents.
\u201cAfter todays raid on Mar A Lago what do you think the left plans to use those 87,000 new IRS agents for?\u201d

— Marco Rubio (@Marco Rubio) 1660003933
The new line of attack peddled by right-wing media figures yielded fatal results when a January 6 rioter attempted to breach the FBI's Cincinnati office on Thursday afternoon, He was shot and killed several hours after he fled the scene.
Should the new report prove accurate, Republicans may be hard-pressed to explain why highly classified nuclear documents were moved to a private residence at Mar-a-Lago -- and why Trump didn't yield them month ago.