Report: Michael Cohen In Cooperation Talks With Mueller
@FAWFULFAN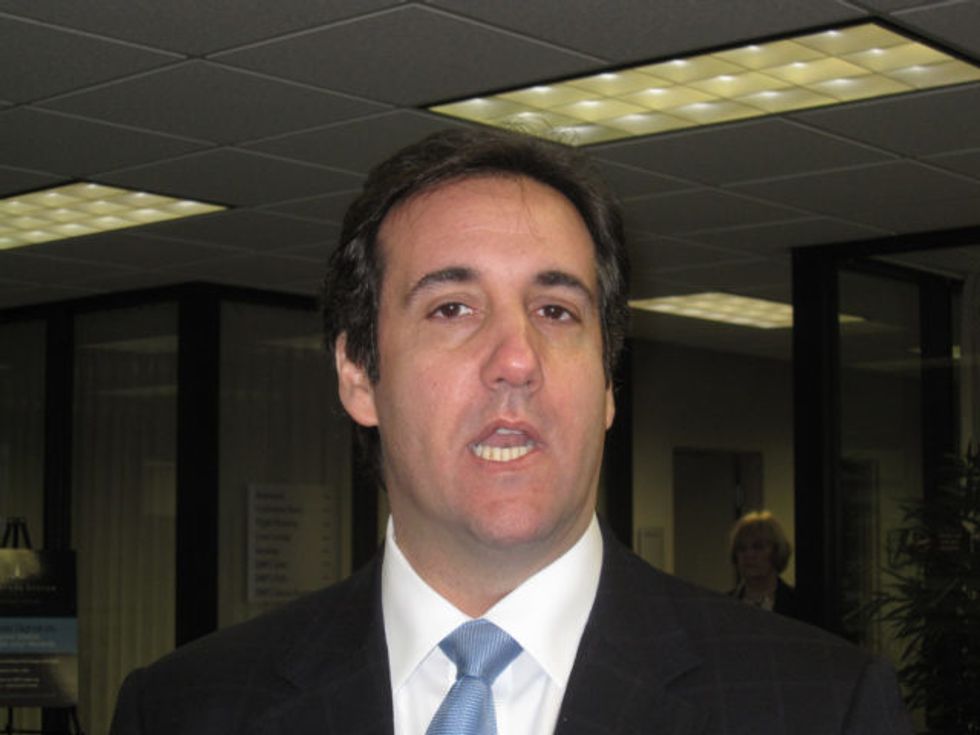 Reprinted with permission from AlterNet.
According to a report in Vanity Fair, President Donald Trump's former attorney and fixer Michael Cohen is now allegedly in talks with special counsel Robert Mueller's office.
Anonymous sources close to Cohen have reportedly said that it is "common knowledge" he is speaking to Mueller's prosecutors, and suggested that he resents how Trump has hung him out to dry in his own legal troubles, while not suffering any repercussions for his own misconduct:
It is a remarkable reversal from a year ago, when Cohen told me he would take a bullet for the president. But Cohen has now been squeezed financially, emotionally, and legally in a way he could not have imagined. Since last month, his primary concern has been his family—what a prison sentence could mean for them, and what his financial situation will look like, given his mounting legal bills and lack of income. He had expressed to friends that he was willing to share what he knows, both because he wants to be on the right side of history, and to spare them. As one longtime friend of Cohen's put it to me, "He doesn't feel he needs to go out of his way to protect Trump anymore, particularly because Trump has gone out of his way to hurt Michael." Earlier this week, Cohen and his attorney sat down with New York state tax-department officials, who subpoenaed him last month as part of their inquiry into the Trump Foundation.

According to people close to him, Cohen closely watched the White House's reaction to his allocution in court last month. He listened as Trump railed against anyone who makes a plea deal, telling Fox News that cooperating with the government "almost ought to be outlawed." And he has bristled at the feeling that he has taken the fall for a man who has refused to take any responsibility or face any consequence himself. In conversations with Mueller's team, he is making good on what he told ABC earlier this summer: that his loyalty to Trump is no longer his lodestar.
Cohen pleaded guilty last month to eight counts of bank fraud, tax evasion, and campaign finance violations, relating to a $130,000 hush money payoff to porn actress Stephanie Clifford, a.k.a. Stormy Daniels, during the 2016 presidential election to cover up a sexual encounter she had with Trump. In his plea, he implicated Trump in the payoff scheme.
Mueller, whose mandate is to investigate the Trump campaign's ties to Russia and any criminal behavior he discovers in the course of that inquiry, did not bring the charges against Cohen, instead referring the matter to prosecutors with the U.S. Attorney for the Southern District of New York. It is unclear what Cohen is discussing with Mueller's office, or what information he might be providing.
This revelation comes on the same day that former Trump campaign chair Paul Manafort, who was convicted last month of bank and tax fraud related to his dealings with Eastern European political strongmen, has accepted a plea bargain ahead of a scheduled second trial, and is now cooperating with the Russia investigation.
Matthew Chapman is a video game designer, science fiction author, and political reporter from Austin, TX. Follow him on Twitter @fawfulfan.