Report: Mueller Team Had Enough Evidence To Charge Trump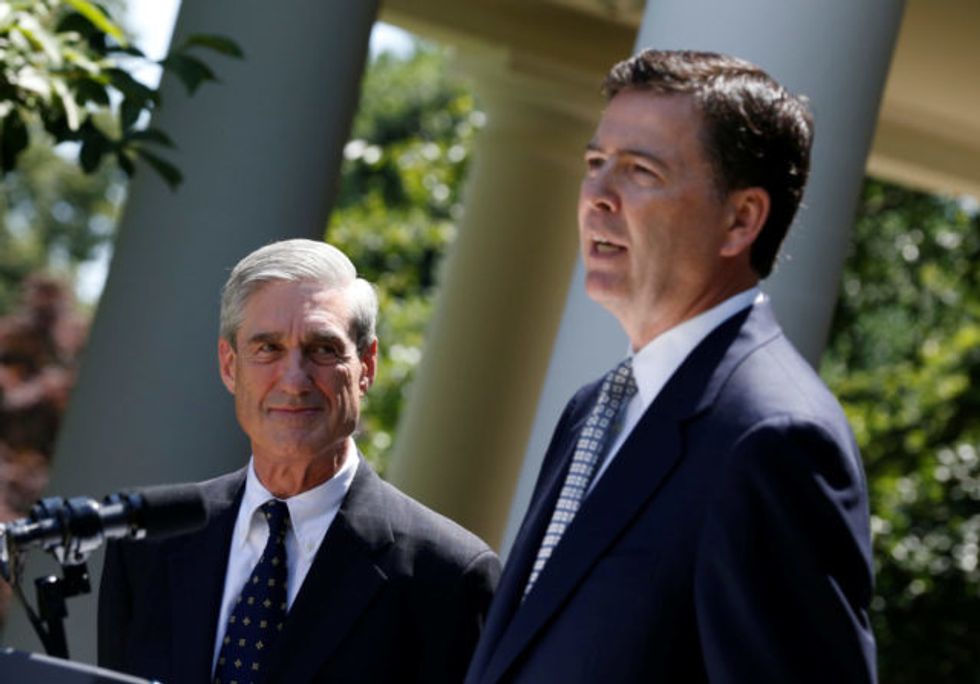 The Mueller team collected enough evidence to charge Trump with obstruction of justice — and Trump would most likely be under indictment right now if he were not a sitting president, according to a Friday report by Murray Waas in the New York Review of Books.
Prosecutors working for Mueller said that, if not for current Justice Department policy against indicting a sitting president, they would have advocated that Trump should face federal criminal charges for pressuring former FBI Director James Comey to drop the investigation into former national security adviser Michael Flynn.
Waas spoke to two Justice Department officials who confirmed they were told this information personally by two prosecutors on Mueller's team. A third person present for the conversation confirmed that it occurred.
The two sources told Waas they were hesitant to disclose their private conversations with Mueller team members, but that they felt obligated to do so because of the lies Attorney General William Barr told the public about the Mueller report.
In the end, Waas reported, the law enforcement officers "believed it was important for the public and Congress to know what Mueller's prosecutors had themselves privately concluded: that a charge of obstruction of justice was indeed merited by Trump's actions in the Flynn matter."
That conclusion of some members of Mueller's team is not at all what Barr told the public. In Barr's initial summary of the Mueller Report to Congress — which he wrote without consulting Mueller — Barr took it upon himself to conclude that the evidence did not merit a criminal charge against Trump for obstructing justice.
Once the redacted report was released to Congress and the public, however, it was clear that Mueller found a substantial amount of evidence for obstruction, especially regarding Flynn.
Flynn was a surrogate on the Trump campaign who briefly served as Trump's first national security adviser before he was fired. While on the campaign, Flynn met with Russian ambassador Sergey Kislyak, and lied to investigators about it. Trump wanted the FBI to drop its investigation into Flynn's activity and pressed then-FBI Director James Comey to stop looking into the matter.
"I hope you can see your way clear to letting this go, to letting Flynn go. He is a good guy. I hope you can let this go," Trump told Comey in a February 14, 2017, Oval Office meeting.
Comey did not let it go, however, and Trump later fired Comey in the apparent hope that doing so would end the FBI investigation into his campaign's involvement with Russia.
Flynn was later indicted by Mueller's team and charged with lying to FBI agents. Flynn eventually pleaded guilty and cooperated with Mueller's team.
Trump knew Flynn was under investigation, and he tried to stop the wheels of justice from turning. And the evidence is so overwhelming that Mueller's team thought it merited indicting Trump for a serious federal crime.
Published with permission of The American Independent. 
IMAGE: Former FBI directors Robert Mueller and James Comey.