Report: Obamacare Prevented Negative Q1 Growth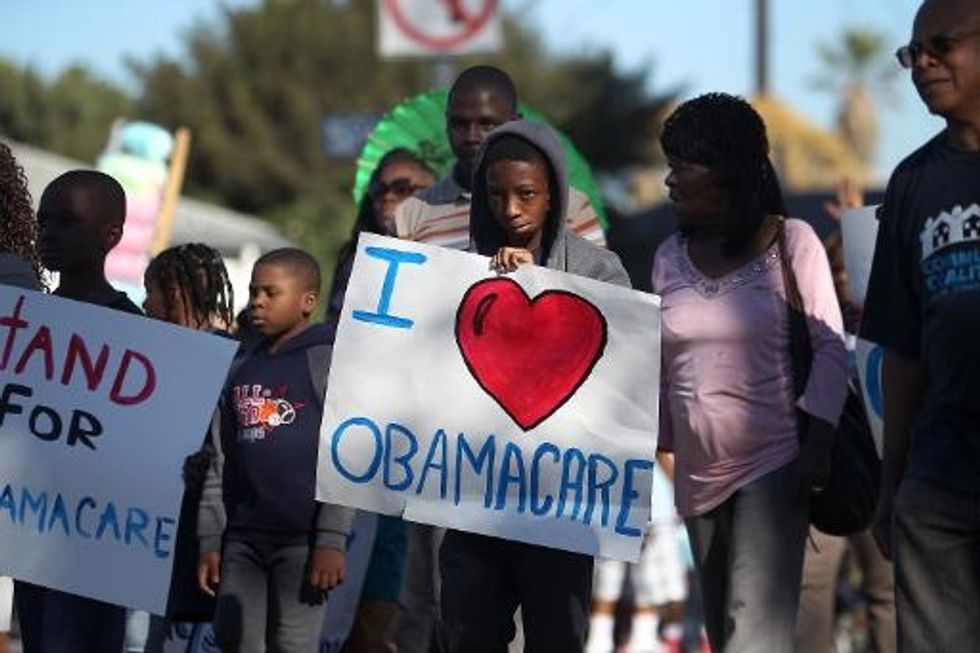 Republicans who have long insisted that Obamacare will "destroy the economy," acting as a "poverty trap," as Rep. Paul Ryan (R-WI) put it. But new data show that without Obamacare, GDP growth for the first quarter of 2014 would have been negative.
In the face of a particularly harsh and long winter, the United States saw only a 0.1 percent annualized gain over the past three months — but if not for health care spending, the economy would have shrunk.
The 0.1 percent growth came as a shock to many economists and the Commerce Department — which projected a more robust 1.2 percent increase — and this year's Q1 numbers mark the lowest margin of growth since Q4, 2012. Health care spending , however, skyrocketed 9.9 percent, marking the largest leap in sector spending since 1980.
The Affordable Care Act was the primary catalyst behind GDP growth this quarter, singlehandedly contributing 1.1 percent of overall growth. This would suggest that without the law, the economy would have actually slowed by at least one percentage point.
Economists attribute Q1's sluggish progress to insignificant automotive sales, a decline in average weekly hours worked, slowing retail and foodservice sales, and decreased capital goods shipments. However, with 8 million Americans signed up for Obamacare, previously uninsured Americans are now paying health care premiums. Additionally, other Americans seem to be buying more expansive coverage, resulting in the health care sector's significant contribution to spending.
This trend isn't exactly what the Obama administration had in mind for the Affordable Care Act; the president and the law's supporters have said that the new policy would actually curb health care spending and drive down medical costs. In fact, earlier this year, the White House attributed the then-slowing growth of health care spending to Obamacare successes. "For years, health care costs in America skyrocketed, with brutal consequences for our country," White House deputy assistant for health policy Jeanne Lambrew wrote in a blog post. "The Affordable Care Act, for the first time in decades, has helped to stop that trend."
Of course, an increase in health care spending does not mean that health care costs have risen as well. Analysts have suggested that both Medicaid expansion and private insurance subsidies will be considerably less expensive than initially anticipated, saving the government billions.
Despite these reports, however, Americans are still skeptical about how much money Obamacare will save them. A recent Washington Post poll showed that only 11 percent of consumers believe that the law is driving costs down, and 58 percent said that it is in fact making health care more expensive.
While Q1 GDP growth was clearly disappointing, many experts remain confident that Q2 growth will compensate for this quarter's lackluster numbers. Monthly data for March has already shown "marked improvement," according to Paul Ashworth of Capital Economics. Ian Shepherdson of Pantheon Macroeconomics agreed, saying, "Q2 will be better."
And although there remain conflicting opinions as to the source of Q1's unimpressive numbers, one thing's certain: Obamacare helped the economy this time around.
AFP Photo/David McNew