Report: Schwarzenegger Considering Presidential Run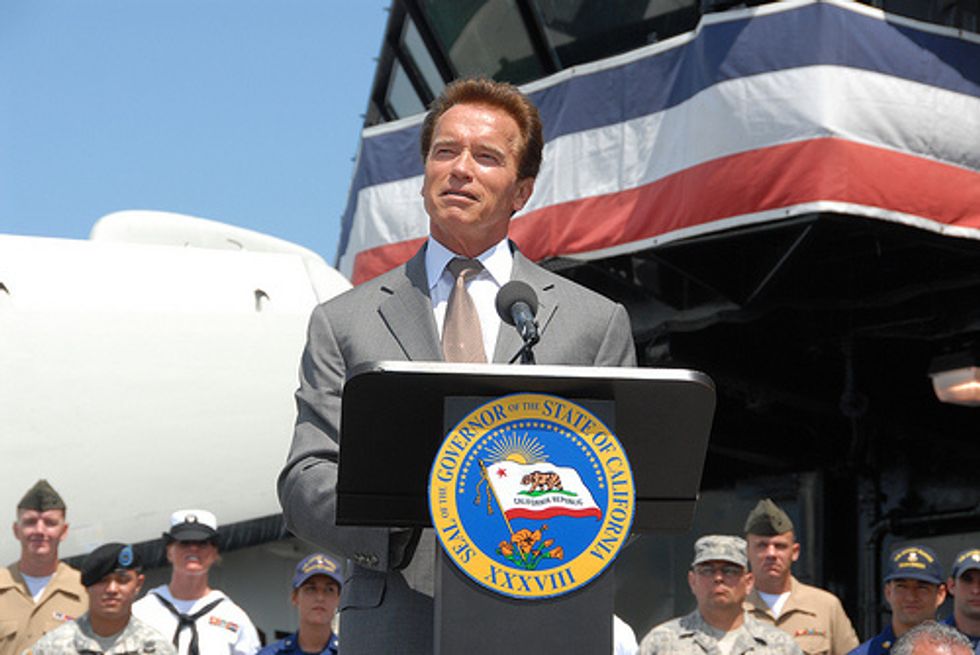 Is former California governor Arnold Schwarzenegger (R) eyeing the White House in 2016?
The New York Post reported on Friday that the actor-turned-politician-turned-actor has been openly discussing a potential run for president. But Schwarzenegger faces one major obstacle: the U.S. Constitution.
Schwarzenegger was born in Austria, and became a U.S. citizen in 1983. For any other elected office, U.S. citizenship would suffice. But Article II, Section One of the U.S. Constitution clearly states that only natural-born citizens are eligible to become president.
According to the Post's source, "Schwarzenegger has been talking openly about working on getting the Constitutional rules changed so he can run for president in 2016. He is ready to file legal paperwork to challenge the rules."
"The law is very clear," Columbia University Law School Professor Michael Dorf told The Post, "but it's not 100 percent clear that the courts would enforce that law rather than leave it to the political process."
If Schwarzenegger is in fact lobbying to change the law that would prevent him from running, it would require congressional approval. Both the House and the Senate would have to approve the Constitutional amendment by a two-thirds majority.
While Republicans have eagerly questioned Barack Obama's eligibility to serve as president due to their enduring certainty that he was born in Kenya, they are less skeptical of their fellow GOP members, even those who were undoubtedly not born in the U.S. In 2004, Senator Orrin Hatch (R-UT) introduced a Constitutional amendment that would allow Schwarzenegger to run.
Of course, it's possible that Schwarzenegger is less interested in a presidential run than in a bit of free publicity. Schwarzenegger has recently been busy promoting his new movie, Escape Plan, which hit theaters on Friday.
Photo: Port of San Diego Via Flickr