Report: Trump Intervened To Fix Top Secret Clearance For Ivanka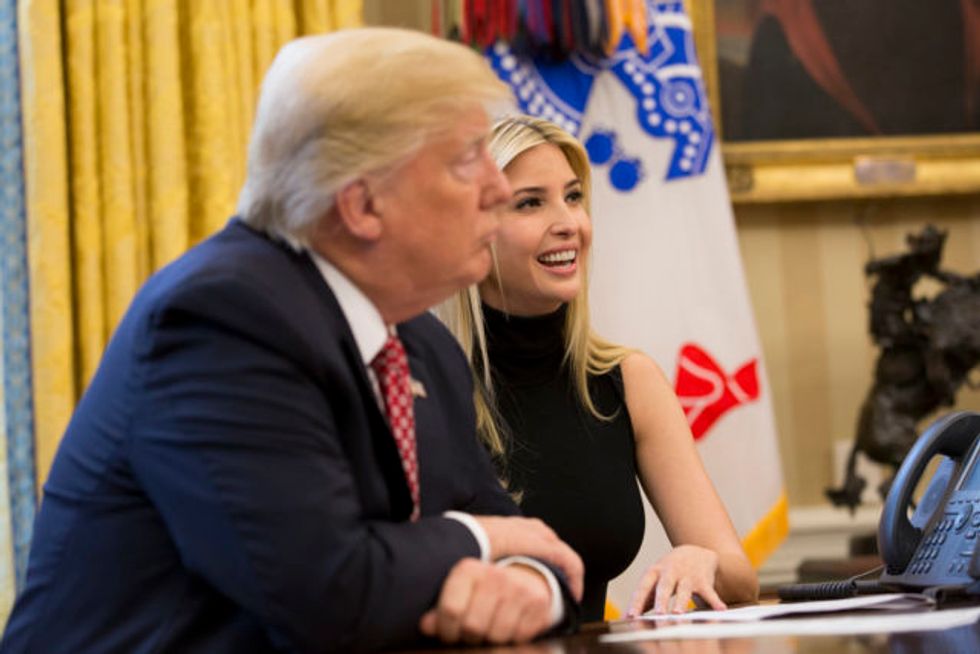 President Donald Trump pressured both ex-Chief of Staff John Kelly and ex-White House Counsel Don McGahn to give his daughter and top adviser Ivanka Trump a security clearance, according to a new report from CNN. When neither of them succumbed to his demands, however, he ended up granting the clearance himself, the report found.
The revelation that the president had to intervene on his daughter's behalf comes as the White House faces increasing scrutiny from Democratic lawmakers in the House of Representatives.
The New York Times recently reported that Jared Kushner, Ivanka's husband, also needed the president to intervene on his behalf to get a security clearance. CNN found that although concerns about either spouse could have endangered the others' chances to get a clearance, the officials who typically approve security clearances had concerns about both of them individually.
Trump has previously denied intervening in the security clearance process. When concerns were raised about Kushner's interim security clearance last year, he said that he would defer to Kelly's judgment on the matter and stay out of it.
Ivanka also denied in a recent interview that her father had any involvement in her and her husband's security clearances, which now appears to be entirely false. However, CNN noted that she may not have been aware that her father stepped in to grant the clearances.
As president, Trump has the final authority to grant, deny, or revoke security clearances. But critics have pointed out that intervening in the usual process for his family's benefits reeks of nepotism and potentially endangers national security.
It is not clear yet what considerations led officials to stymie Kushner's and Ivanka's security clearance applications in the first place. We do know, though, that Kushner's initial application had to be updated multiple times because he omitted more than 100 foreign contacts he had had when he first turned it in. On Tuesday, two lawmakers referred Kushner's case to the Justice Department for a potential criminal investigation.