Report: Undocumented Women Worked At Trump National Golf Club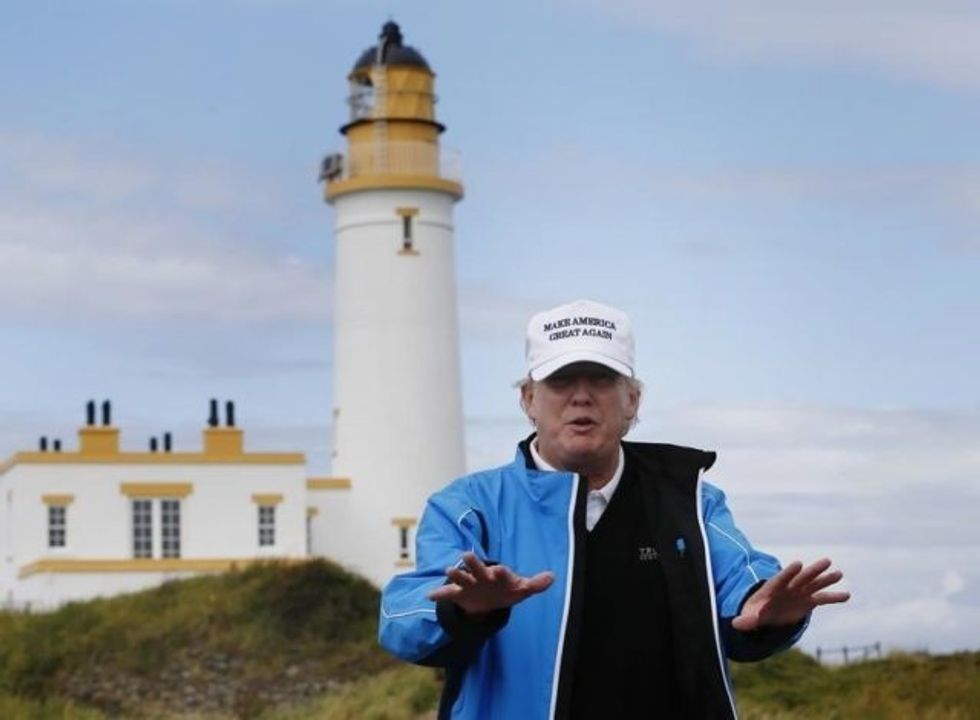 Reprinted with permission from Shareblue.
Two immigrant women have gone on the record with The New York Times to admit they were undocumented when they worked at one of Trump's golf clubs — and to speak out against Trump's dehumanizing treatment of immigrants during his presidency.
The Times conducted extensive interviews in Spanish with Victorina Morales, who crossed the southwest border illegally in 1999 from Guatemala, and Sandra Diaz, a native of Costa Rica who is now a legal U.S. resident but says she was undocumented when she worked at the Trump National Golf Club in Bedminster, New Jersey, from 2010 to 2013.
Their story is remarkable. Trump, of course, routinely demonizes immigrants — especially undocumented immigrants, and especially people from Latin America. And as the Times pointed out, he has also bragged about verifying his workers' documents electronically to make sure he "didn't have one illegal immigrant on the job."
But Morales and Diaz say that while they can't say for sure how many other workers at the club have been undocumented, they are far from the only ones.
And while there's no hard evidence that either Trump himself or Trump Organization executives knew that the Bedminster club hired undocumented workers, Morales and Diaz say it's a common and accepted enough practice that multiple supervisors knew about their status. One manager, Morales said, even loaned her money to get new fake documents when there was a problem with her old ones.
And Morales — who was given a personalized certificate from the White House Communications Agency for the "outstanding" support she gave Trump during his many stays at the club — said she had trouble believing Trump was totally ignorant of her status.
"I ask myself, is it possible that this señor thinks we have papers? He knows we don't speak English," she told the Times. "Why wouldn't he figure it out?"
Diaz trained Morales, cleaned Trump's two-story residence with her for a time, and quit shortly thereafter. But Morales still works at the club, and still doesn't have papers.
Morales told the Times that she knows she will probably lose her job and risks being deported by coming forward.
But she felt she couldn't stay silent anymore in the face of Trump's hypocritical and hurtful public comments about people like her.
"We are tired of the abuse, the insults, the way he talks about us when he knows that we are here helping him make money," Morales told the Times. "We sweat it out to attend to his every need and have to put up with his humiliation."
One of those humiliations, Diaz said, included getting yelled at by Trump when she couldn't get a stubborn orange makeup stain out of his white golf shirt.
Shortly after Trump kicked off his virulently racist and anti-immigrant presidential campaign in 2015, Morales was told she couldn't work inside Trump's residence anymore. Other undocumented workers she knew had their hours cut and eventually quit.
The Times reports that despite all of this, the two women found Trump to be "demanding but kind" in their personal interactions with him, and sometimes a very generous tipper. Morales even thought of him as "a good man."
But as time went on, the Times notes, Morales and other workers grew "increasingly disturbed" about Trump's demeaning anti-immigrant remarks, which "seemed to embolden others to make negative comments."
That included a supervisor at the golf club, who Morales says called workers "stupid illegal immigrants" with less intelligence than a dog.
And so Morales and Diaz, through a lawyer they are both working with on immigration issues, finally decided to go public.
It's a courageous act that puts a well-deserved spotlight on Trump's racist, brutal, and wildly hypocritical treatment of hard-working immigrants who are trying to make a better life for themselves and their families.
Published with permission of The American Independent.