Report: Virginia Governor Avoids Criminal Charges, For Now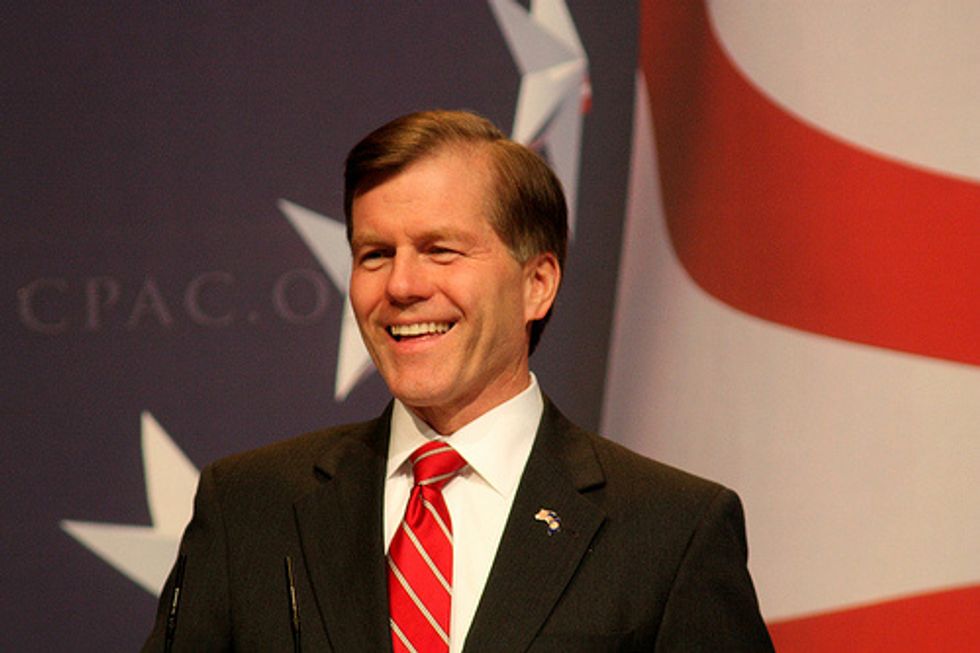 Attorneys for Virginia governor Bob McDonnell and his wife Maureen successfully lobbied federal prosecutors to delay indictments being brought against the couple, according to a report in the Washington Post.
Earlier this week, federal prosecutors told the McDonnells they would face federal charges for their roles in promoting the business interests of a dietary supplement company in exchange for lavish gifts. Prosecutors allege the governor may have violated the Hobbs Act, which makes it a crime for politicians to accept gifts in return for political action.
The governor's not guilty, his lawyers argue. But — if he did it — prosecutors should still wait until his term expires to charge him with a federal crime.
To make the case for a delay, attorneys for the pair insisted there are holes in the prosecutors' case against them. As the Post notes, attorneys argued that testimony from Maureen McDonnell's chief of staff will not be reliable in a courtroom.
An event held at the governor's mansion for Star Scientific, the supplement company involved, may well be a large piece of evidence to prove the governor used his office to aid the company. Star Scientific used the event to launch a new dietary supplement, Anatabloc. Both Bob and Maureen McDonnell attended the event.
But, their attorneys argue, they could convince a jury that Mary Shea Sutherland, Maureen McDonnell's chief of staff, helped organize the event to benefit from a relationship with Star Scientific. Sutherland corresponded with the company prior to the event and urged the governor's scheduler to make sure he attended. When told the governor might be busy, Sutherland wrote the scheduler in an email: "The [first lady] isn't going to be happy about it."
Sutherland also accepted expensive clothing from the chief executive of the company, as did the first lady.
The report also notes the McDonnell's attorneys pushed for a delay because they did not want Governor McDonnell to become the first governor in Virginia history to be charged with a crime while in office, as it would be a stain on the legacy of the governor and his wife.
The McDonnells will, however, be regarded as the ones who threw support behind a shady company in the supplement industry (an industry that ducks government regulation to peddle dangerous products). Or the couple who focused on wine tourism and the beauty of the stately governor's mansion in Richmond, while the rest of the city became one of the poorest urban areas in the country.
On top of that, McDonnell was once a rising figure in the national Republican Party. Yet recently, his scandals helped pave the way for the first Democratic statewide election sweep in Virginia since 1969.
It's hard to see how avoiding criminal charges would really make a difference for his "legacy."
Photo: Gage Skidmore via Flickr