Reporters, It's Time To Investigate DeVos' Department Of Education
@pamela_vogel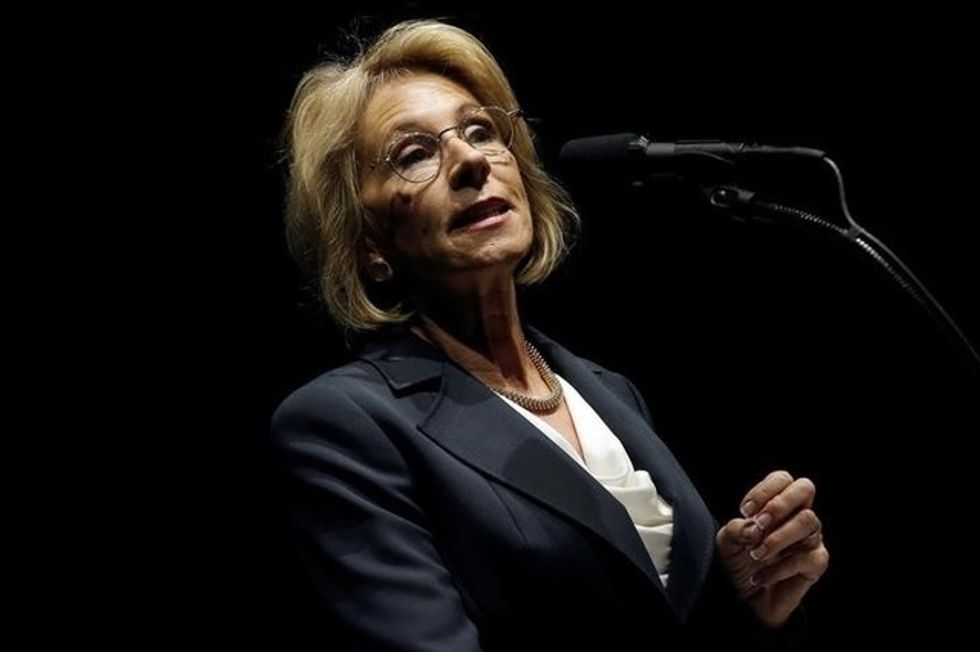 Reprinted with permission from MediaMatters.
In the lead-up to billionaire Republican megadonor and Secretary of Education Betsy DeVos' confirmation, numerous media outlets published deep-dive investigations into DeVos' background, significant political contributions, potential conflicts of interest, far-right ideology, and negative influence on Michigan policies.
But since she formally took over at the Department of Education, the investigative work seems to have mostly dropped off; coverage of DeVos has focused more on her public gaffes than the inner workings of the agency she now runs. It certainly doesn't help that DeVos and her department have struggled with media transparency. As education media writer Alexander Russo wrote, "DeVos takes press questions at events only occasionally, has yet to grant a formal interview with a major national education reporter, and heads a department that only intermittently provides answers in a timely manner – through a spokesperson whose name reporters are forbidden to use. The agency has even struggled to put out her weekly schedule in advance of public events."
It's time for investigative journalists to dig deeper and shine light on DeVos' priorities, such as early staffing decisions at the Education Department. There's certainly plenty to explore — many of the temporary staffers in the Education Department are veterans of the right-wing think tank echo chamber on "education reform," and some have anti-LGBTQ and anti-black track records. Like DeVos, almost none have spent significant time as educators.
As ProPublica reported, the Trump administration has installed hundreds of officials across federal agencies including the Education Department (known as "beachhead" teams). Though the positions are designed to be temporary, many are expected to transition into permanent roles, and may have "taken on considerable influence in the absence of high-level political appointees" who need to first be vetted and confirmed by the Senate:
Unlike appointees exposed to the scrutiny of the Senate, members of these so-called "beachhead teams" have operated largely in the shadows, with the White House declining to publicly reveal their identities.

[…]

Much about the role of the beachhead teams at various federal agencies is unclear. But close observers of the early weeks of the Trump administration believe they have taken on considerable influence in the absence of high-level political appointees.

The beachhead team members are temporary employees serving for stints of four to eight months, but many are expected to move into permanent jobs.
A December Politicoreport highlighted three newly named Education Department staffers who had previously posted offensive comments about women and people of color online. Two of the staffers still appear to work for DeVos' agency months after the report. Kevin Eck, a special assistant to Secretary DeVos, had to apologize after he tweeted disparagingly in late 2015 about the "all black cast" of NBC's The Wiz adaptation. Politico also documented several disparaging tweets by Eck about the LGBTQ community, including at least one post that pushed the dangerous "bathroom predator" myth people use to justify barring transgender individuals (students, in particular) from using the appropriate public facilities. According to his LinkedIn profile, Eck still serves in this role at the department.
The Politico article identified another staffer, Derrick Bolen, who "has tweeted numerous statements that could be considered insensitive to African-Americans and women." Bolen's posts include at least one in which he used a racial slur. He began serving as a confidential assistant to DeVos in the early days of the administration; ProPublica notes that Bolen "appear[s] to have switched departments" and may now be working at the Department of Labor. His LinkedIn profile does not list any past experience in teaching or education policy; instead, Bolen served most recently as a regional field director for the Republican National Committee.
Former Alaska state Sen. Jerry Ward served as a special assistant to Secretary DeVos until his reported resignation last week. Years before Ward worked as the Alaska state director for the Trump campaign or served on Trump's inaugural committee, he was investigated by the Department of Justice for alleged corruption stemming from "his relationship with private prison advocate William Weimar." According to local media coverage, federal prosecutors also concluded that Ward had interfered with a witness in a corruption trial in order to protect himself from prosecution. Little is known about Ward's resignation from the "beachhead" team; he has not discussed the matter publicly.
Journalists have already begun identifying new members of the Education Department staff — beachhead or otherwise — whose backgrounds raise strong conflict-of-interest questions. In March, The New York Timesreported that Robert Eitel, a vice president for regulatory legal services at for-profit college operator Bridgepoint Education Inc., is on leave from the position to work as a special assistant to Secretary DeVos. Ethics experts told the Times that Eitel's connections to Bridgepoint, in particular his legal work while the company faced several government investigations, could "bump up against federal rules involving conflicts of interest and impartiality." Eitel was recently granted written permission from ethics officials to work on regulations specifically affecting student loan repayment; under his legal leadership, Bridgepoint paid out "a settlement of more than $30 million over deceptive student lending."
Another early member of DeVos' staff, Taylor Hansen, also has significant financial ties to the for-profit higher education world; he's both a for-profit college lobbyist and the son of the former CEO of a student loan guarantee agency. As Bloomberg News reports, Hansen resigned from his role at the Education Department in mid-March, just one day after the department announced a reversal on an Obama-era directive related to fees that loan guarantee agencies can charge some students who default on their loans. The change, Bloomberg explained, "is almost certain to hand … a victory" — and possibly $15 million in additional revenue — to the company that, until very recently, was operated by Hansen's father.
Jerry Falwell Jr. is the son of televangelist Jerry Falwell Sr. and the president of Liberty University, a Christian college in Virginia founded by Falwell Sr. in 1971. He has also been tapped to head a "task force on higher education" in the Trump administration, reportedly at the insistence of senior White House official and former Breitbart.com executive Stephen Bannon. Falwell Jr. has encouraged students to carry concealed weapons on campus in order to "end those Muslims," and defended President Donald Trump's 2005 comments boasting about sexually assaulting women. Liberty University also offers insight into Falwell Jr.'s leadership and priorities — the school is closely tied to the Liberty Counsel, an anti-LGBTQ hate group, hosts extremist groups and individuals for campus events, and prohibits "sexual relations outside of a biblically ordained marriage between a natural-born man and a natural-born woman."
Little information has come to light about Falwell's plans for the higher education task force, but reports indicate that he is "particularly interested in curbing rules that require schools to investigate campus sexual assault under Title IX, a federal law that bans discrimination in education." Falwell has also said that he wants the task force to "re-evaluate 'overreaching regulation' by the federal government," reportedly in areas such as college accreditation and federal loan cancellation for defrauded students, leading to calls for more information from Senate Democrats who see potential for conflicts of interest. "Mr. Falwell's personal and financial interests on issues affecting student loan debt, recruitment, and distance education are extensive," the lawmakers wrote, noting that Liberty University was the third-largest recipient of federal student loans in 2016.
The vast majority of "beachhead" officials within the Education Department have close connections to the right-wing "education reform" media echo chamber bankrolled by billionaires and private corporations — but little to no experience in the classroom.
This list includes at least four staffers who have previously worked for education privatization groups led by DeVos in some capacity: Michael Frendewey, a communications staffer at American Federation for Children, which was founded by DeVos and led by until her nomination; and Andrew Kossack, Josh Venable, and Neil Ruddock, all former staffers of Jeb Bush's Foundation for Excellence in Education, which counted DeVos as a board member until her nomination.
The longer list of staffers who come from the dark-money "education reform" echo chamber includes Jason Botel, of the DeVos-affiliated Maryland Campaign for Achievement Now; Michael Brickman, a former staffer with the Fordham Institute and Gov. Scott Walker (R-WI); Gillum Ferguson, a former staffer for conservative outlets Opportunity Lives and The Washington Free Beacon; Alexandra Hudson, who has written education policy pieces at conservative outlets and think tanks like The Heartland Institute, The Federalist, and The Weekly Standard and recently worked as an education policy analyst for the Wisconsin Institute for Law & Liberty (part of the State Policy Network of right-wing think tanks); Lauren Rigas of the American Conservative Union and the American Enterprise Institute; and Patrick Shaheen, a former staffer at the Koch brothers' Americans for Prosperity.
Let's not forget the bombshell Washington Postreport from April 3: Erik Prince, DeVos' brother and the founder of the infamous Blackwater security firm, met with "a Russian close to President Vladi­mir Putin as part of an apparent effort to establish a back-channel line of communication between Moscow and [then] President-elect Donald Trump" days before Trump's inauguration. According to officials, Prince "presented himself as an unofficial envoy for Trump" during the secret Seychelles meeting although he has no formal role with the administration. The meeting took place less than two months after Trump announced he would pick Prince's sister to head the Education Department.