Reporters With Pence Find Migrants Confined In 'Horrendous' Conditions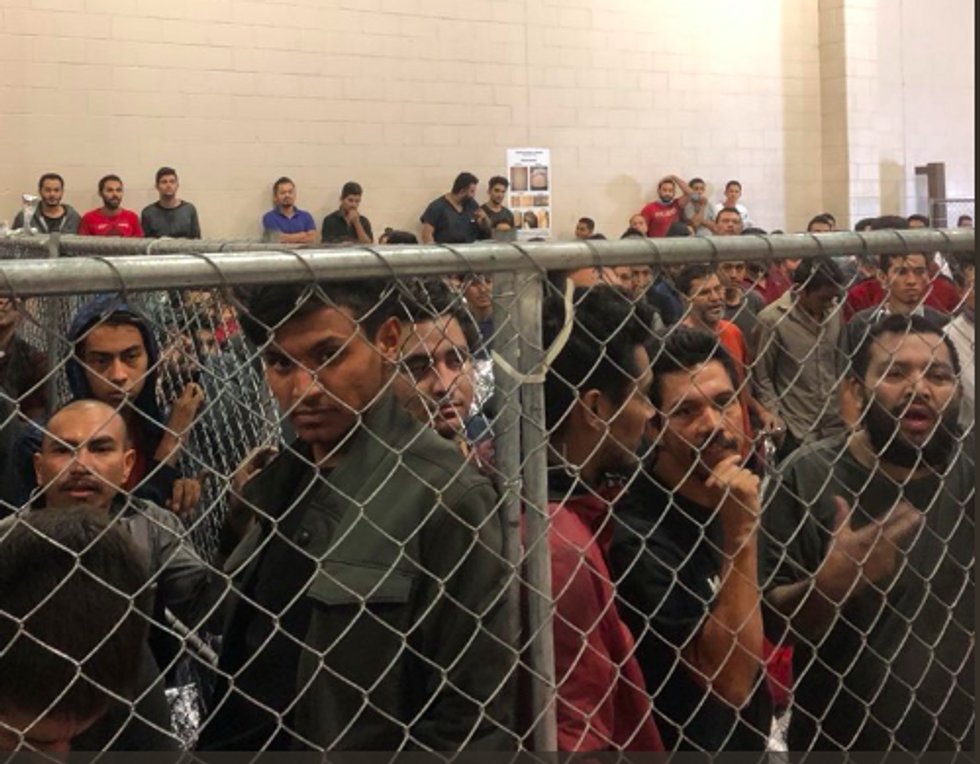 Reprinted with permission from Alternet.
While traveling with Vice President Mike Pence to Texas, pool reporters negotiated access to see an outdoor portal at the McAllen Border Station. And what they found, as documented in a pool report and photos by reporter Josh Dawsey of the Washington Post, was an absolutely horrifying scene.
There were about 400 men caged in a fenced-in area outdoors, "so crowded that it would have been impossible for all of the men to lie on the concrete," Dawsey reported.
"There were no mats or pillows — some of the men were sleeping on concrete," he said. "The stench was horrendous."
He described the weather as "sweltering hot."
The men in the cages began shouting at the press when they came by, saying that they've been kept there for 40 days or longer. Dawsey said they appeared dirty. The patrol agent in charge at the station admitted some of the men hadn't showered for 10 or 20 days because the facility only recently got showers. He claimed that, despite what the immigrants had said, no one had been at the facility longer than 32 days. The men also told the press they wanted to brush their teeth; the patrol agent said they were allowed to once a day.
The men told the reporters they were hungry. The patrol agent said they got three hot meals a day from local restaurants.
Inside the facility, it's not clear it was much better.
"Crowded cells could be seen all around," Dawsey reported. "382 men were in the cells, many of them appeared quite young and some shirtless, and they pressed their faces up against the window to see the commotion."
He continued: "[The patrol agent] said the facility was cleaned three times a day, but it did not seem that way, and that it was air conditioned, but it did not feel that way."
A few other images from inside: pic.twitter.com/0s7nLXyT3p

— Josh Dawsey (@jdawsey1) July 12, 2019
"I was not surprised by what I saw," Pence told the reporters. "I knew we'd see a system that was overwhelmed."