Republican Congressman Fundraises Off Of Syria Flip-Flop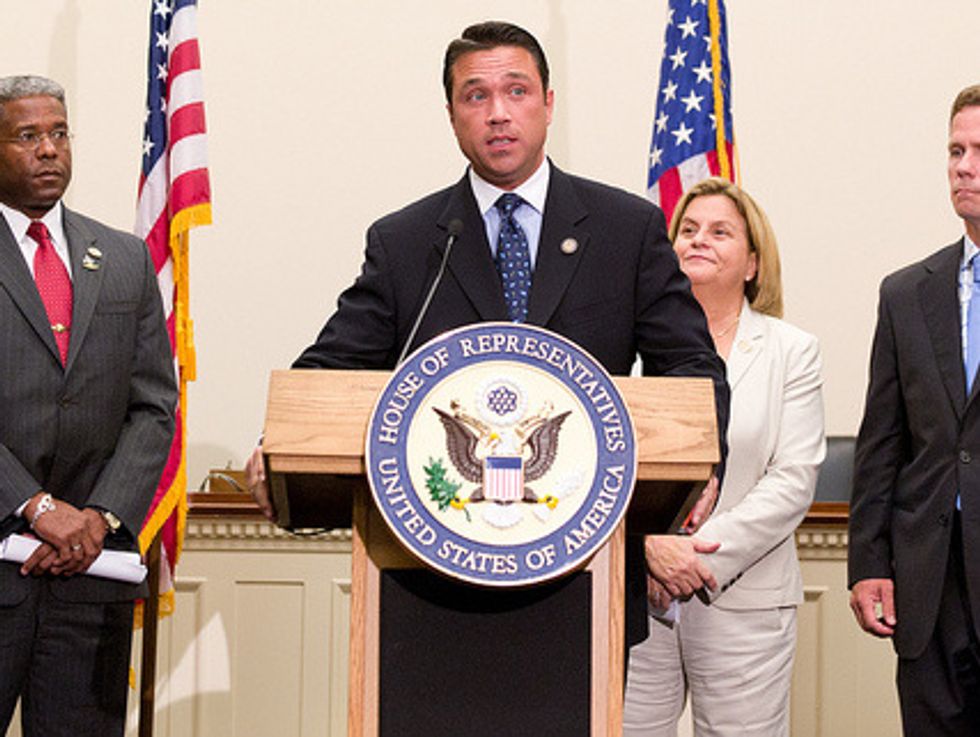 Representative Michael Grimm (R-NY) is quickly backpedaling away from a fundraising email soliciting donations based on his change of heart on military intervention in Syria.
Grimm was initially a strong supporter of military strikes against Syria, before suddenly reversing his decision on Thursday. Within hours, his office had sent out an email blast to supporters attempting to fundraise off of the move.
"Today, I decided to withdraw my support from President Obama's proposal for a military strike against Syria. I have heard from many of you in Staten Island and Brooklyn, and it is clear to me that their is strong opposition to the strike. As your voice in Washington, I will continue to listen and take a stand for you," he wrote.
The letter then sharply pivots, asking "Will you stand with me in opposing President Obama's plan with a donation of $25 or more right now?"
After two paragaraphs criticizing President Obama's leadership and reiterating Grimm's opposition, the email once again encourages recipients to "stand with me today with a donation of $25 or more to strongly oppose military action in Syria."
In a statement, Grimm's spokeswoman Carol Danko claimed that the fundraising request was a mistake that the congressman did not authorize.
"The email was intended to be a message to supporters informing them of the congressman's withdrawal of support for a strike on Syria. The dollar ask was included automatically by the vendor, and was never approved by the congressman," Danko said. "He is furious over this inappropriate inclusion and has taken appropriate actions to ensure that this careless error never happens again."
Whether Grimm approved the email or not, it has given his opponents an opening to question the sincerity of his position on Syria. New York City councilman Domenic Recchia, who is running against Grimm in 2014, criticized the second-term congressman in a statement, saying "The use of military force is the most serious of issues, and it should be treated that way."
Grimm isn't the only Republican to engage in some incredibly crass fundraising off of the war in Syria, which has claimed over 100,000 lives. On Thursday, Terri Lynn Land — a Republican candidate for Senate in Michigan — sent an email to supporters urging them to "stand up to the president" on Syria by signing a petition encouraging Representative Gary Peters, a Democratic candidate for Senate, to vote "no" on authorizing Syria strikes — and to give money to her campaign.
In an email to Politico, Land consultant John Yob suggested that there was nothing out of the ordinary about Land attempting to score a quick buck off of an international security crisis.
"It was an email asking people to sign a petition urging Gary Peters to vote no on the war in Syria and happened to have a donation link like other emails we send to our email list," he wrote.
H/t: BuzzFeed
Photo: House Foreign Affairs Committee Republicans via Flickr.com