Republican Convention In Turmoil As Anti-Trump Delegates Protest
@reuters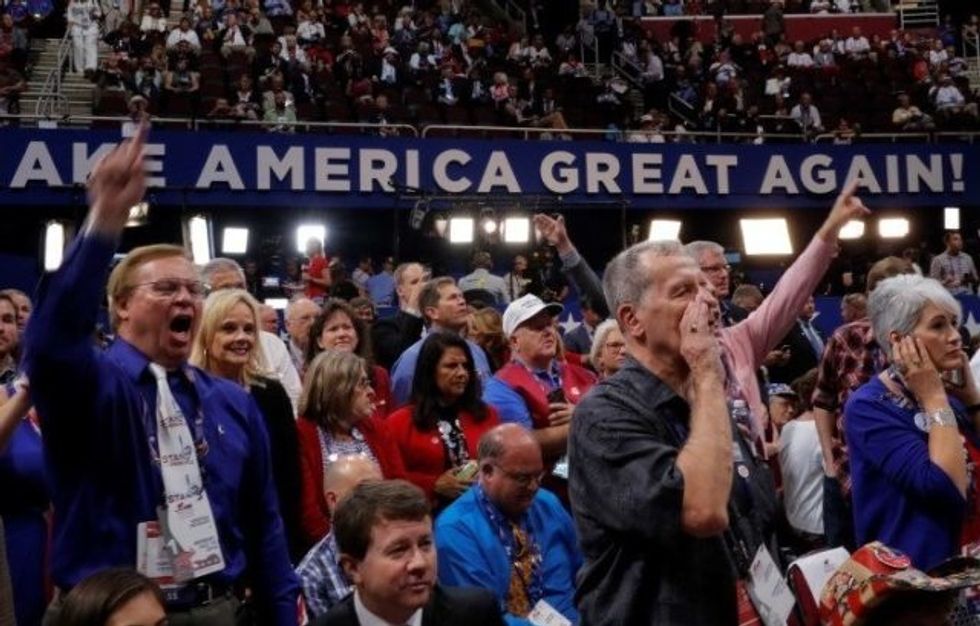 CLEVELAND (Reuters) – The Republican National Convention was in an uproar on Monday after opponents of presumptive U.S. presidential nominee Donald Trump failed in their effort to hold a roll-call vote in opposition to his candidacy.
The anti-Trump forces at the Cleveland convention started shouting "Roll Call" after the party leaders approved by acclamation rules at the start of the convention that barred them from registering their opposition.
Party leaders declared there was insufficient support to allow for a roll-call vote that would record the number of delegates opposed to Trump, a New York businessman who has never held political office and has struggled to win over many mainstream Republicans.
Some delegates walked out of the convention in protest at the leaders' ruling while others chanted loudly, demanding a roll-call vote take place.
Trump last week declared the so-called "Never Trump" movement dead, tweeting that "#NeverTrump is never more."
Writing by Howard Goller; Editing by Ross Colvin
Photo: Republican National Convention delegates yell and scream as the Republican National Committee Rules Committee announces that it will not hold a recorded vote on the Rules Committee's Report and rejects the efforts of anti-Trump forces to hold a roll-call vote, at the Republican National Convention in Cleveland, Ohio, U.S., July 18, 2016. REUTERS/Brian Snyder
Video: CSPAN/ Washington Free Beacon