The Republican Convention Is Weaponizing Grief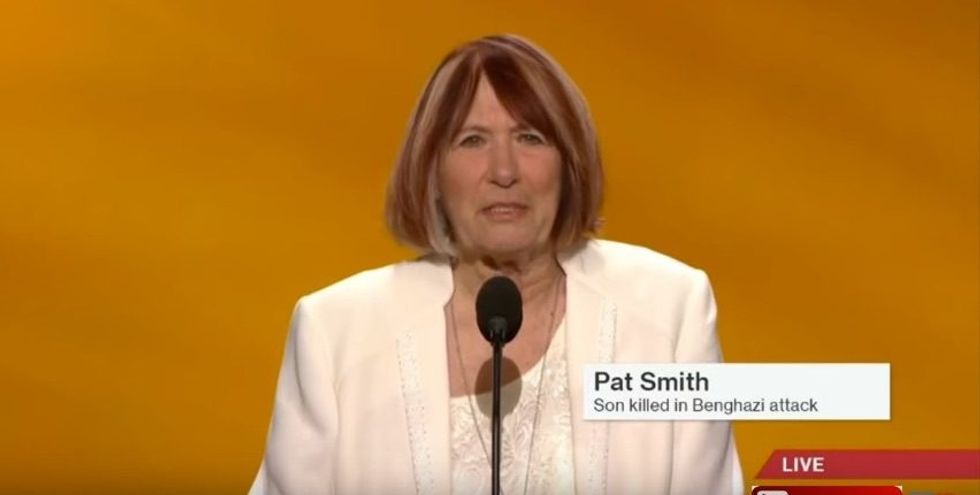 At the Republican National Convention, the personal is political — just not in the usual sense of the phrase.
Far from the second-wave feminist rallying cry, the past two days in Cleveland have featured the GOP manipulating private tragedies in order to fortify its aggressive attacks on Hillary Clinton and her stances on immigration and national security.
This "weaponization of grief," as former John McCain strategist Steve Schmidt called it on MSNBC, was at its most disturbingly apparent during a litany of speeches on Monday from aggrieved parents who lost their sons in Benghazi or at the hands of undocumented immigrants. But the tactic has been an undercurrent in much of the convention so far, as politicians and Trump surrogates conducted scathing prosecutions of Clinton during their turns onstage.
On Tuesday, New Jersey Gov. Chris Christie spent 15 minutes wildly condemning the former secretary of state for her alleged hand in international incidents like Benghazi and the kidnapping of the Chibok girls in Nigeria, as a riled-up crowd called for her to be locked up behind bars.
(One Trump adviser took it even further, suggesting to NBC News that Clinton should be shot by a firing squad for treason.)
"Look around at the violence and danger in our world today every region of the world has been infected with her flawed judgment," Christie said; though, as The New York Times noted, not every example he mentioned was entirely accurate.
Just as the convention has avoided real policy points by replacing experts with entertainers, the few politicians onstage — in addition to Christie, former New York mayor Rudy Giuliani — have served to take down Clinton rather than advocating for Trump. Giuliani, for his part, railed against Clinton for "lying directly to the families of the people who were killed [in Beghazi], right to their faces."
No matter that PolitiFact concluded there isn't enough public, concrete information to claim that she did or did not lie to these family members: One of them, Patricia Smith, personally blamed Clinton for the loss of her son as well as "all of the cynicism the tragedy in Benghazi has wrought upon America." The TV cameras, meanwhile, focused in on photos of crying women in the audience.
Smith was one of a staggering six total parents who appeared onstage to link the Democratic nominee and Democratic policies with the deaths of their sons, the rest of whom were killed in incidents on the U.S.-Mexico border or involving undocumented immigrants.
Just like Christie, though, these aggrieved parents barely — if ever — mentioned Trump, instead speaking tearfully of their losses and how a "Crooked Hillary" White House would spawn the same kinds of tragedies. Mary Ann Mendoza, for instance, spoke of how her police sergeant son was slain and how a Clinton victory would result in "an administration that cares more about illegals than about Americans." She mentioned Trump once, at the very end of her remarks.
Photo: Patricia Smith / Screenshot via YouTube