Republican Cruz Uses Senate Perch To Blast Supreme Court
@reuters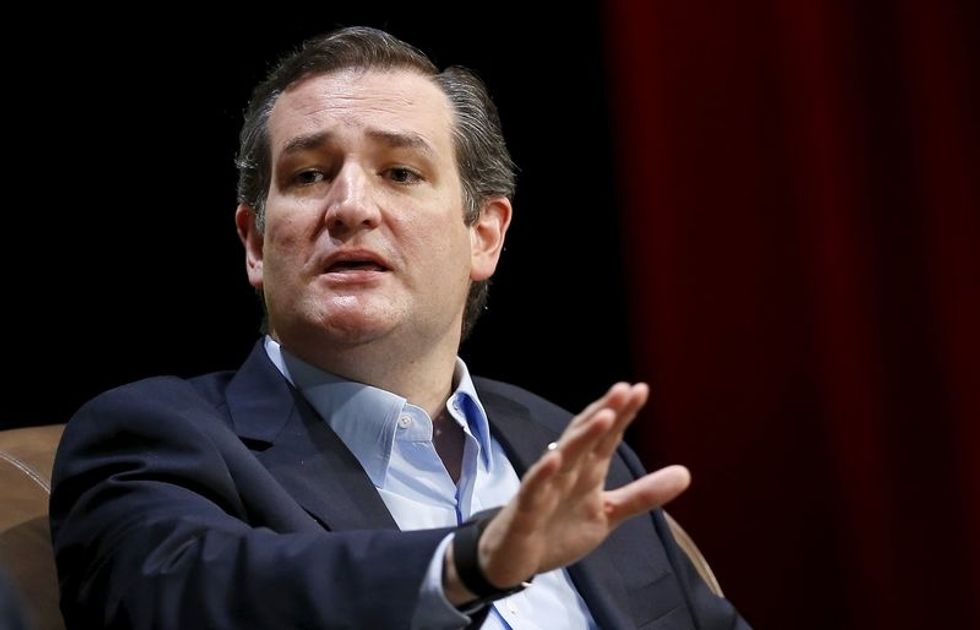 By Lawrence Hurley
WASHINGTON (Reuters) – Republican presidential candidate Ted Cruz on Wednesday stepped up his criticisms of the U.S. Supreme Court over its recent decisions on gay marriage and Obamacare, saying the rulings were "the very definition of tyranny."
A member of the Senate Judiciary Committee, Cruz held a hearing on "Supreme Court activism" and took aim at Justice Anthony Kennedy.
A regular swing vote on the nine-member court, Kennedy wrote the ruling legalizing gay marriage nationwide, in which the court was split 5-4, and joined the majority in a 6-3 ruling upholding tax subsidies that are central to President Barack Obama's healthcare law.
Cruz, a senator from Texas, said at the hearing: "Justice Kennedy's pop psychology has no basis in the text and history of the Constitution."
The healthcare and gay marriage decisions, issued on successive days in late June, were highly unpopular among the Republican primary voters Cruz is courting in his White House campaign.
Cruz has said states should be allowed to ban same-sex marriage and has repeatedly backed attempts to repeal the 2010 Affordable Care Act, known as Obamacare.
Democratic Senator Chris Coons of Delaware said Cruz and other conservatives were unhappy that the court did not rule the way they hoped in the two cases. Coons noted that liberals, too, have criticized recent court rulings. One, for instance, was the 2010 decision in Citizens United v. FEC, which lifted limits on corporate and union expenditure in federal elections.
After the latest decisions, Cruz called for the justices to face retention elections, similar to those used in some states, whereby justices could be voted out of office. Such a move would require a constitutional amendment.
A Reuters/Ipsos poll conducted after the gay marriage and Obamacare rulings showed that a majority of Americans would support term limits for Supreme Court justices.
Cruz said during the hearing he would also support term limits.
Before he was elected to the Senate in 2012, Cruz was a prominent lawyer who argued nine cases before the Supreme Court.
Cruz is one of 16 candidates in the running to be the Republican nominee in the 2016 presidential election.
(Reporting by Lawrence Hurley; Editing by Kevin Drawbaugh and Lisa Shumaker)
Photo: U.S. Republican presidential candidate Ted Cruz speaks at the Family Leadership Summit in Ames, Iowa, United States, July 18, 2015. REUTERS/Jim Young