Republican Santorum Drops Out Of White House Race, Endorses Rubio
@reuters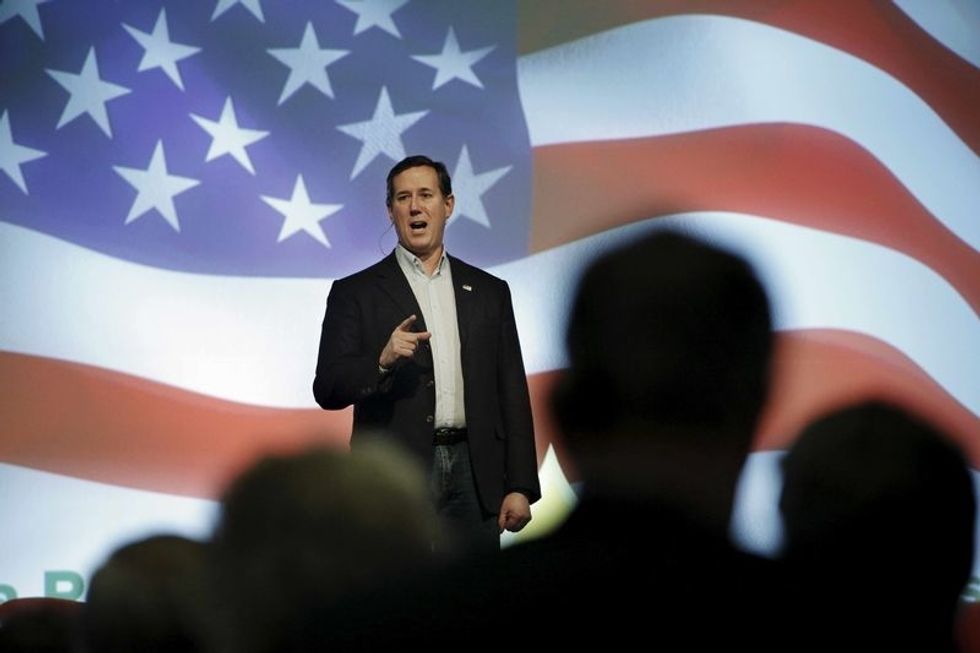 WASHINGTON (Reuters) – Rick Santorum withdrew from the race for the U.S. Republican presidential nomination on Wednesday and said he would endorse Senator Marco Rubio in the race for the White House.
Santorum, a 57-year-old former U.S. senator from Pennsylvania, won the Iowa caucuses four years ago but managed only 1 percent of the vote in the Iowa contest on Monday.
Santorum, in an appearance on Fox News announcing his withdrawal and endorsement of Rubio, called the Florida senator "a tremendously gifted young man and… a born leader."
He said Rubio "can bring this country together, not just moderates and conservatives but young and old."
Rubio, 44, finished third in Monday's Iowa caucuses, the first contest in the state-by-state battle to decide who will be the Republican nominee in the November presidential election.
U.S. Senator Ted Cruz of Texas finished first in Iowa, putting a dent in real estate tycoon Donald Trump's standing as the Republican front-runner.
Santorum's withdrawal leaves nine Republican candidates in the 2016 White House race, with the next contest in New Hampshire on Tuesday.
U.S. Senator Rand Paul of Kentucky announced earlier on Wednesday he was suspending his campaign after a fifth-place finish in Iowa.
A favorite of the Christian right, Santorum announced his White House bid in May with an eye on economic issues.
He campaigned on a promise to boost the middle class,eliminate the Internal Revenue Service and crack down on illegal immigration.
Santorum won a reputation as a strong social conservative in Congress, where he opposed same-sex marriage and the teaching of evolution in schools.
(Reporting by Eric Beech; additional reporting by Mohammad Zargham; Editing by Cynthia Osterman)
Photo: Republican U.S. presidential candidate Senator Rick Santorum speaks at the 10th Annual Iowa Renewable Fuels Summit in Altoona, Iowa, in this January 19, 2016, file photo. REUTERS/Scott Morgan/Files