Republican U.S. House Staffer Pleads 'No Contest' To Five Election Fraud Counts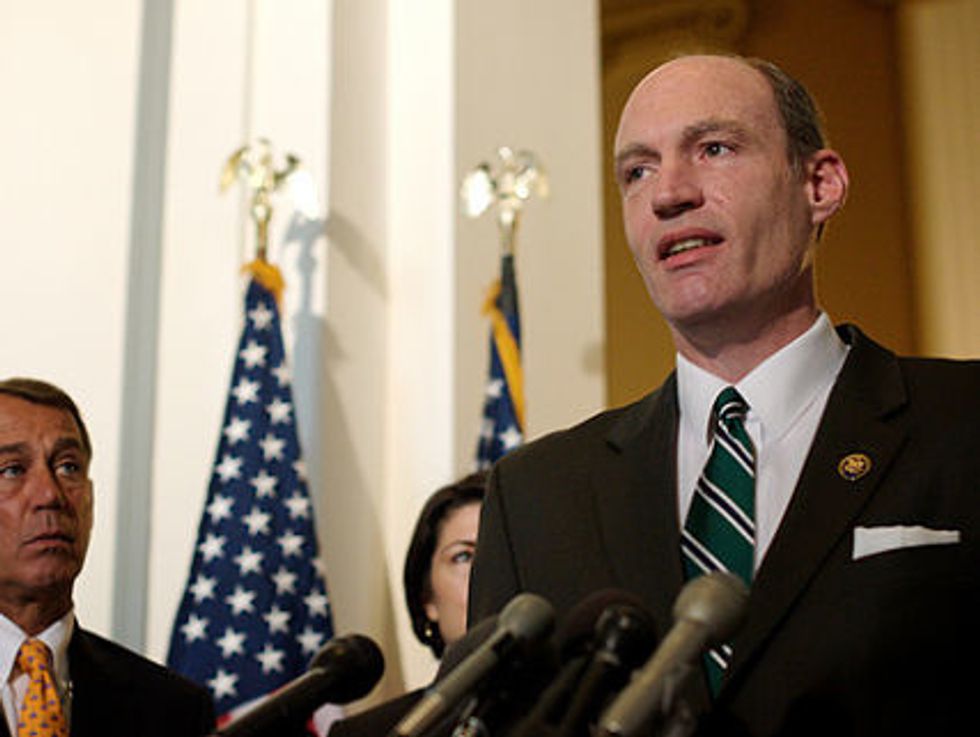 No doubt Fox 'News' is going wall-to-wall with this today, so you've got no need for us to tell you about it, right? … What? They're not? Huh. How strange.
Well, then, if you haven't heard, Lorianne O'Brady, a former staffer to Congressman Thaddeus McCotter (R-MI) has pleaded "no contest" to five misdemeanor counts of election fraud yesterday, related to creating and submitting fraudulent signatures in a failed conspiracy to qualify McCotter for the ballot this year.
O'Brady is just one of four of top McCotter aides who were charged last month with a total of 36 federal felony and misdemeanor election fraud-related counts in the alleged ballot petition forgery scheme. McCotter abruptly resigned last July as the scandal began to emerge.
While U.S. House candidates in Michigan are required to submit just 1,000 valid voter signatures, McCotter's campaign turned in some 2,000. Investigators discovered, however, that just 244 of them were actually valid. The rest were forged or photo-copied from previous petitions.
Submitting false signatures is the same thing that Fox "News" has spent years falsely claiming the community group ACORN was engaged in. The difference, of course, is that ACORN was the one to have discovered and turned in the handful, among their tens of thousands of voter registration workers, found to have defrauded them in such schemes. ACORN itself was never found to be involved in such fraud, and in every case, it was ACORN themselves who discovered the fraud and sought prosecution for the workers.
McCotter's campaign was hardly the only Republican team involved in submitting fraudulent signatures in hopes of winning a place on the ballot this year. As The BRAD BLOG reported exclusively last January, the Presidential campaign of former U.S. House Speaker Newt Gingrich was being investigated by the Virginia State Attorney General after the former GOP Presidential candidate's campaign was discovered to have turned in fraudulent signatures in their failed bid to qualify for the Republican Presidential Primary Election in VA, Gingrich's home state. Gingrich was caught on tape claiming to a supporter, after the forgeries were discovered by the state Board of Elections: "We turned in 11,100 — we needed 10,000 — 1,500 of them were by one guy who, frankly, committed fraud."
In May of this year, it was discovered that Momentum Political Services, a group hired by the Sacramento GOP and headed by a "professional con artist" to carry out their voter registration campaign for Rep. Dan Lungren (R-CA), had turned in thousands of fraudulent voter registrations as part of a $50,000 bounty paid for Republican-only voter registrations. That is, of course, exactly what ACORN was falsely accused of, even though — unlike in the Sacramento GOP case, and in a very similar scheme by a firm hired by the California Republican Party in 2008, where the head of the firm itself pleaded guilty to charges of voter registration fraud — the former four-decade old community organization was never actually involved in.
For more on the McCotter staffers charged with 36 election fraud-related counts, see our August coverage. As an added bonus, that article also includes a quick round-up of more than 10 recent cases of alleged and confirmed voter fraud and election fraud by a number of very high-profile Republicans, including Gingrich, Mitt Romney, Todd Akin, James O'Keefe, the Sec. of State of Indiana and, yes, the high priestess of GOP Voter Fraud, Ann Coulter.
Of course, none of the fraud detailed above would have been prevented by the disenfranchising polling place Photo ID restriction schemes Republicans are enacting around the country under the guise of deterring "voter fraud" — not even Coulter's, since she also committed a felony to create a fraudulent drivers' license with the faked address she submitted to election officials when she committed fraud on her voter registration form, before later, knowingly, voting at a precinct in an area where she did not live in Florida. That, even though there are just 10 known cases of in-person voter impersonation — the only type of voter fraud that can possibly be deterred by polling place Photo ID restrictions — in the entire country, out of hundreds of millions of votes cast since 2000.
Originally posted at BradBlog