Republicans' Challenges Start With Economic News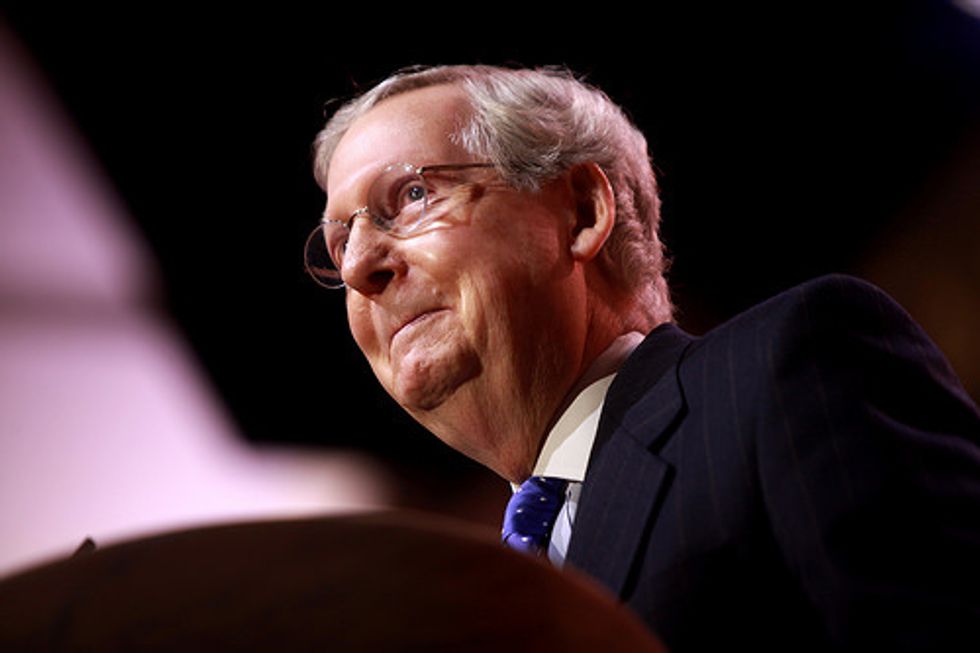 By Alan K. Ota, CQ-Roll Call (TNS)
WASHINGTON — In his inaugural speech as Senate majority leader, Kentucky Republican Mitch McConnell said he could see "a glimmer of hope" in new economic data showing a 5 percent annual growth rate in the third quarter of last year. This uptick, he said, coincided with "the expectation of a new Republican Congress" just before the November election.
McConnell's self-confidence, though, masks big challenges the GOP faces in dealing with the economy and the administration in the coming months.
The tough task, says John J. Pitney Jr., a political scientist at Claremont McKenna College in California, is to promote ambitious measures such as tax and spending cuts in what is becoming a relatively good economic climate. Both parties, he said, will try to take advantage of the improvements to bolster their own approaches.
A Labor Department report found the economy added 252,000 jobs in December, and it estimated the unemployment rate was 5.6 percent — the lowest level in seven years, and just over the longer-run sustainable target rate of 5.5 percent set by the Congressional Budget Office.
However, the report revealed clear evidence of wage stagnation, including a drop of 5 cents or 0.2 percent in average hourly earnings.
"There's enough economic distress to make a plausible case for change" in the approach to the economy, Pitney said. "The basic argument is the good stuff is because of us, and the bad stuff is because of the other guy."
In the first days of the new Congress, the parties offered competing fiscal agendas and tailored their arguments to match the economic landscape. Democrats unveiled new initiatives such as a proposal in the House for tax incentives for middle-class families and President Barack Obama's call for free community college.
"Now that we've seen calmer waters economically," Obama said on Jan. 9, "if we all do our part, if we all pitch in, then we can start making sure that all boats are actually lifted again, and wages and incomes start rising again."
Democrats sought to deny Republicans credit for sound fiscal stewardship, and vowed to defend Obama's signature health care law and the financial services regulatory law.
"The record is clear. This recovery from one of the worst recessions in our history was led by President Obama," Senate Minority Whip Richard J. Durbin of Illinois said. "If they try to rewrite some of the laws that made this happen, they are in for a fight."
Republicans, meanwhile, have been trying to force showdowns on contentious issues such as immigration and the Keystone XL pipeline. House Republicans are trying to deny money for Obama's executive action to defer deportation of some immigrants.
House Budget Chairman Tom Price (R-GA) and other senior Republicans argue that the recovery would be broadened if lawmakers embraced potential tax cuts and spending cuts in a fiscal 2016 budget blueprint.
"We're excited and enthused that it was 5 percent," Price said. "I think it's unlikely that it would continue at 5 percent."
Senior Republican senators such as Finance Chairman Orrin G. Hatch of Utah and Rob Portman of Ohio predict that the emerging GOP agenda will probably consist of a blend of big-ticket items Obama might veto and more modest measures that could be enacted with bipartisan consensus.
"Everything we're promoting on the growth side helps to get wages up and permit more upward mobility," said Portman, who directed the Office of Management and Budget for President George W. Bush. He said low energy prices were a "huge factor" in the recovery, and said the GOP's contribution had included support for spending and tax deals and opposition to new federal mandates.
"Those of us who have fought against federal over-regulation have been successful," Portman said.
Hatch said one of the best arguments for a tax overhaul was that it would help to extend economic gains. "It's going to have ups and downs in the economy all the time," he said, "but I would like to see it more steady."
But Hatch also said a tax overhaul could "take months, if not years." Instead of focusing entirely on big goals, he vowed to move a number of early, bipartisan proposals such as trade promotion authority for Obama and stand-alone proposals like repeal of the medical device tax.
While the parties clash on big issues, Majority Whip John Cornyn of Texas said he believed both parties could reach accord on some items. "We ought to look for those things that we can agree on," Cornyn said.
"The best thing we can do is avoiding cliffs and crisis," said Joint Economic Committee Chairman Dan Coats (R-IN), referring to the deal on New Year's Day 2013 that avoided year-end tax increases and mandatory spending cuts known as the fiscal cliff and the 16-day government shutdown the following October. Coats and other senators are pushing to avert such meltdowns.
On the other side, Durbin and other senior Democrats say they will be open to talks on bipartisan proposals that could help sustain the recovery.
"I'm not ruling out bipartisan efforts to deal with the tax code and the economy," Durbin said.
Photo: Gage Skidmore via Flickr