Republicans Challenging Obama On Immigration Fail In Third Try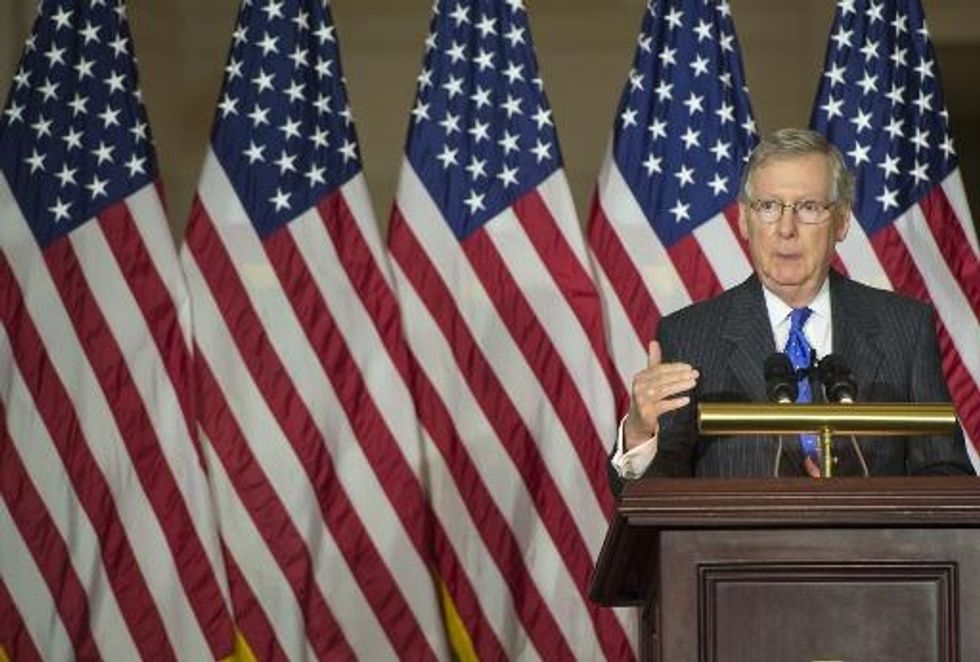 By Heidi Przybyla, Bloomberg News (TNS)
WASHINGTON — Senate Republicans failed for the third time to advance a bill reversing President Barack Obama's immigration orders as they try to wear down Democratic lawmakers who are unified against it.
The 52-47 vote on Thursday, with 60 required to advance the bill, was a repeat of similar votes held Tuesday and Wednesday. Republicans are trying to demonstrate to conservative lawmakers in the party that they are exhausting efforts to stop Obama's directives shielding millions of undocumented immigrants in the U.S. from deportation.
They are also trying to pressure Democrats including West Virginia's Joe Manchin, who has been critical of Obama on immigration, to switch their votes.
"I don't understand why they'd want to block the Senate from even debating a bill to fund homeland security," Senate Majority Leader Mitch McConnell said on the floor ahead of the vote. "All it requires is a little common sense and a little Democratic courage."
Republicans are seeking to use a House-passed spending bill for the U.S. Department of Homeland Security to force the president to abandon the immigration action he announced in November. The agency would face a shutdown of non-essential operations if Congress doesn't reach agreement before current funding ends Feb. 27.
Democrats are portraying the measure as an attempt to force unrelated changes to U.S. immigration policy by holding up a bill needed to keep the nation safe from terrorist threats.
"We have these terrorist acts all over the world taking place right now," said Senate Minority Leader Harry Reid, a Nevada Democrat. "And we, the United States of America, are in a position where we're not going to fund homeland security?"
Republicans control the Senate 54-46, and with 60 votes required to advance legislation, they need support from at least six Democrats. Obama has said he'd veto any measure that rolls back his directives.
Senator Dean Heller of Nevada was the only Republican to join Democrats in voting against advancing the measure in all three votes.
The legislation would provide $39.7 billion to keep Homeland Security operating through September.
Senator John Cornyn of Texas, the No. 2 Republican in the chamber, said Wednesday that Republicans will have to revise the bill if Democrats refuse to budge.
Obama announced Nov. 20 that he would temporarily halt deportations for about 5 million undocumented immigrants in the U.S. The Homeland Security bill would bar funds to carry out that initiative and would reverse a 2012 directive shielding undocumented immigrants brought to the U.S. as children.
One potential change Republicans could make to gain support, Cornyn said, is to drop their attack on the 2012 order. Other Republicans are also suggesting the party could revise the bill to target only on Obama's November orders.
Maine Sen. Susan Collins, a Republican who has worked with Democrats on legislation, said she's offering an amendment that would do just that. "We have reached an impasse," Collins said.
Rep. John Carter of Texas, the Republican chairman of the House Appropriations subcommittee on homeland security, also said he'd support abandoning all of the immigration-related amendments except the one rolling back Obama's most recent orders.
The president reiterated his threat to veto such legislation after meeting with the children of undocumented immigrants. He said he's confident Democrats would have the votes to sustain a veto.
"I would call on members of Congress to think about all the talent that is already in this country, that is already working in many cases, is already making contributions," Obama said in the Oval Office.
In similar funding battles over the past five years, Congress hasn't passed major legislation unless it is on the brink of a deadline. That means there may be several more unsuccessful attempts to pass a bill before a final deal is reached before the end of this month.
"I'm sure we will resolve this sometime in the next few weeks," McConnell said.
With assistance from Kathleen Hunter and Billy House in Washington.
AFP Photo/Saul Loeb