Republicans Criticize Prisoner Swap That Freed Sgt. Bowe Bergdahl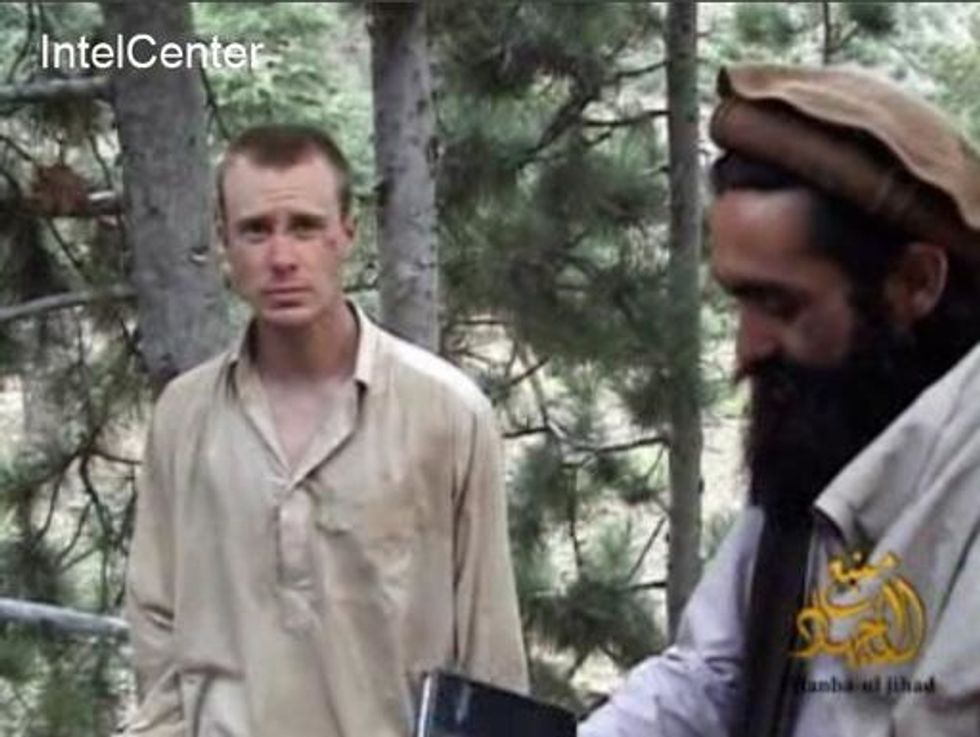 By David S. Cloud, Tribune Washington Bureau
WASHINGTON — Senior Republicans criticized President Barack Obama on Sunday for releasing five high-ranking Taliban prisoners to secure the return of an American prisoner of war, arguing that it breached longstanding U.S. policy against negotiating with terrorists.
Administration officials strongly defended the swap, saying Army Sgt. Bowe Bergdahl's health and safety appeared in danger after five years in captivity. They said they acted to save the life of the only American held by insurgents after the wars in Afghanistan and Iraq.
Bergdahl's parents offered only praise and thanks for the release on Saturday of their 28-year-old son, with whom they had still not spoken.
"There is no hurry. You have your life ahead of you," said Bergdahl's mother, Jani, fighting back tears during a news conference at an Idaho Army National Guard facility in Boise, near the family's hometown, Hailey.
"You are free. Freedom is yours," she added. "We will see you soon. I love you, Bowe."
Bergdahl's father, Bob, called the lack of contact a necessary part of his son's reintegration.
"Bowe has been gone for so long that it's going to be very difficult to come back," he said. The soldier's father still wore the bushy beard he had grown to show solidarity with his son, who disappeared after completing guard duty at a U.S. base in eastern Afghanistan in 2009.
Bob Bergdahl compared his son's plight to making a deep-sea dive — if he returned too quickly to the surface, "it could kill him."
Sgt. Bergdahl was flown Sunday from Bagram Airfield in Afghanistan to the Landstuhl Regional Medical Center in Germany. He is expected to be moved to a military hospital in San Antonio this week.
The debate in Washington immediately turned partisan. Republican critics argued that the deal would embolden insurgents to try to grab other U.S. soldiers or civilians to trade for more prisoners at the U.S. prison at Guantanamo Bay, Cuba.
"What does this tell the terrorists? That if you capture a U.S. soldier, you can trade that soldier for five terrorists," Sen. Ted Cruz, R-Texas, who is expected to run for president, said on ABC's "This Week." He called the prisoner swap "very disturbing."
Visiting troops in Afghanistan, Defense Secretary Chuck Hagel thanked the special operations forces who retrieved Bergdahl on Saturday from a pre-arranged site in Khost province. He told reporters that the administration agreed to the prisoner exchange because Bergdahl's "safety and health were both in jeopardy" and it was necessary to "save his life."
In an interview on NBC's "Meet the Press," Hagel said he does not believe "that what we did in getting our prisoner of war home would in any way encourage terrorists to take hostages."
The need to move quickly when the opportunity arose last week prevented Obama from giving Congress the required 30-day notice before transferring prisoners from Guantanamo Bay, Hagel said.
The five were released to the custody of the government of Qatar, which mediated the exchange. They are barred from leaving the Persian Gulf emirate for one year. U.S. officials said they would be subject to monitoring and to other restrictions on their movements and activities.
Sen. John McCain, R-Ariz., who was a prisoner of war during the Vietnam War, called the five Taliban prisoners "the hardest of the hard core" who were "possibly responsible for the deaths of thousands."
Appearing on CBS' "Face the Nation," he added: "We need more information about the conditions of where they're going to be and how. But it is disturbing that these individuals would have the ability to re-enter the fight."
Susan Rice, Obama's national security adviser, dismissed GOP criticism that the deal to get Bergdahl home would put other soldiers at risk of being taken hostage, and she disputed that it violated a U.S. practice not to negotiate with terrorists.
"This is a very special situation," she said on CNN, saying that getting Bergdahl back was a "sacred obligation" that required reaching a deal with a "non-state actor."
"In all likelihood, (the returned Taliban detainees) will not pose a national security risk," she said.
In previous wars, governments have exchanged prisoners when the conflict is over. But in this case, Bergdahl is believed to have been held by the Haqqani network, a militant group closely linked to the Taliban.
The five released prisoners were all senior Taliban commanders, and were imprisoned at Guantanamo Bay in 2002 after the U.S.-led invasion toppled the Taliban government. Before the exchange Saturday, none was deemed eligible for release by the Pentagon.
Muhammad Fazl, 47, served as Taliban deputy defense minister during the U.S. invasion and commanded troops fighting the U.S. forces in northern Afghanistan, according to a 2008 Defense Department document on his case. He was wanted by the United Nations for "possible war crimes, including the murder of thousands of Shiites," the document said. "If released, the detainee would likely rejoin the Taliban," it added.
Khairullah Khairkhwa, according to another 2008 Defense Department document, served as the Taliban government's interior minister and as governor of Herat province, and he was "directly associated" with Osama bin Laden and Mullah Mohammed Omar, the fugitive Taliban leader. Khairkhwa also "was associated" with a military training camp run by Abu Musab al-Zarqawi, a notorious al-Qaida-linked leader later killed by U.S. forces in Iraq. In addition, he was "probably one of the major opium drug lords in western Afghanistan," the document said.
Mullah Norullah Noori, according to a similar 2008 document, was the senior Taliban commander in the northern Afghan city of Mazar-i-Sharif during the 2001 U.S. invasion. He was wanted by the U.N. for possible war crimes, including the deaths of thousands of Shiite Muslims, the document said. He was "associated" with Mullah Omar and senior al-Qaida leaders, it said.
Abdul Haq Wasiq, according to a 2008 document on his case, served as deputy minister of intelligence during the Taliban rule and was involved in recruiting other militant groups to fight against the U.S. after the 2001 invasion. He used his office to support al-Qaida and "arranged for al-Qaida personnel to train Taliban intelligence staff," it said.
Mohammed Nabi was a "senior Taliban official" with close ties to al-Qaida, the Haqqani network and other groups that fought the U.S. in Afghanistan, according to a 2008 Defense Department document. He was part of a militant cell in Khost that attacked U.S. troops and facilitated the smuggling of weapons and fighters, the document said.
AFP Photo