Jeff Flake's Cosmetic Trump "Resistance"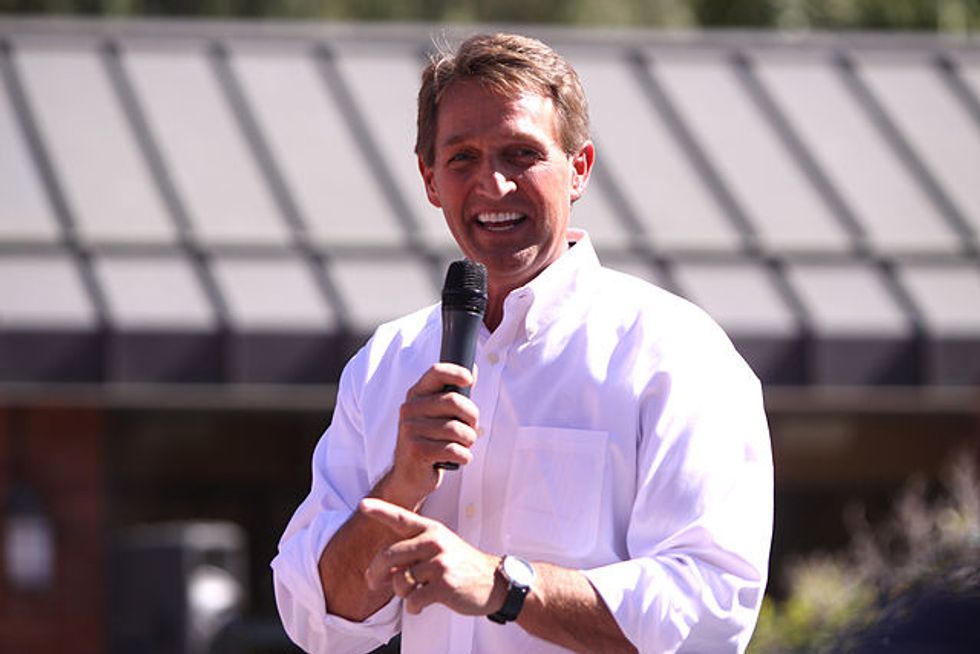 Reprinted with permission from AlterNet.
Right-wingers attempting to brand themselves as anti-Trump is a grift we've seen dozens of times before––typically from media types such as Glenn Beck, David Frum, Max Boot, and Joe Scarborough. But rarely does one see it from a sitting senator such as Jeff Flake, the Arizona lawmaker attempting to take the mantle of his mentor, John McCain, as liberal and centrist media outlets' favorite not-entirely-evil-Republican.
With the release of his new book, Conscience of a Conservative, Flake has managed in the past week to get puff pieces in the New York Times, Politico(which he wrote himself), NPR, Mother Jones, AP, Fox News, USA Today, CBS's Face the Nation, the New York Times (again), and a long, sycophantic profile in the Atlantic.
It's understandable why Democrats and their anti-Trump allies would welcome this—after all, the anti-Trump resistance needs all the help it can get. There's only one problem: thus far, Flake's opposition to Trump has been entirely rhetorical in nature. Great in interviews, good with op-eds, pleasant when entertaining Atlantic profilers––but when it comes to substance, opposing the actions by the administration in the Senate or any of his cabinet or Supreme Court or cabinet picks, he's a reliable Republican apparatchik.
As Vox's Matt Yglesias noted, "has Jeff Flake done anything to use his powers as a United States senator to check Trump in any way?"
A cursory scan gives the answer no. Flake has, according to FiveThirtyEight voted in line with Trump 95.5 percent of the time, making him the eighth most reliable senator for the White House. Most noticeable among these pro-Trump votes was last week's disastrous Obamacare repeal that Flake supported at every turn.
In addition, Senator Flake supported every one of Trump's cabinet nominations, his unilateral bombing of Syria in April, and his Supreme Court pick, Neil Gorsuch. These are some of the rare media "wins" for Trump and at each turn Flake was there to lobby in favor of them.
This isn't, to be clear, about "purity politics." No one is suggesting Flake has to be a card-carrying MoveOn organizer to be worthy of joining the forces against Trump. The issue is, has he done anything to actually undermine Trump in his powerful capacity as a United States senator? If the answer is no, one is compelled to ask, how big of a danger does Flake actually consider Trump? And, to the extent he does consider him a danger, does he think him less of one relative to the net utility of bombing Syria, slashing taxes for the rich, gutting the Affordable Care Act, and packing the Supreme Court with actuarially desirable far-right justices? The answer is clear since he continues, time and again, to back these policies, and in doing so, helping rack up the occasional but potent victory for Trump.
Like his media boosters, Flake's primary moral criteria appears to be one of tone. The book is subtitled "a rejection of destructive politics," in reference to Trump's prickish demeanor, less so about the specifics of his policies. While it's true Flake has objections to Trump's approach to trade, immigration extremism and anti-NATO statements, he has little say on his recent trans military ban, his ratcheting up war in Syria and Iraq, or his pulling out of the Paris climate accords. Probably because Flake himself has terrible records on LGBT issues, hasn't met a war he didn't like, and offered qualified approval for leaving the Paris Agreement.
As with Flake's colleague John McCain, the scam is ultimately one of lowered expectations. Because Trump has sunk discourse and the broader GOP to Mariana Trench depths, anyone who vaguely gestures toward baseline decency is heralded as a brave truth-teller––an angle Flake exploits to help polish his image and garner goodwill from an otherwise indifferent or hostile media.
But this isn't a scam the press has to indulge without getting anything of substance in return. If Flake is serious about opposing the administration's agenda and making Trump's ability to inflict pain on the country more difficult, he should ante up something, anything at all, beyond words. He can start by figuring out how to use his position of influence in the Senate to make life just a bit harder for Trump. Then maybe his status as a courageous anti-Trump voice will be more than a book tour sales pitch.
Adam Johnson is a contributing analyst at FAIR and contributing writer for AlterNet. Follow him on Twitter @AdamJohnsonNYC.