Republicans Fail To Defend Trump At Impeachment Hearing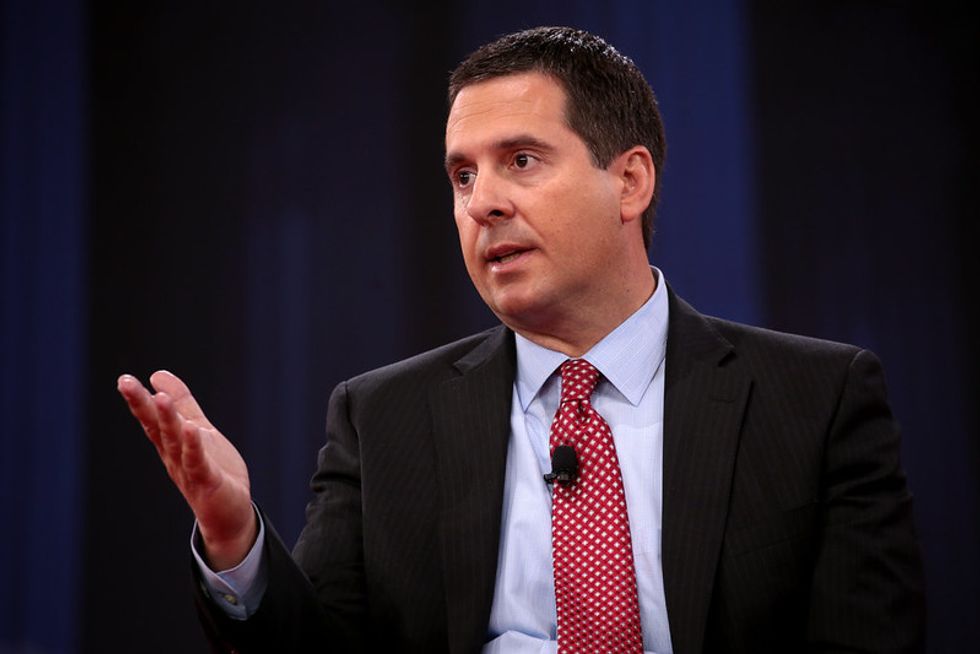 The first public impeachment hearing was a doozy for Donald Trump, as congressional Republicans struggled to defend his efforts to pressure an American ally to investigate his 2020 political rival.
A number of things went wrong for Republicans, the first being that both Bill Taylor, the top American diplomat in Ukraine, and George Kent, a career State Department official focused on Ukraine, were both extremely credible witnesses who refused to go along with GOP members' conspiratorial lines of questioning.
The two witnesses clearly laid out their knowledge of a Trump-led plot to withhold $400 million in congressionally appropriated military aid to Ukraine in order to force the Ukrainians to investigate former Vice President Joe Biden, as well as a debunked conspiracy theory that Ukraine was somehow involved in the hacking of the Democratic National Committee during the 2016 campaign.
Both Devin Nunes, the ranking Republican on the House Intelligence Committee, and Steve Castor — the Republican counsel on the committee — floundered as they tried to paint Ukraine's broader dislike of Trump during the 2016 election as a legitimate reason to withhold the aid, which Trump claims was meant to push Ukraine to address corruption.
Several witnesses have testified in recent weeks that Ukraine had already met its anti-corruption qualifications to receive the aid when Trump put a stop to it.
After Nunes and Castor failed to land a punch, Rep. Jim Jordan (R-OH) took a stab. Jordan spoke loudly, claiming both Taylor and Kent only had second-hand evidence of Trump's extortion plot, and thus their testimonies could not be trusted. He argued that only people who'd had conversations with Trump should be trusted.
The White House has repeatedly blocked aides who were directly involved in the pressure campaign against Ukraine — such as acting White House chief of staff Mick Mulvaney, and other Office of Management and Budget officials who withheld military aid to the country — from testifying.
Republicans on the committee did not demand those witnesses be allowed to speak.
Jordan was later left scrambling after he demanded that the whistleblower, whose complaint about the July 25 call between Trump and Ukrainian President Volodymyr Zelensky kicked off the impeachment inquiry, should be forced to testify.
Republicans have attacked the whistleblower for only having second-hand knowledge of Trump's conversation with Zelensky that day.
Given that Republicans say second-hand information cannot be trusted, it's unclear why Jordan chose to demand the whistleblower's testimony.
Vermont Democratic Rep. Peter Welch responded in jest to Jordan's demand that the "person who started it all" — referring to the whistleblower — appear before the committee to testify.
"I say to my colleague I'd be glad to have the person who started it all to testify," Welch said. "President Trump is welcome to take a seat right there."
The committee room erupted into laughter.
Republicans on Wednesday also argued that Ukraine ultimately received the frozen aid funding without having to announce an investigation into Biden or the DNC, implying that because of this, no crime had occurred. They also claimed that Trump couldn't have extorted the Ukrainians because Zelensky had said he didn't know the military aid was being withheld at the time of a July 25 call, and thus could not have faced pressure.
Attempted crimes, however, as Rep. Joaquin Castro (D-TX) noted during Wednesday's hearing, are still crimes.
Republicans ignored testimony from multiple witnesses, who have provided evidence that the pressure campaign against Ukraine went beyond that July 25 call.
Witnesses have testified that there was a major effort within the government to get the military aid to Ukraine released, and that, ultimately, both the fact that the media caught on to the aid being withheld and that the whistleblower filed a complaint forced the administration's hand.
Democratic Rep. Raja Krishnamoorthi (D-IL) made this point on Wednesday.
"In fact, it was only two days after this particular set of committees began their investigations that the Trump administration released the military aid," Krishnamoorthi said in the hearing.
This – FINALLY – is the point. Very, very clear that the White House finally released the aid only when the whistleblower report was coming to light and the Intel committee was already starting its investigation! They relented because they finally got caught. pic.twitter.com/GiFbOMBKSE

— Josh Marshall (@joshtpm) November 13, 2019
Republican lawmakers will likely continue to struggle with their defense of Trump as more witnesses testify publicly in the probe.
Most problematic will be public testimony from Gordon Sondland, the U.S. ambassador to the European Union who personally communicated with Trump about pushing Ukraine to investigate Trump's political rivals. Sondland has first-hand evidence, which Republicans will have to try and dispute.
Democrats, for their part, appeared positive about Wednesday's hearing.
Rep. Adam Schiff (D-CA), the chair of the House Intelligence Committee, said that both Taylor's and Kent's testimonies were"powerful" and "credible."
"The portrait that I think their testimony paints is one of an irregular channel that ran from the president through Mick Mulvaney, Ambassador Sondland … on down to Rudy Giuliani, in which the president sought to advance his own personal interests at the expense of United States national security," Schiff said after the hearing concluded.
Former U.S. Ambassador to Ukraine Marie Yovanovitch, who was removed from her post by Trump earlier this year, is set to testify on Friday, in the second round of public impeachment inquiry hearings.
Published with permission of The American Independent.