Republicans Fear 2010 Redux In Nevada Senate Race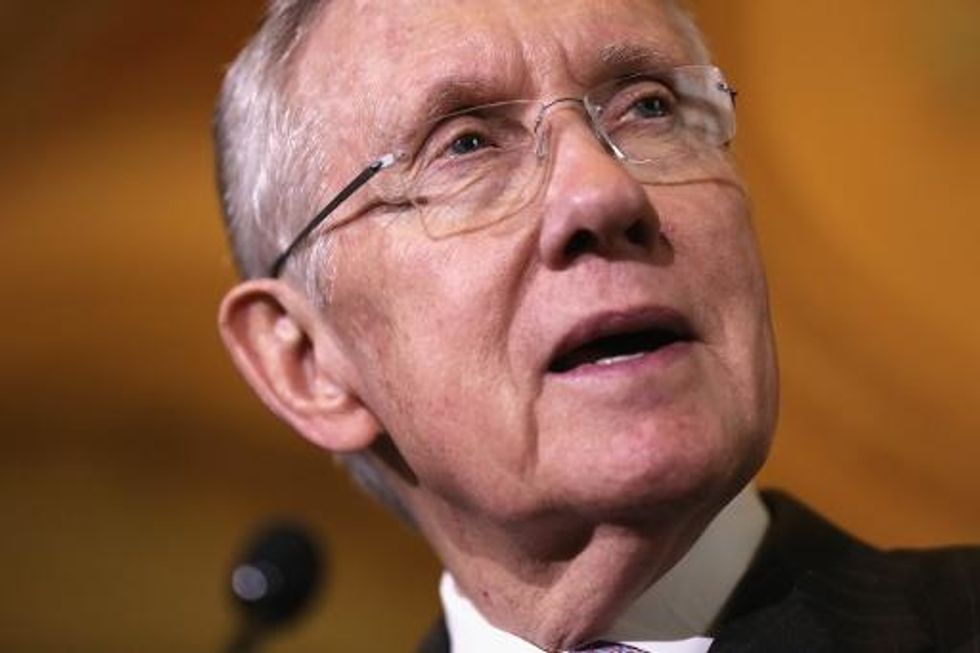 By Alexis Levinson, CQ-Roll Call (TNS)
WASHINGTON — Nevada Republicans worry their efforts to oust Senate Minority Leader Harry Reid in 2016 could be thwarted again by a crowded GOP primary.
In 2010, Republicans nominated one of their weakest candidates in the primary, Sharron Angle, from a large field of challengers to face Reid. In a banner year for the GOP across the country, Reid won re-election by a handful of points — and now Republicans are anxious history could repeat itself in 2016.
"We just need to take control of our primaries and make sure that doesn't happen this time," Senator Dean Heller (R-NV) recently told CQ Roll Call in the Capitol. "Yeah, I'm always concerned with that."
Heller's House colleagues echoed that sentiment.
"Always concerned with that situation," said freshman Rep. Crescent Hardy (R-NV). "We sometimes are our own worst enemy."
Rep. Mark Amodei (R-NV) was one of those many candidates who wanted to challenge Reid in 2010, but he dropped out after six months. He later sought election to the House.
"I mean, just based on the most recent experience, it didn't have a positive result if you're looking for a Republican in the seat," said Amodei recently outside the House floor.
Reid tops the GOP's target list for 2016, when the party has little opportunity to play offense because most of the incumbents up for re-election are Republicans. Democrats must win a net of five Senate seats to ensure control of the chamber this cycle.
The GOP's top choice for the seat is Governor Brian Sandoval. Republicans believe the popular Latino pol could easily defeat Reid.
"He certainly would be our A plus candidate," said Heller, a vice chairman of the NRSC.
Here's the problem: Nevada Republicans don't believe he is going to run.
"I certainly don't speak for the governor, but if you said, 'Well, is he gonna run or not?' my opinion would be no, he's not," said Amodei. "I think he likes being governor. I think he wants to finish that."
Several other Republicans interviewed by CQ Roll Call agreed with Amodei. But without Sandoval in the race, the primary floodgates would open.
"I think a lot of people feel like they can beat Harry Reid," said Nevada Republican consultant Robert Uithoven. "They want to be the one to topple Harry Reid."
Nevada Republicans mentioned a number of names: Lt. Gov. Mark Hutchison, former state Assemblywoman Heidi Gansert, state Senate Majority Leader Michael Roberson, and former Lt. Gov. Brian Krolicki, who has said he is open to a run. The only candidate who has announced a bid so far is Las Vegas City Councilman Bob Beers.
The state's three Republican congressmen have ruled out running in interviews with CQ Roll Call. But any one of them could change their minds. Just ask Senator Cory Gardner (R-CO), who ruled out a Senate bid for months before jumping into the race _ and winning.
National Republican Senatorial Committee Communications Director Andrea Bozek said Republicans "are going to do to Harry Reid what Democrats tried to do to Sen. McConnell. The difference is we are going to win and send Harry Reid into retirement."
Some Nevada operative speculated the NRSC could convince one of the congressman to have similar change of heart if Sandoval opts to stay out. The most likely target is Heck, a strong fundraiser who boasts a geographical advantage living in the populous southern part of the state.
But few Republicans believe anyone can clear the field except Sandoval. And without a prohibitive favorite, the field could grow.
"If there's not somebody that's seen as potentially someone who can gather a lot of the support behind him, that probably augurs in favor of a lot of people going, 'Well heck. I think I've got a shot,'" Amodei said.
Heller said he supported the opportunity for anyone who wanted to run to do so, but he did not rule out endorsing in a multi-candidate primary.
"That doesn't mean that myself, the governor and others may have a preferred candidate and that we wouldn't get involved," Heller said.
The field probably won't form before June, when the legislative session ends. Sandoval proposed a tax increase – the largest in Nevada's history – to pay for education reform. That proposal has raised some eyebrows in Sandoval's own party, and the subsequent debate, plus the legislature's other business, will keep Sandoval, Roberson, and Hutchison occupied for the next few months.
Some Nevada Republicans remain unconvinced Reid will actually run for a sixth term. Reid has said repeatedly that he intends to run, which his office confirmed again Tuesday to CQ Roll Call.
But some operatives remain skeptical. Reid began the year with just $1.5 million cash on hand, less than half of the amount he had in the bank at the start of the 2010 cycle. The Senate minority leader's bandaged face serves as a visible reminder of outside factors that could change his mind.
If that happened, Democratic operatives mentioned Rep. Dina Titus (D-NV), former state Attorney General Catherine Cortez Masto, or former Secretary of State Ross Miller as top recruits.
For now, Republican operatives are recruiting candidates to face Reid and his vaunted state campaign operation.
Asked if Democrats might try to play a role in deciding the winner of a Republican primary, as they did in 2010, Democratic Senatorial Campaign Committee Communications Director Justin Barasky did not rule it out.
"I know Reid's team and the DSCC will do whatever it takes to ensure he's re-elected, and that means keeping your options open," he told CQ Roll Call.
AFP Photo/Alex Wong